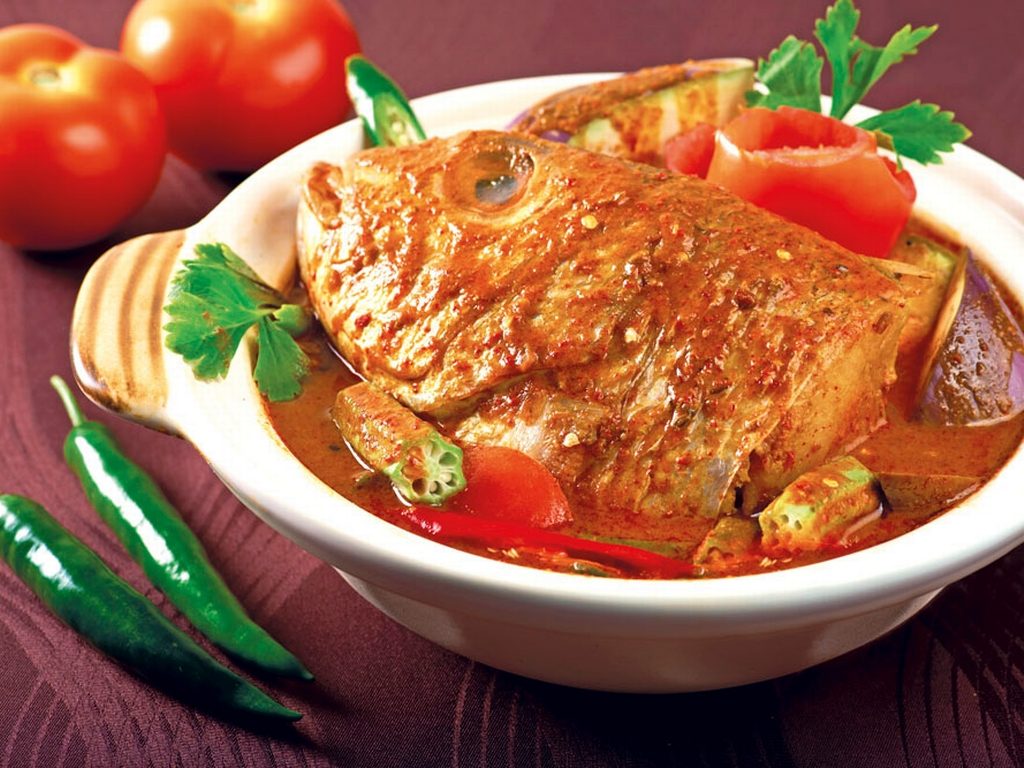 A foodie's paradise with cuisines from all over the world, Singapore is probably the one country where eating is a national pastime.
For a country that loves food so much, it's no wonder we've taken it upon ourselves to invent new culinary delights. Here are 10 amazing foods invented by Singaporeans that will give you massive #SGPride!
1. Chilli Crab
Ask any tourist what Singapore's national dish is and the answer will probably be Chilli Crab.

Sweet, savoury and lightly spicy with thick threads of beaten eggs floating through its sauce, eating Chilli Crab is always a messy affair.

[caption id="attachment_22868" align="alignnone" width="1000"]
Photo Credits: Madam Cher Yam Tien, a chef who ran a pushcart business with her husband back in 1956, decided to spice up their crab recipes upon her husband's suggestion. It was an immediate crowd favourite, landing them so many orders a night, they ended up opening up their own restaurant: Drench your rice in the sauce or dunk a fried mantou right in–there's no wrong way to do it! 
2. Fish Head Curry
South Indian or Assam style, Fish Head Curry is another classic Singaporean dish.
[caption id="attachment_22869" align="alignnone" width="1024"]
Photo Credits: The story goes that MJ Gomez, a South Indian restaurant owner in the 1950s, sold curry in a colonial building at Mt. Sophia. In an attempt to connect with the Chinese community, he incorporated whole fish heads into his curries, thus inventing the Fish Head Curry we know and love today.
While the fish head might be a jarring sight for first-timers, it has arguably the most tender meat on the fish. Imagine that soft, juicy fish smothered in a tangy, spicy curry full of vegetables. Pair that with a side of rice, and you've got yourself a complete meal!
3. Yam Ring 
This may not be as iconic as Chilli Crab or Fish Head Curry, but this is a Singaporean dish through and through. Found at most zichar stores across the island, this crispy yet creamy dish just can't be beat.
But have you ever wondered how it got its special shape and name?
[caption id="attachment_22875" align="alignnone" width="1024"]
Photo Credits: Chef Hooi Kok Wai, former chef at the old Cathay Restaurant in 1958, needed to prove his love and dedication to his fiance, Leong Ah Lin. Struck by inspiration and with his obvious dedication to cooking, he invented the Yam Ring, a circle of mashed yam fried golden brown, surrounding a bed of stir-fried vegetables drowned in a silky sauce.
If you want a taste of this romantic dish, you can find it at the couple's Did you Lou Hei this Chinese New Year? As you were shouting out New Year wishes (and trying to bring the salmon sashimi closer to you), did you know that Lou Hei is a singularly Singaporean dish and activity?
[caption id="attachment_22876" align="alignnone" width="1024"]
Photo Credits: Silverkris[/caption]
Lou Hei Yu Sheng literally means to toss raw fish in Cantonese. Fishermen in Guangzhou used to eat raw fish on Renri, the 7th day of Chinese New Year. In 1964, chefs Tham Yui Kai, Lau Yoke Pui, Sin Leong and Hooi Kok Wai decided to popularise it as a lucky Chinese delicacy.
As a result, the popular dish now consists of a plate of raw fish (typically ikan parang or mackarel) with radish strips, carrot strips, pickled ginger, crushed nuts and pomelo. The dish is then sprinkled with deep-fried flour crisps, peanuts, sesame seeds, and cinnamon, then doused with a specially proportioned sauce consisting of plum sauce, kumquat paste, rice vinegar and sesame oil.
5. Singapore Sling
 

I mean, of course we would include the Singapore Sling to this list! It literally has the word "Singapore" in it.

While the exact year of its creation remains a mystery, the most popular story goes that this drink was invented by a Hainanese bartender, Ngiam Toon Boon, at Raffles Hotel in 1915.

[caption id="attachment_22873" align="alignnone" width="820"]
Photo Credits: The mystery continues with the original recipe lost to the hidden annals of history, but the current recipe of this deliciously Singaporean drink goes: gin (30ml), cherry brandy (15ml), Cointreau (7.5ml), DOM Benedictine (7.5ml), Angostura bitters (dash), grenadine (10ml), pineapple juice (120ml) and lime juice (15ml).

We'd recommend leaving it to the professionals at Pasar Malam (Singaporean night markets) these days are getting so artisanal, it's become much easier to find rainbow bagels and ice cream macaroons than the classic Tutu Kueh.

They say nostalgia is powerful, so we're going to try and help you remember how great Tutu Kuehs are.

[caption id="attachment_22874" align="alignnone" width="1024"]
Photo Credits: Named after the sound made by the steamers used to cook these kuehs, Tutu Kuehs are made by first filling the metal moulds with sifted rice flour, removing the centre portion of the rice flour, dropping a ball of grated coconut in the middle, covering the mould with more rice flour, and finally, smoothing it with a cloth-covered stamp.

This steamed kueh is sweet, savoury and very light, making it nearly impossible to stop after one.
7. Purple Bread
 

Most of these Singaporean dishes were invented in the 1950s, but Singaporeans have not stopped inventing local delights since.

One of the most recent culinary creations is Purple Bread, invented by Professor Zhou Weibao at the National University of Singapore. 

[caption id="attachment_22871" align="alignnone" width="735"]
Photo Credits: White bread is hated on by nutritionists world-wide for being digested too quickly, spiking blood sugar levels and its link to obesity. In comes Professor Zhou–whom we suspect is a fellow carb lover–with Purple Bread.

His solution was simple: he added anthocyanins from black rice, which provide antioxidant qualities, into bread. With its addition, the bread turned purple, digestion rate of the bread slowed by 20%, and when baked at 200 degrees Celsius, 80% of the antioxidant qualities are still preserved in the breadcrust and crumbs.

Here's to hoping purple bread will be commercially produced soon!
8. Zoylent
Sound familiar? (cough Soylent cough)
Founder Alvin Chong was initially inspired by Soylent and their open-source nature, which encouraged people to take on and improve Soylent as it was.
[caption id="attachment_22877" align="alignnone" width="960"]
Photo Credits: Zoylent[/caption]
A health-conscious individual with a busy work schedule himself, Alvin decided to hop onto the Soylent train. Marketed as a meal replacer that has "all of the elements of a healthy diet, with limited contribution from less desirable components such as sugars, saturated fats, or cholesterol", it sounded like a futuristic dream come true.
He decided to switch from passenger to conductor after one sip. Malty but otherwise flavourless and boring, Alvin's Singaporean identity as a foodie kicked in and he set about improving the flavour by 1000%.
Working with a food technologist and an R&D team in Malaysia, Zoylent was thus created, a vanilla-coconut-y drink that will save you the time and money a typical lunch might waste.
9. GSH Conserves
Jam shouldn't be restricted to berries, marmalade or coconut and eggs (à la Kaya) and Joey Gan of GSH Conserves agrees.

[caption id="attachment_22870" align="alignnone" width="1024"]
Photo Credits: Focused on celebrating the greatness of seasonal produce found in our region, GSH Conserves also aims towards environmental conservation by reducing Food Miles. By cutting down on the number of miles food travels to reach our plates, Joey believes regionally and locally sourced foods are better for the earth and the regional economy.

Not to mention, flavours such as Dragonfruit Lychee, JooChiat Mango and Mango Lime are such local favourites, who wouldn't want to eat them day and night?
10. Singapore Salad Sauce 
If these Singaporean-invented foods are still not Singaporean enough for you, then how about the ultimate Singapore Salad Sauce?
[caption id="attachment_22872" align="aligncenter" width="448"]
Photo Credits: Invented by three School of Chemical and Life Sciences students at Singapore Polytechnic, together with their industry partners RevoPack Pte Ltd and Fountainhead Manufacturing Pte Ltd, the Singapore Salad Sauce is the result of combining spices from around the region.
Available in Spicy and Fusion flavours, the sauces are halal-certified and come in shelf-stable packaging.
For now, the Singapore Salad Sauce can be found at the Vantage Gourmet's Singapore Premium Food Gift Boutique Café at Changi Airport and at Kerry Ingredients (S) Pte Ltd.
If these 10 Singaporean-invented foods don't give you massive #SGPride, can you even call yourself a Singaporean? Whether back in the 1910s or today in 2017, Singaporeans have not stopped pushing the boundaries of food, and we're so proud to be part of this innovative, foodie country!
Also read, 20 Pictures That Show How Singapore Looked Like 20 Years Ago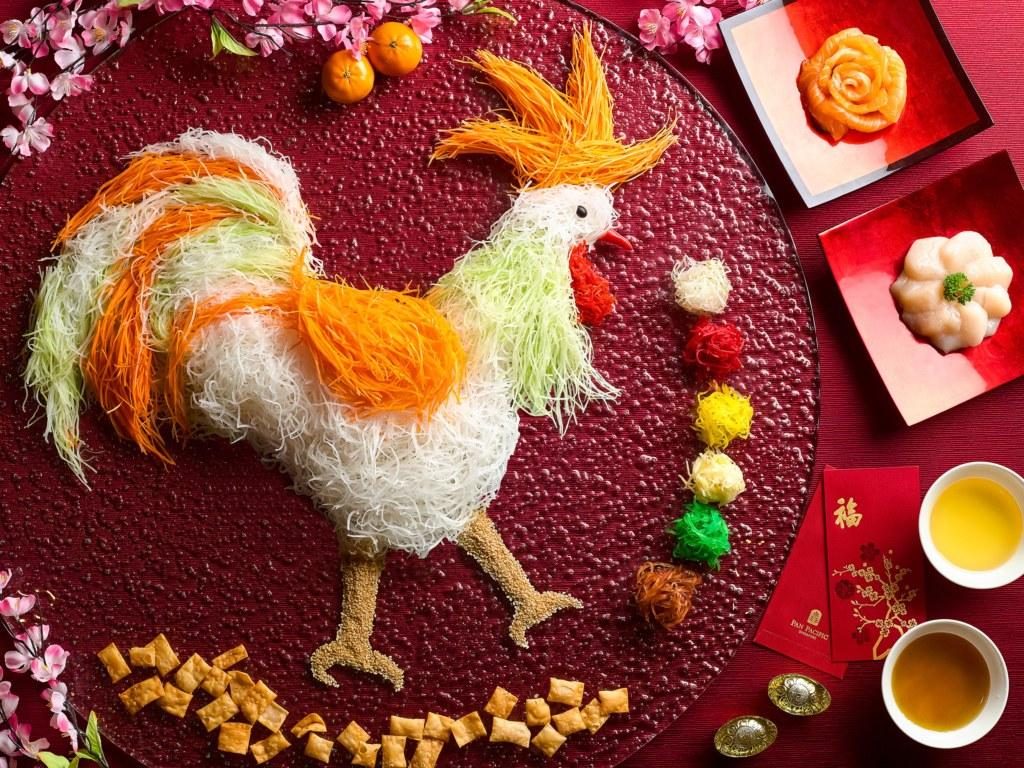 It wasn't too long ago that we bade goodbye to 2016 and welcomed 2017. In the blink of an eye, Chinese New Year is fast approaching, and those who celebrate it can welcome a 'new year' again. Traditionally, Chinese New Year activities involve aiaving a reunion dinner with family, tossing Yu Sheng, giving red envelopes, and visiting relatives' houses.
During the festival, Yu Sheng, a raw fish salad, is eaten by families. Originating from the Cantonese phrase 'Lo Hei', which means 'tossing up good fortune', the prosperity salad symbolises an 'abundance of wealth and long life.'
Here are 9 places in Singapore where you can enjoy this colourful salad.
1. Man Fu Yuan @ InterContinental Singapore
Usher in the Year of the Rooster with an exquisitely crafted Yu Sheng.

[caption id="attachment_20919" align="alignnone" width="1024"]
Credit: 6338 7600
Website:  Credit:
3. Jade @ The Fullerton Hotel
Come and experience a mind-blowing rooster-inspired reunion dinner at Jade's this coming CNY. Its signature Eight Happiness Gold Rush Yu Seng is served on a beautiful platter hand-painted with calligraphic drawings of roosters and auspicious greetings.
Alongside the gorgeous creations are fresh slices of salmon, and champagne jelly; drizzled with a tangy honey-pineapple dressing.
The Fullerton Hotel
Address: 1 Fullerton Square, The Fullerton Hotel Singapore, S049178
Prices:
Jade's Reunion Set Menu (Dine-in): from $68++ per person, for a 5-course menu.
Eight Happiness Gold Rush Yu Sheng (Takeaway): $94.16 (serves 6-8 pax) / $136.96 (serves 9-12 pax)
Available from 2 January to 11 February.
Tel: 6877 8911 / 8943
Email: [email protected]
Website: The Fullerton Hotel
4. Wan Hao Chinese Restaurant @ Singapore Marriott Tang Plaza Hotel
Looking for a unique Lo Hei gastronomic experience? Check out Wan Hao's CNY menu for a list of exquisite prosperity Yu Shengs.
These salads include decadent options such as caviar, scallops, lobster, black truffle, and even a chicken bak-kwa flavour. Additional servings of salmon, tuna, scallop, abalone and lobster are available upon request.
Wan Hao Chinese Restaurant
Address: Singapore Marriott Tang Plaza Hotel Level 3, 320 Orchard Road, S238865
Prices: 
Caviar Yu Sheng: $258 (L)
Black Truffle Vegetarian or Chicken Bak-Kwah Yu Sheng: $68 (S) / $136 (L)
Sliced Abalone & Crispy Fish Skin Yu Sheng: $88 (S) / $176 (L)
Available from 9 January to 11 February for both takeaways and dine-ins.
Tel: 6831 4708
Website: Credit: Pan Pacific[/caption]
The Flourishing Wealth Reunion Yu Sheng, a Rooster-shaped platter, is the star of the show, featuring fresh Boston lobster, Norwegian salmon and surf clams.
Hai Tien Lo
Address: 7 Raffles Blvd, Level 3, Marina Square, Pan Pacific Singapore, Pan Pacific, S039595
Prices:  
Flourishing Wealth Reunion Yu Sheng: $88+ (serves 4-6 pax), $168+ (serves 7-10 pax)
Fortune Yu Sheng: $58+ (serves 4-6 pax), $98+ (serves 7-10 pax)
Available from 9 January to 8 February for both takeaways and dine-ins.
Tel: 6826 8240
Website: Hai Tien Lo
5. Goodwood Park Hotel Singapore
Perhaps you're sick of the usual Yu Sheng. Why not try something fusion at Min Jiang, where they serve the popular Cantonese dish with wild arugula salad and a homemade creamy plum sauce?

[caption id="attachment_21069" align="alignnone" width="903"]
Credit: Website: Credit:
7. Gourmet Carousel @ Royal Plaza on Scotts
Inspired by Singapore's heritage, the Rice of the Phoenix Yu Sheng is a rendition of the iconic chicken rice dish.

[caption id="attachment_20918" align="alignnone" width="1024"]
Credit: 6589 7799
Website:  Fortune Gold Flakes 'Yu Sheng' Kanpachi, Salmon and Crispy Fish Skin
Source: Golden Peony[/caption]

These ingredients include kanpachi (greater amberjack fish), salmon, abalone, crispy fish skin, and white bait. Two other takeaway menus are available.

Golden Peony
Address: Two Temasek Boulevard, Conrad Centennial Singapore, S038982
Price:
Fortune 3D Fiery Rooster Yu Sheng (Dine-In): $888.00++ (30 persons & above)
Fortune Salmon and Crispy White Bait (Takeaway): $68 (S) / $128 (L)
Fortune Abalone and Salmon (Takeaway): $98 (S) / $178 (L)
Fu Lo Shou Tri-star with Lobster, Abalone and Salmon (Takeaway): $118 (S) / $218 (L)
Available from 10 January to 11 February.
Tel: 6432 7482
Email: [email protected]
Website: 

Also, read NEWSFLASH: Beat the Jam to JB this Chinese New Year!