It's Friday, Friday, gotta get down on Friday. Man are you going to get this song stuck in your head.
Our favourite day of the week is here and what better way to celebrate than chilling over a couple of cold ones? With the wide variety of beers and microbreweries now available, it's tough just having to decide on a bar for some afterwork drinks. So from pubs to microbreweries, here's our guide to 15 top beers and where you can get them.
1. Dark
If you're nearby, check out The Alpine Restaurant & Microbrewery. Located on the second floor of Snow City, this is a cool place for you to dine and relax. Try their dark lager for a refreshing and smooth, malty taste. They have different types of beer including a green beer which is brewed with seaweed.
The Alpine Restaurant & Microbrewery
Address: 2nd Floor, Snow City, 21 Jurong Town Hall Road, S609433
Tel: 65 6566 8389
Opening Hours: Tue-Sun: 3:30pm-midnight
2. English Bitter
We found this gem at On Tap at a little corner on the second floor of Chinatown's food centre. Definitely one of the cheapest beer you can find anywhere (from $5.50 for 330ml)! Their English Bitter is packed with flavour.
On Tap
Address: #02-075 Chinatown Complex Market and Food Centre, Blk 335 Smith Street
Tel: 87221230
Opening Hours: Daily 4:30pm-midnight

3. Brewdog 5 A.M Red Ale
As the winner of World's Best Amber Ale 2014, we'll leave it to the professionals to describe this awesome beer available at Thirsty.
"Chestnut-amber, almost no head finish. Fruity hop aroma and geranium. Aggresively bitter and slightly vegetal. Very dry finish."
"Good red colour, good carbonation and beautiful hop nose."
Thristy
Address: Serangoon Gardens, 1 Maju Avenue, #01-04, S 556679
Tel: 84018743
Opening Hours: Mon-Sun: 11am-10pm
4. Bell's Amber Ale
As the leading craft beer shop in Singapore, Thirsty offers a large selection of craft beers from around the world! We recommend Bell's Amber Ale – a mixture of toasted grain, light caramel notes, subtle floral taste, capped with a clean bitterness. We love the balance of all the flavours, plus this drink goes superbly well with food.
Thristy
Address: Serangoon Gardens, 1 Maju Avenue, #01-04, myVillage, Singapore 556679
Tel: 84018743
Opening Hours: Mon-Sun: 11am-10pm
5. Hitachino Nest Lager
Visit JiBuru Craft Beer Bar for authentic hand crafted beers from Japan. This bar offers a wide range of unique and hard to find hand crafted brews. One such example is Hitachino Nest Lager. Its fragrant malt taste and light flavour make it one of the top Japanese lagers!
JiBuru Craft Beer Bar
Address: 313 Orchard Rd #01-26, Singapore, 313@Somerset, Singapore 238895
Tel: 65 6732 6884
Opening hours: Sun-Thu: 11am-11pm; Fri-Sat: 11am-1230am
6. 33.1 Blond Lager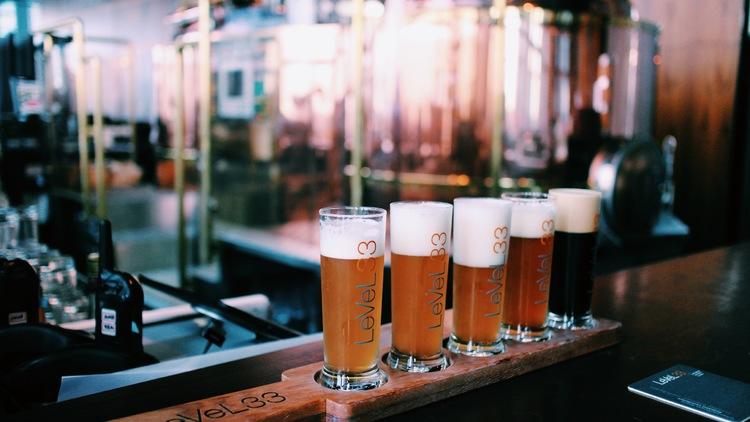 With a relaxed ambience and boasting one of the best views of Marina Bay, LeVel 33 offers freshly brewed craft beers of European heritage. Crafted from the original 1841 Vienna Blond Lager, the 33.1 Blond Lager is refreshing with a slight hint of fruit which pours out to a smooth sunshine golden hue. 

LeVel 33
Address: 8 Marina Boulevard #33-01, S018981
Tel: 65 6834 3133
Opening hours: Sun: 12pm-12am; Mon to Wed: 11.30am-12am; Thu to Sat: 11.30-2am
7. Oxhorn Lager
Oxwell & Co is housed in a heritage shophouse along Ann Siang Hill. That's also where they brew their drinks in-house. We tried the Oxhorn lager (an infusion of nutmeg leaf and nutmeg) and found a light citrusy note from its calamansi and orange ingredients. It may not be a beer, but their signature home-made G&T is also a must try.
Oxwell & Co.
Address: 5 Ann Siang Road, S069688
Tel: 65 6438 3984
Opening hours: Sun, Tue-Fri: 12pm-12am; Mon & Sat: 4pm-12am
8. Jungle Beer's Kiasu Stout
Calling all east siders! Situated along Joo Chiat Road is The Cider Pit. They import a large selection of ciders and beers from around the world.
Try their Kiasu Stout from Jungle Beer, an Imperial style beer brewed with five malts, three hops, chicory and cane sugar. The beer is great by itself or paired with dark chocolate. This beer has also been triple-crowned "Best in the World", "Best in Singapore" and Gold in the Stout category at Beerfest Asia 2013.
The Cider Pit
Address: 328 Joo Chiat Road #01-03, S427585
Tel: 65 6440 0504
Opening hours: Mon-Fri: 5pm-1am; Sat & Sun: 1pm-1am    
So what better way to celebrate a Friday than embarking on a beer hunt? Hit us down on the comments below if you have any other recommendations!
Also read: 7 Top Lor Mee In SG That Will Have You Return For More!