Just as we thought millennial pink was making its way out of trend, A Juicery has just opened up its first physical store, and it's splashed in the unmistakable hue.
Image Credit: A Juicery Instagram
Located at Lorong Telok, you might want to put on shades when you enter this store because it is PINK AF. It reminds us of Charli XCX's "Boys" music video. Where are the boys? Jay Park, hello?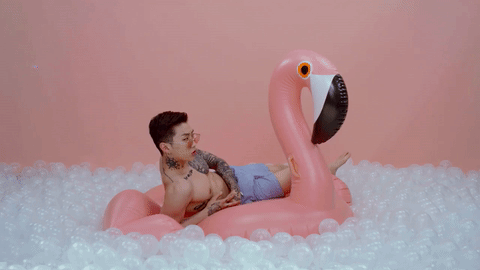 Even the staff are decked in pink lab coats. Talk about commitment.
Founded in 2014, A Juicery started off as an online store selling a variety of unique juices.
There are 4 categories of juices available for selection.
Choose from green vegetable-based juices ('Pure'), root vegetable-based juices ('Fuel'), citrus fruit-based juices ('Invigorate') and nut-based milks ('Calm').
A 100ml bottle is tagged at $4, a 250ml bottle will cost $7, and the largest 400ml bottle will set you back $9 each.
Aesthetics aside, what's cool about A Juicery is that they use local produce. Their juices use local vegetables such as bok choy, kai lan, chye sim, watercress, sweet potato leaves, lotus root, and bitter gourd.
A Bite, A Cleanse, An Instagram Chance
The store has very limited seating as it is meant to be a takeaway spot rather than a dine-in. In addition to their current range of juices, the store also sells different types of coffees ($3 – $6) and wraps if you're looking for a bite.
The 3 wraps available are the Turkey Ham & Cheese, Roast Chicken & Mango, and Tangy Thai Chicken ($6.80 each).
We also got wind of a secret menu so do check with the baristas and juice staff. We know that one of the items on the secret menu is the Strawberry Latte.
It makes sense that there would be a strawberry-flavoured item on the menu, considering how everything is pink.
This store may be small, but it definitely has character.
So if you're on a hunt for Instagram-worthy spots, this is one you should definitely check out, and get some drinks while you're at it! Because we're all about that LA juice cleanse life.
A Juicery
Address: 21 Lorong Telok Singapore 049033
Opening Hours: Mon – Thu: 8.30am – 5pm; Sat – Sun: Closed
Contact no.: 6533 1303
Website

Also read 5 Taiwanese Bubble Tea Shops To Satisfy Your BBT Cravings Before Gong Cha Makes Its Return
(Header Image Source: A Juicery)