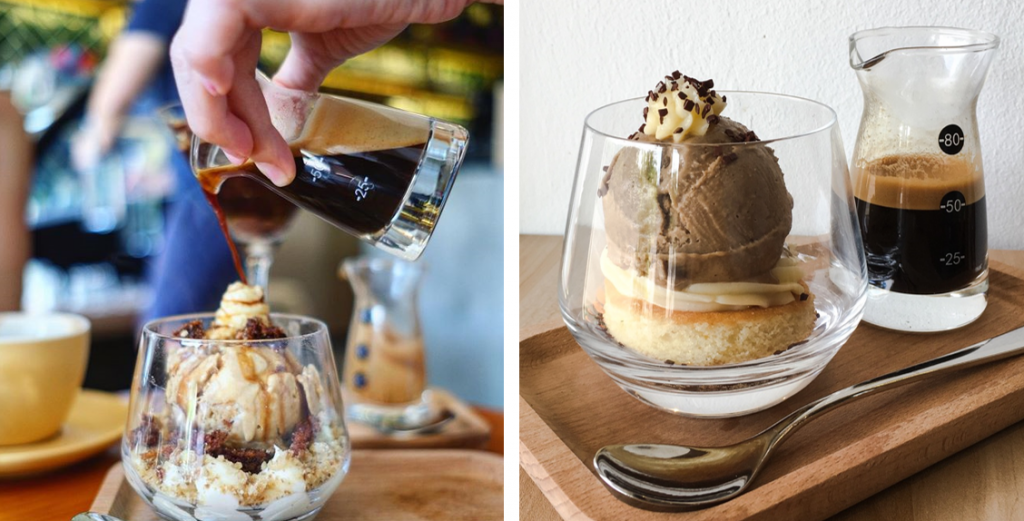 Singapore has plenty of cafes offering quality cuppas to perk you up.
The same, however, cannot be said about affogato, which is not as commonly served in cafes. So, imagine our delight when The Affogato Bar opened in Singapore!
Tucked away in a little spot in Cluny Court, this coffee and affogato bar is the latest addition to Bukit Timah's bustling food scene.
Asia's first affogato bar in Singapore
In its most basic form, affogato is a scoop of ice cream with a shot of hot espresso poured over it. As such, the key to a delicious affogato is good, quality coffee. In this case, The Affogato Bar uses the award-winning Dimattina Coffee that hails from Melbourne.

[caption id="attachment_28153" align="aligncenter" width="2000"]
Image Credit: Eater[/caption]

At the bar, choose from 5 different types of affogatos: Death by Chocolate ($13.90), Pot of Honey ($11.90), Carota Carota ($13.90), Banana Ramble ($12.90), and Classic White ($10.90). Each affogato comes with two shots of espresso for that hit of caffeine!

[caption id="attachment_28157" align="aligncenter" width="960"]
Image Credit: Burpple Guides[/caption]

Our pick goes to Death by Chocolate ($13.90), a rich and decadent dessert that will delight chocoholics. Served in a martini glass, the chocolate sorbet is topped with brownie chunks, chocolate streusel and a thin round of dark chocolate.

[caption id="attachment_28155" align="alignnone" width="1080"]
Image Credit: @uwmr_28[/caption]

For those who prefer something less chocolate-y, try the Banana Ramble ($12.90)! It's served with banana pecan ice cream, soft banana cake, banana slices, pecans, and is topped off with double shots of Mocharoma.

[caption id="attachment_28158" align="aligncenter" width="640"]
Image Credit: Burpple User Sarah Wong[/caption]

Affogato aside, you can choose from a selection of savoury items which include bagel sandwiches in flavours such as cream cheese, dill & onion and sun-dried tomato, just to name a few!

[caption id="attachment_28150" align="aligncenter" width="721"]
Image Credit: Burpple User Muriel A[/caption]

As for drinks, the bar also serves up a full-bodied chai latte ($5.50 Hot/ $6.50 Cold) which is worth a try!

Ultimately, while we love the desserts, our only gripe is that the 15-seater is rather small. Be prepared to wait if you are patronising the bar on a weekend!

The Affogato Bar
Address: 01-04B Cluny Court, 501 Bukit Timah Road
Opening Hours: Daily, 8am – 11pm
Contact no.: 9238 9005
Website 

Also read West Your Case, East-siders – You're Missing Out On These 8 Dessert Spots At Jurong

(Header Image Source: Burpple User Sarah Wong & Xing Wei Chua)