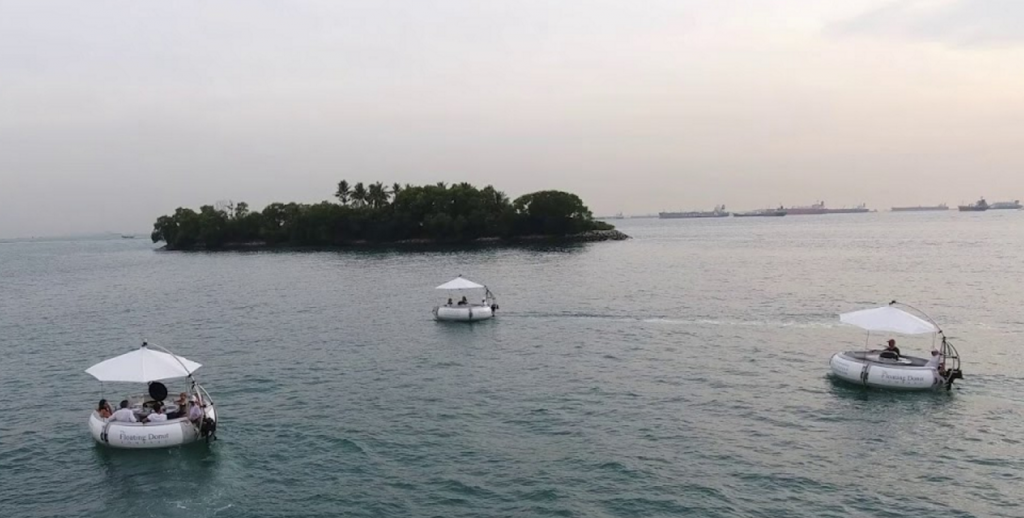 Boat parties have long been an activity favoured by the high SES demographic.
There's something about being on the 'high' SES (read: seas) that makes a party appear more lavish than it seems. Is it the sun or the sea breeze?
While there are plenty of yacht rental options to choose from on our tiny island, The Floating Donut Company is changing up the experience altogether by giving us a brand new kind of option – dining out at sea on a donut boat.
Wine And Dine On A Donut Boat
[caption id="attachment_25351" align="aligncenter" width="1024"]
Image Credit:
Image Credit: The Floating Donut Company[/caption]

On a tight budget? Opt for the Marina Cruise. You'll get to sail around Marina Bay for 30mins ($29 per person), 60mins ($45 per person) or 90mins ($58 per person).  This package requires you to have at least 3 other friends and everyone is entitled to one soft drink each.

Trying to score brownie points with bae? Book the Romantic Cruise and sail around the Marina Bay for 60mins ($198 w/o food) or 90mins ($299 incl Cold Cut Platter). Save on drinks as this package includes a bottle of Sparkling Wine to share with your loved one.

Looking to celebrate birthdays, anniversaries and graduations? Or simply an excuse to hold a unique and intimate get-together? Book yourself the Celebration Cruise. With a choice of cold cuts or seafood platters to choose from, you're guaranteed a fuss-free experience! Starting from $312 for 4 pax, you'll be out at sea for 2hours – the perfect amount of time to fill your stomachs and catch up with friends!

[caption id="attachment_38292" align="aligncenter" width="1944"]
Image Credit: The Floating Donut Company[/caption]

Our only qualms? You can't bring your own snacks on board and the lack of bathrooms can be a setback. But fret not, the captain is more than happy to head back to shore if nature calls!

The firm, which also operates in Phuket, said it is the first to offer such a private outdoor dining experience in Singapore. However, the project was initially stalled for three years, after its German founder, Ms Miriam Becker, hit roadblocks with several local regulatory agencies.

However after making compromises by tweaking its proposal such as replacing its boats' barbecue grills and adhering to speed limits and other safety measures, The Floating Donut Company will officially launch on Friday, 30 November.

Be the first to experience this exclusive dining voyage in Singapore. With a private captain at the helm, speakers you can hook your phone up to and the calm seas, this is one party that will blow you out of the water (pun intended).

The Floating Donut
Address: Clifford Pier at Collyer Quay
Opening Hours: 10am – 7.30pm daily
Website

Also Read Tiong Bahru Bakery Takes A Walk On The Wild Side With A Safari-Themed Cafe In Dempsey