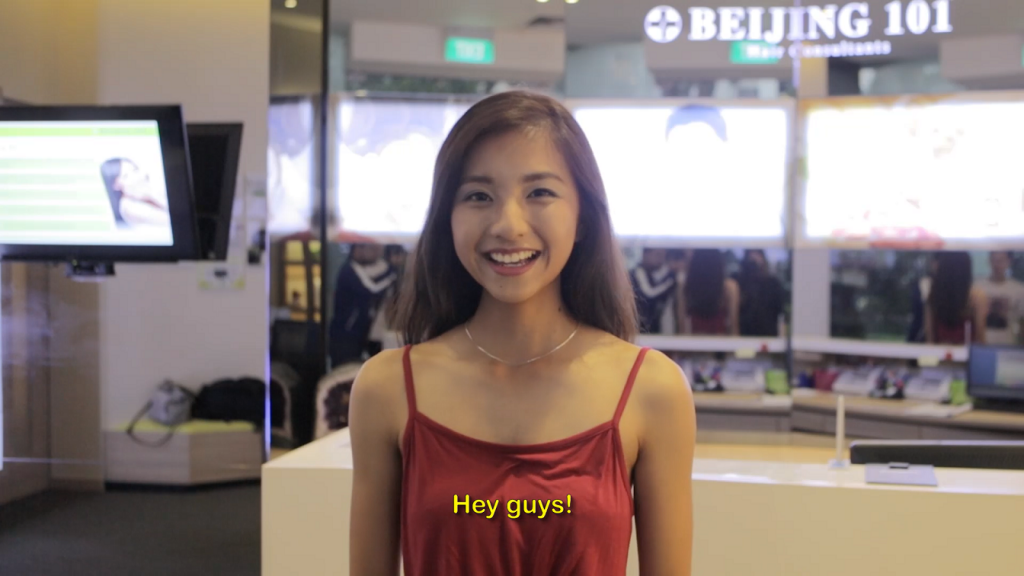 Male or female, young or old, we all want to look and feel good.
While some of us struggle with difficult skin, some of us struggle with something else: our hair. Whether it's flaky scalp, oily scalp or hair loss, hair issues can be a huge source of confidence loss for both men and women.
While there are many shampoos, tonics, and serums out there that claim to help with these issues, few of them truly deliver on their promises, leaving us right back at square one: without a solution.
Enter
Our ambassador, Vanessa, at Beijing 101 at Tiong Bahru Plaza, #01-129[/caption]
Beijing 101 has been in the business of hair loss solutions for a good 43 years and has won many international awards from different countries! They also have a stellar track record, with 9 in 10* of customers seeing visible hair growth and long-lasting results.
An authority in hair care, Beijing 101 employs Traditional Chinese Medicine (TCM) principles in its service. Not only do they use premium-grade natural herbs like ginseng, lingzhi and dang gui to treat scalp issues, all their consultants are TCM trained!
We sent our ambassador, Vanessa, down for a scalp treatment. After all, who would say no to better, healthier hair?
Consulting With The Specialist 
The session began with a 20 minute consultation with the hair consultant, which took place in a welcoming private consultation room.

[caption id="attachment_25667" align="alignnone" width="1344"]
Vanessa was given a warm tea to drink during her consultation![/caption]

The consultant asked her a series of questions pertaining to her lifestyle, hair- and health-related habits, before proceeding to scan and analyse her scalp. She found that Vanessa's hair was thinning at the crown, and that some empty pores were prominent.

She suggested that this could be due to stress and a lack of sleep (#studentlife), and she recommended that Vanessa go for the Herbal Scalp Treatment, which helps to cleanse and keep the scalp clean, preventing hair follicles from getting clogged.
Treatment Begins!
Vanessa was led to a private VIP room, where she got all the privacy she wanted, to browse through the magazines provided and to enjoy her tea.

[caption id="attachment_25668" align="alignnone" width="1344"]
Getting the Deep Cleansing Scalp Mask applied to her scalp[/caption]

The procedure began with the application of the Deep Cleansing Scalp Mask to her scalp, a concoction of TCM herbs. The mask was spread evenly throughout her head, and a steamer was used to help open the pores of her scalp so it could absorb all the good stuff packed within it!

The mask was left to sit for about 40 minutes, before being thoroughly washed off.

For the next part of her treatment, 2 coats of serum were applied to her scalp to balance its pH level. The serum was massaged into her scalp to, once again, aid absorption.

[caption id="attachment_25669" align="alignnone" width="1344"]
Feeling all kinds of SHIOK…[/caption]

There were 3 different types of massages she could choose from: one for better sleep, one for soothing tense muscles, and another for overall well-being. She picked the one for overall well-being–the signature Meridian Herbal Treatment Massage–which was very calming and relaxing!
Seeing A Visible Difference
To conclude the session, she was given a second scalp analysis, where you could actually see much fewer pores clogged with sebum. While there was–of course–no visible hair growth within that 1 session, she left with a cleaner, much healthier scalp than she came in with!
To check out her experience, watch the video below!
If you've been struggling with your scalp for the longest time and have tried almost everything out there in a bid to remedy it, make a trip down to Beijing 101—you won't regret it!
Beijing 101 will be running a Also read Goodbye Artbox, Hello Thai Festival – Authentic Thai Eats Without The Heat Or The Crowd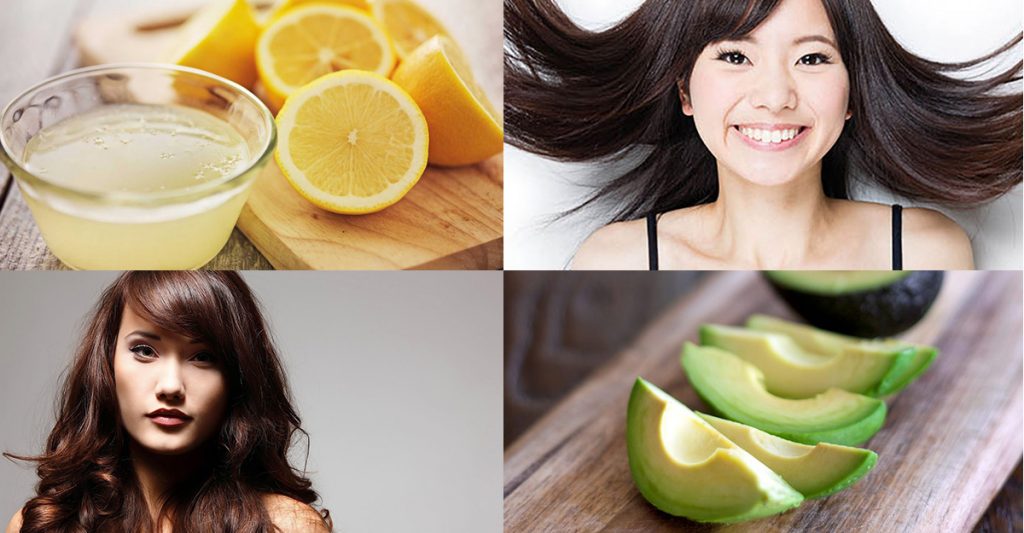 Let's be honest, hair is crazy important. The right haircut can make you look younger, fresher and compliment your features. For most of us, our hair is literally our crowning glory and when your hair refuses to look good it can be pretty annoying!
To help your hair be just a little more cooperative, we've gathered a few hair treatments you can do in the comfort of your home! Pop by the supermarket for these really simple at home hair treatments!
For Dry/Damaged Hair
1. Avocado
[caption id="attachment_17079" align="alignnone" width="1024"]
Banana & Olive Oil Hair Treatment[/caption]

Everyone knows bananas are the best snack on the move. They're perfect if you're craving for a sugary treat and they're rich in fibre! But did you know that olive oil and bananas make a great hair mask for dry and damaged hair too!?
Put a banana into a blender and grind to a smooth, lump-free puree.
Add a tablespoon of olive oil into the pureed banana. Give it another whirl in the blender. You should get a frothy mixture!
Apply the banana-olive oil mixture on every strand and your scalp. Let the hair mask sit for 10 – 15 minutes
Rinse off mixture
DSG Tip: If you have dry hair but an oily scalp, it's best to use this hair mask on your hair only and not your scalp!

[caption id="attachment_17161" align="alignnone" width="1000"]
Before/After[/caption]

Tips for Dealing With Dry/Damaged Hair:

1. Conditioner Is Your Best Friend
After shampooing it's essential to condition! Conditioner locks in the moisture and oils in your hair and if you're always on the go, pick up a bottle of leave-in conditioner!

2. Keep Usage Of Heat Styling Tools To A Minimum
Styling tools like hair straighteners and curlers can really dry out your hair. If you're dolling up for a special occasion remember to use a heat protectant spray!

3. Amp Up Your Post Wash Hair Care
Use a nourishing hair mask once a week, if you're keen on walking out of the house with smooth and shiny hair opt for some hair oil. Not only does it keep your hair silky smooth, it also keeps away fizz and flyaways!
For Oily Hair
1. Lemon Juice
[caption id="attachment_17152" align="alignnone" width="1024"]
Lemon Juice Hair Treatment[/caption]

Lemon juice has a high acidic pH which makes is the best option for oily hair! Best part? Lemons are pretty cheap and you can use them for so many other at home treatments! A simple hair mask for oily hair, this hair rinse uses just two ingredients!
Take the juice from 1 lemon and add it to about 300ml of water, mix well.
Use the lemon juice mixture as a rinse after shampoo!
DSG Tip: If you need more lemon juice – water mixture, mix the juice of 1 lemon to every 300ml of water!
2. Apple Cider Vinegar
[caption id="attachment_17153" align="alignnone" width="1000"]
Apple Cider Vinegar[/caption]

Apple cider vinegar isn't as popular as it's counterpart (vinegar), but it has its benefits! From deodorising smelly feet to reducing bloating, apple cider vinegar can do it all! A hair rinse that uses just one ingredient? Yes please!
Add two tablespoons of apple cider vinegar to a cup of water and mix well
Rinse your hair with the mixture and let your hair sit for a few minutes
Repeat this process at least three times a week to get hair that is shiny but not oily!
DSG Tip: Always use small amounts of vinegar or diluted apple cider vinegar, too much vinegar may actually be hazardous to your body!
3. Tea
[caption id="attachment_17154" align="alignnone" width="1024"]
Tea For At Home Hair Treatment[/caption]

Tea doesn't just go well with breakfast, it also has really great health benefits! Green tea is loaded with antioxidants which help with weight loss and lower cholesterol. This hair rinse isn't just soothing it's also good for your hair and scalp
Boil some tea leaves in a cup of water.
When the tea cools a little (the tea should be warm), apply it to your scalp.
Let the tea sit for five minutes.
Rinse and shampoo your hair to remove all the tea
DSG Tip: Black tea is a favourite for at home hair treatments!

[caption id="attachment_17168" align="alignnone" width="683"]
allthingshair.com[/caption]

Tips for Dealing With Oily Hair:

1. Condition Only The Ends
Even with oily hair, you can't skip conditioner! However we recommend using conditioner only on the ends of your hair!

2. Look For Shampoos That Say 'For Oily Hair' or 'Clarifying'
The first step to combating oily hair is the shampoo you use. Certain shampoos might strip your hair of its natural oils and make your scalp produce even more sebum.

3. Limit Your Hair Brushing And Touching Your Hair
Excessive brushing actually stimulates the production of oil which isn't the desired affect for someone who has oily hair! And that unconscious habit of touching your hair? It could actually be stimulating your scalp as well!
Beijing 101
But for those of you who would rather leave the hair care to a professionals (let's be honest, some at home hair treatments can get pretty messy!), head on down to Beijing 101!
Not only do they have hair experts who are there to analyse your scalp, they'll know exactly what your scalp needs! Using only the best ingredients and treatments derived from Traditional Chinese Medicines, Beijing 101 can help you combat a scalp that isn't cooperating!
[caption id="attachment_17196" align="alignnone" width="750"]
Email: [email protected]
Opening Hours: Mon – Fri 11am – 9pm; Sat, Sun & PH 10am – 7pm (by appointment only)
Contact: 65588101
Also Read: Ambassador Highlights #4: Flight School, Alter Ego and Riverside Grilled Fish!