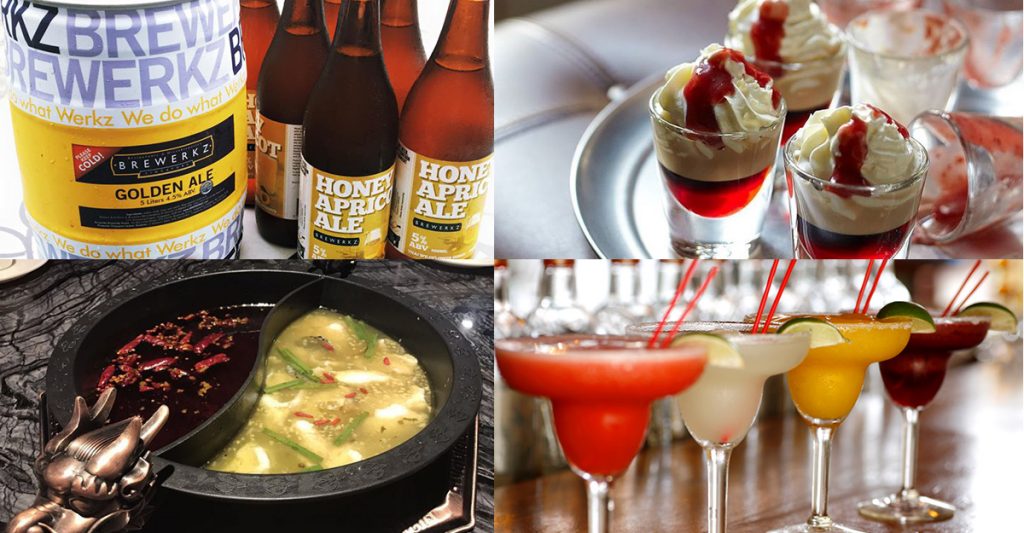 The Singapore River was an important feature of Singapore's growing port back when we were still in our developing stages.

Fast forward to a few decades later, and the River has now evolved into the urban city's hotspot.

With thumping music and diners spilling onto the banks of the Singapore River, it's no surprise Riverside Point has become a mainstay along the Singapore River.

[caption id="attachment_19732" align="alignnone" width="1024"]
Choo Yut Shing[/caption]

A stone's throw from Clarke Quay MRT Station, Riverside Point houses popular restaurants that offer breathtaking views of Singapore's night scene. For those of you who want a meal with a view, here are 5 Riverside Point restaurants that are serving up delicious Christmas eats this festive season!
1. Christmas Special @ JUMBO Seafood
[caption id="attachment_19733" align="alignnone" width="600"]
#01-01/02, Riverside Point, Riverside Point 30 Merchant Road,058282
Everyday: 12pm – 3pm, 5.30pm – 12am
Contact: 6532 3435
2. Late Night Happy Hour @ Café Iguana
[caption id="attachment_19734" align="alignnone" width="1024"]
Cafe Iguana[/caption]
Traditional Christmas dinners have never been your style?
Good news for you, because Café Iguana not only serves up authentic Mexican fare, they also want you to celebrate this festive season by letting loose!
Happy Hour starts at 10pm at Café Iguana with half-off House Margaritas!
Café Iguana wants you to unwind this holiday season with traditionally-flavored Margaritas like strawberry, and exotic flavors like soursop alongside a sizzling platter of Mexican delights, you're bound to have a Christmas you'll never forget!

Café Iguana

Harry's[/caption]
What better way to celebrate this festive season than indulging in the joy of feasting with some friends?
Harry's at Riverside Point is serving a dine-in buddle for 4 pax. Inclusive of Harry's Signature Wings, a mouthwatering Triple Sausage Platter and a couple of Cupcake shooters, you'll be stuffed-full of Christmas cheer at Harry's!
If you're stuck on ideas for Christmas presents, Harry's has also got you covered.
The restaurant has got a couple of voucher packs that would fit any beer aficionado – for example, at $49, the Berry Christmas voucher gets you 6 pints of Harry's Premium Lager, or a meal to share at any Harry's outlet!
Brewerkz isn't your average run-of-the-mill bar – it's known for its high quality craft beer and a winner of several awards for its signature and seasonal beers. Serving up 13 different brews on tap, it's no wonder beer aficionados flock to Brewerkz!
Throwing the biggest Christmas party? You're going to need some drinks to get the party started!
This year, Brewerkz is offering up a Takeaway Special you can't refuse. With 25% off when you purchase two 6-packs and mini kegs, and 30% if you bring home four, you know you're pretty much set when it comes to alcohol for your Christmas get-togethers. 
Brewerkz

Spicy House[/caption]
Let's be honest, we Singaporeans love our spice – just look how people jumped on the bandwagon of downing bowls of Samyang Ramen! The majority of us Singaporeans also live by the mantra "the spicier the better".
For Spicy House, 'spice' takes on a whole new meaning. A Chengdu-style hotpot restaurant that just opened its doors three months ago, the popular Chinese restaurant chain is known for its spicy broth and fresh ingredients.
This holiday season, Spicy House has a late night promotion with 32% off your total bill from 10pm to 3am from Fridays to Sundays! To make things even sweeter, Spicy House will be giving out cash vouchers from 10 to 18 December!
Share the joy of feasting and indulge in the restaurant's flavourful broth with signature dishes such as the spicy beef balls!
Spicy House
Facebook
#01-07 Riverside Point 30 Merchant Road
Opening Hours: 11am – 2pm; 5pm – 4am
Contact: 6493 7213
Christmas At Riverside Point
[caption id="attachment_19741" align="alignnone" width="570"]
The Joy Of Christmas Comes with A Smile[/caption]

This festive season, Riverside Point wants to treat all its Christmas shoppers to some amazing giveaways!

Spend a minimum of $50* and stand a chance to win an iPad Air, Apple Watch, and shopping & dining vouchers worth up to $250,000! Riverside Point will also be giving out exclusive journals when you spend a minimum of $100*!

With these amazing Christmas deals and restaurants serving up some delicious eats this festive season, head on down to Riverside Point for al fresco dining by the river and celebrate this year end the right way!

*Terms and conditions apply. Redemption is at Clarke Quay Central Concierge from now till 25 Dec 2016.

Clarke Quay Central Concierge is located at Level 1 (Blue Zone), 6 Eu Tong Sen Street, Singapore 059817. The Concierge opens from 10am to 10pm daily.

Please visit Gareth Phua)

Also Read: Under $25: 9 Super Local Christmas Gifts That Will Surely Amaze Your Friends!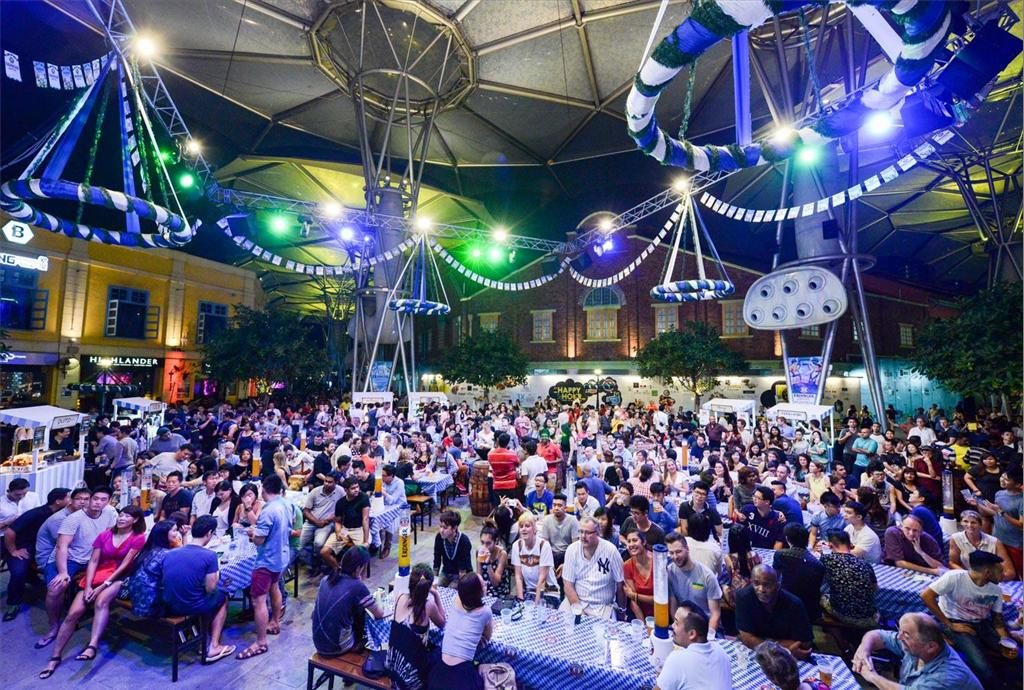 Singapore is home to a multitude of religions and races and let's be honest it seems we're celebrating a holiday every other month! We're days from ushering the new month of October and that means only one thing, Oktoberfest! We've sourced the top 10 places where you can celebrate Oktoberfest 2016, so get your body ready for the never ending flow of beers, Oomph music and way too much bratwurst!
1. Oktoberfest Asia 2016 (13-15 Oct)

(image credit: Oktoberfest Asia)
If you want to completely immerse yourself in Oktoberfest, you're in luck because Oktoberfest Asia 2016 is going all out this year! Located at the open field at Tan Queen Lan Street, this large scale booze filled event is a dream come true for every Ocktoberfest fan!
Each ticket purchased gets you free flow of beer from 6pm to 12.30am (!!!) and an Oktoberfest Asia beer stein for free! With beers like Schneider Weisse, Paulaner Brauhaus and Weihenstephan on tap. With Bavarian favourites available for purchase and live performances from Hofbrauhaus band. You'll feel like you're actually in Munich!
Oktoberfest Asia 2016
13-15 Oct
Tan Quee Lan Street
Ticket Prices: 13 Oct – $70; 14/15 Oct – $90
For more information: Oktoberfest Asia 2016
2. Swissotel The Stamford

(image source: 6431 6156
Prices: Adult – $66++, Child – $33++
For more information:

(image credit: 6438 7438
Opening Hours: Sun – Thu,  12pm – 12am; Fri – Sat, 12pm – 1am
For more information:

(image credit: Park Royal On Pickering)
Park Royal On Pickering has started their own Oktoberfeast early this year! From 19-30 Sept, the Lime Bar is offering unlimited servings of Erdinger Weissbier, Erdinger Weissbier Dunkel and Tiger Beer for only $68! Best part? If you head over in a group of 4, the Lime Bar will throw in a complimentary German platter full of German sausages and cold cuts!
On 1 and 2 October 2016, Park Royal On Pickering will be holding a Bavarian Feast! Held at the outdoor terrace, you'll be treated with free flowing Erdinger Beer and an assortment of traditional German cuisine! From German Sausages, Pork Knuckles and Chicken Schnitzel to Potato Rosti, there's something for everyone at the Bavarian Feast!
Park Royal On Pickering
3 Upper Pickering St, S058289
Contact: 6809 8899
Oktoberfest:  19 – 30 Sept ; 6pm – 9pm; $68/pax
Bavarian Feast : 1-2 Oct; 4.30pm – 9pm; $128/pax (inclusive of free flow beer); $99/pax (inclusive of chilled juices & soft drinks)
For more information: Park Royal On Pickering 
5. Erdinger Ocktoberfest 2016
7. Brotzeit German Bier Bar & Restaurant
8. Resort World Sentosa

(image credit: Oktoberfest RWS)
For one night only and for the the first time ever, Resort World Sentosa is holding its own Oktoberfest! Tuck into a buffet of German favourites like schnitzels, sauerkraut and four bratwursts specially created by RWS's Michelin-Starred and Celebrity Chef Restaurants!
Served alongside limited edition Erdingers and featuring a live performance by Ois Easy! Oktoberfest by Resort World Sentosa is definitely going to be ton of fun! Best part? They have Beer Pong!
Tickets are priced at $78++ for the German fare buffet, the tasting platter of sausages and one glass of beer! Parties of 8 can get tickets at $750++ inclusive for two beer towers!
Resort World Sentosa
Festive Walk
1 Oct
7pm – 2am
For more information: Oktoberfest at RWS
9. Clarke Quay Oktoberfest 2016
10. Orchid Country Club's Oktoberfest

(image credit: SilverKris)
Good news for those living in the north, you don't have to go far to celebrate Oktoberfest this year! Orchid Country Club is throwing its own Oktoberfest party! If you're all about having fun and competing in the spirit of fun, Orchid Country Club's Oktoberfest is perfect for you!
With sausage eating, arm wrestling competitions, log sawing and one minute challenges alongside live band performances OCC's Oktoberfest is all about having fun! But don't brush them off just yet, traditional German grub like pork knuckles, oven-based BBQ ribs and roasted lamb legs are all part of the menu!
Orchid Country Club
1 Orchid Club Rd, S769162
30 Sept – 1 Oct
7pm – Late
For more information: )
Also Read: ZoukOut 2016: Life's Not Complete Without It! Get Ready For A Smashing Good Time