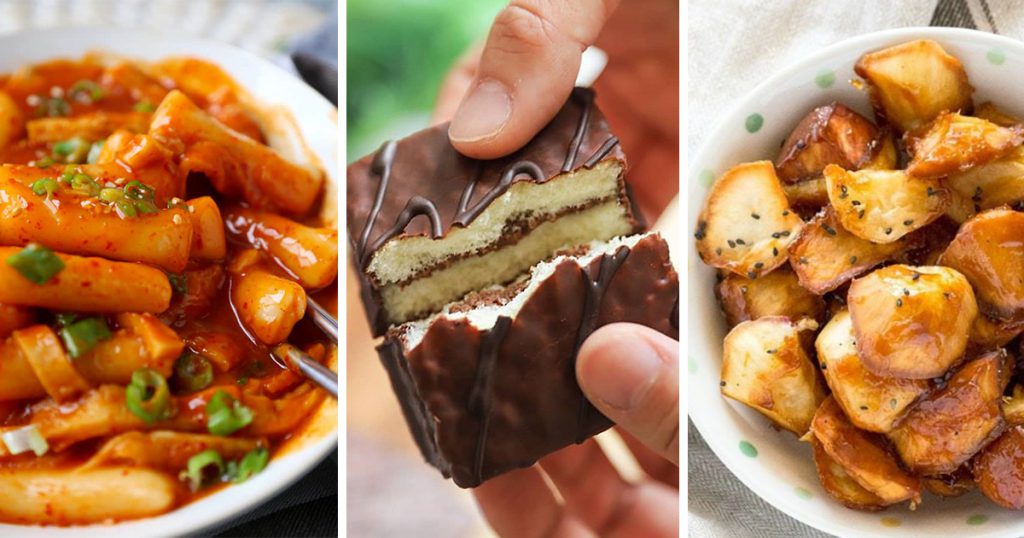 Korea is a place of enchantment, and many Singaporeans could easily write a love letter to the beautiful country once they've seen it in person.
Between steeping in its rich culture visiting centuries-old palaces, catching up with K-pop and K-fashion at the trendy districts, and being awed by divine coastal landscapes at Jeju Island—there's definitely something to draw you back again.
And to save the best for last, Korean cuisine alone is a good enough reason to book that 7-hour flight.
Army stew, topokki, bulgogi beef, and Korean fried chicken with beer are some of the best creations in the world. We bet that unmistakable spicy, tangy taste of kimchi has already seeped into your mind.
If you're saving up for your next trip, or you've already planned it but just can't wait, here's how you can get your cravings fixed real quick while you're still in Singapore.
Let The Korean Feast Come To You
Cold Storage is bringing the flavours of Korea to us in a two-week Korea Fair from now till 10 October 2019.
When you're craving Korean food daily but don't feel like eating out, the best solution will be to whip up some dishes in the comfort of your home.
Don't worry if you have limited skills in the kitchen, because many of the items available at Cold Storage Korea Fair can stack up to make a grocery list of easy-to-cook (or even ready-to-eat) dishes. Thank the heavens.
They also have a selection of snacks, drinks and even fresh fruits from Korea to top it off, so you're well covered!
Kimchi ramen noodles
Classic staples never go wrong, and kimchi ramen is a testament to that. You don't need anything too fancy when you have a comforting bowl of noodles, swimming in sour and spicy kimchi soup.
For Korean food lovers, this is like the 'starter pack' you keep returning to. Time after time, its warmth and satisfaction reaches right to your fingertips again.
Grab yourself a few packs of Jongga Kimchi Ramen Hot & Spicy, since we know you won't just be eating this once!
On days when you need something heartier, you could give your ramen that extra touch by adding some Chung Jung OneDumplings with Kimchi & Vegetable or Hot Pepper Japchae fillings.
Topokki – spicy rice cakes
Koreans deeply treasure their topokki, a stir-fried dish of rice cakes and vegetables topped with spicy sauce. Their delightful chewiness can kind of get addictive.
While topokki is popular in Korea to add some heat to their cold winters, we on the other hand, just salivate for anything spicy, no matter how hot it is in Singapore.
You can pick up an instant cup that takes just minutes to cook, with flavours like Dongwon Spicy & Sweet Topokki and Cheese Topokki.
A hard-boiled egg and some garnish will complete your topokki perfectly!
Rice porridge
When you want to ease into a great morning, a tasty bowl of porridge soothes all troubles away. If anyone says it's an 'old lady food', tell them to call us up.
Dongwon Yangban Rice Porridge has really hit it up as a popular breakfast food in Korea, especially when they have Red Velvet's Wendy and Irene endorsing it! Preparing a bowl is as easy as a quick pop into the microwave.
Unlike the typically salty (but equally heavenly) Cantonese congee we usually eat, Korean porridge can be either savoury or sweet, like the glutinous rice option with red bean and chestnut.
Sweet potato
Sweet potatoes may come humbly from the earth, but they should really be celebrated for satisfying stomachs for centuries.
Did you know they actually come in various flavours too? We didn't, till now.
Korean Sweet Potato comes in chestnut and pumpkin 'flavours', which give you different appearances, taste and character.
The chestnut variant packs vitamins and fibres in its rich purple skin, while pumpkin sweet potatoes are smaller with yellow flesh and taste delicious even eaten raw.
That gives you two ways to whip up a serving of goguma mattang (candied sweet potatoes)!
Kimchi fried rice
Fried rice takes us to paradise—it's simple to prepare and frankly just irresistible to wolf down.
It could also well be a universal language across many Eastern cultures, just cooked a little differently from one place to another.
With kimchi as the starring flavour, it's both the familiar comfort of fried rice we always love, and a taste to make you feel closer to the second home in your heart.
To make things better, you won't even have to whip out a wok and get to work in the kitchen. You can just pick up Jongga Kimchi Fried Rice which comes deliciously ready-to-eat!
Snacks, fruits and drinks
The happiest five minutes you'll spend in a supermarket—okay make it 30, no judgement here—is when you walk down the snack aisle. You'll light up at your old favourites, yet still always get to chance upon new discoveries to try.
Snacks are highly up to individual preference, but Cold Storage Korea Fair has quite a selection.
For those who love it savoury, Paldo Crab Chips and The Kims Crispy Laver Chip (laver is a type of seaweed) are some great options to have when it comes down to 'crunch' time.
If you're a sweet creature, you'll enjoy sinking your teeth into a soft fluffy bite of Haitai Oh Yes! Chocolate Coated Cake, or get addicted to Cosmos Honey Twist.
Of course, there's an in-between too where sweet and savoury collide, and Lotte Popping Corn Chips in Original, Grilled Corn and Sweet & Spicy flavours can fill that gap.
Besides snacks, people love to eat lots of fruits in Korea since the country's climate makes it perfect for harvesting top quality seasonal produce.
When you need to sweeten up your day, juicy yellow peaches, musk melon and shine muscat grapes from Korea are both refreshing and healthy.
Plus, don't forget the drinks to accompany your heavenly Korean spread! Morning meals will be complete with a cup of Barista Rules coffee—try the Mocha Presso or Caramel Deep Presso if you feel like making a fun choice to start your day.
At the day's end, it's time to wind down, pop a can of Ark Pale Ale, and start counting down till you make your next visit to the land of the morning calm.
Earn A Holiday Through Your Shopping Spree
Cold Storage Korea Fair launched on 28 September with an exciting opening ceremony at Great World City, graced by the Republic of Korea Ambassador, His Excellency Mr Ahn Young-jip.
Attendees got to see the unveiling of a Giant Bibimbap (it left us drooling with envy!), and were treated to a live cook-off between two esteemed chefs: Park Joon Woo, 1st runner up of MasterChef Korea 2012, and Gen Lee, 1st runner up of MasterChef Singapore 2018.
To top it all off, we got into the groove with a sleek K-pop dance performance to some of our favourite songs.
Don't miss the fair while it runs at all Cold Storage, Market Place and Jasons stores from now till 10 October!
As you make your shopping rounds, you can also hit up the sampling booths to experience as many different flavours as possible. In-store sampling will be popping up in the Takashimaya, Bugis, Plaza Singapura, Compass One and Causeway Point Cold Storage stores from 4 to 6 October, 11am – 7pm daily.
You'll also stand a chance to enter a lucky draw and win prizes when you spend a minimum of $25 in a single receipt, including at least two participating Korean products.
One lucky winner will score the grand prize of 100,000 KrisFlyer Miles, which is worth two economy class redemption tickets to Korea! Ten other lucky winners will also each get 10,000 KrisFlyer miles in the bag.
And as a PSA for the huge K-pop lovers, you may be in for a great surprise if you stick around on 5 October and get to catch one of the K-pop flash mobs that will appear in selected stores!
Click through here to learn more about the 'Seoul' delicious deals you can get at Cold Storage Korea Fair.
Annyeong!
This article was written in collaboration with Cold Storage.
Header Image Credit: Pickled Plum, Instazu, My Korean Kitchen
Also Read: Feast On Food From All Around The World Without Leaving The West – Here's How