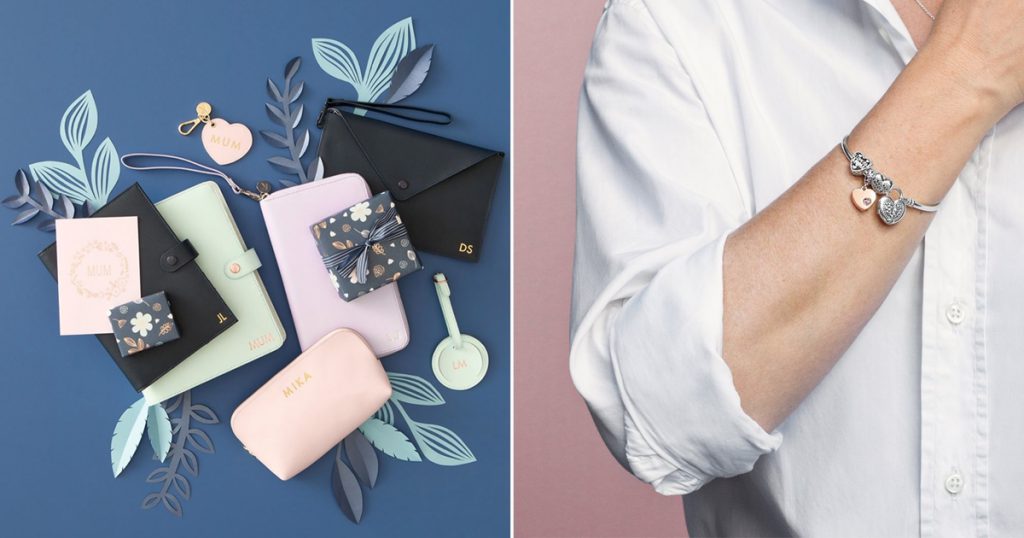 Still haven't got your mum a gift for Mother's Day this Sunday? Well, don't panic. We've all been there.
If you're still cracking your brain on what to get for your mum, don't fret, we've compiled a list of gifts that you can get at the very last minute – no shipping involved.
We've got you covered so your mum won't be disappointed this Mother's Day.
1. For The Foodie Mum
With the lazy, sunny days truly upon us, what better way to feel a little bit more fancy by hitting up one of Singapore's many amazing high tea spots with your mama!

If your mum loves food, then book an afternoon at her favourite high tea spot. Anti:Dote is known for their jewellery drawer chest tea set.

[caption id="attachment_34319" align="aligncenter" width="1344"]
Image Credit: Anti:Dote Facebook[/caption]

Situated in Fairmont Hotel, their high-tea selection consists of various creations including gourmet sandwiches such as Smoked Salmon with Lemon Cream Cheese and Ikura Roe, Mini Strawberry Cake, and Warm Chia Seeds Scones.

You can also find more high tea spots here.

ANTI:DOTE
Address: Fairmont Singapore, 80 Bras Basah Road Level 1, S189560
Price: $48++
Contact No.: 6431 5315
Opening Hours: Mon – Thur: 3pm – 5pm; Fri – Sun: 12pm – 2pm, 3pm – 5pm
Website
2. For The Domestic Goddess
If your mum enjoys spending all her time baking in the kitchen or whipping up a hearty meal for the family, then TOTT is the answer.

From cookware to kitchen tools and accessories, TOTT is THE culinary dream.

If you'd like to get your mum a new set of baking tools so she has an excuse to spend all day in the kitchen baking, then she'll love Jamie Oliver's Measuring Stack ($48.90).

[caption id="attachment_34403" align="aligncenter" width="1308"]
Image Credit: TOTT Singapore[/caption]

This measuring set makes getting the right amount of ingredients super quick and easy. She'll definitely thank you for this one! You can also get it online here.

Jamie Oliver Measuring Stack
Where to buy: Find your nearest TOTT here
Price: $48.90
3. For The Organised Mum
I know I got my super neat freak genes from my mum. She loves organising the house and making sure everything is spick and span.

In fact if she could colour coordinate the clothes in my wardrobe, she would be happy to do so.

If your mum sounds a bit like mine, then she'll definitely love Kikki.K. You can get everything from notebooks and journals to organising folders and storage folders.

[caption id="attachment_34405" align="aligncenter" width="1306"]
Image Credit: @kikki.k[/caption]

This Mother's Day, choose from a selection of Kikki.k's products and personalise them with their monogramming service.

Add a sweet personal touch you know your mum will love and appreciate.

Kikki.K
Where to buy: Find your nearest outlet here
Price: Planners (From $59.90)
4. For The Mum Who Loves Cake
This is the easiest and safest option by far. You can never go wrong with cake, especially if your mum has a sweet tooth.
This Mother's Day, BreadTalk has got you and Mummy covered.
Yams of Love ($34.80) is a beautiful soft chiffon cake layered with pudding and luscious yam paste made with yam imported from Taiwan.
[caption id="attachment_34376" align="aligncenter" width="960"]
Yams Of Love ($34.80)[/caption]
From 1 May to 13 May, this cake will be available at all BreadTalk stores island wide (except Singapore Cruise Centre and United Square).
If Mummy loves anything yam, then this is the perfect cake for her on this special day.
Yams Of Love Cake
Where to buy: Find your nearest BreadTalk here
Price: $34.80
5. For The Beauty Guru Mum
If your mum religiously sticks to a routine to maintain her youthful look, then she'll most definitely love any skincare products.

Give mum the gift of pure, natural beauty with Innisfree this Mother's Day from 1 to 13 May 2018. From everyday essentials for radiant-looking skin to powerful nourishing treatments, there's definitely something for her.

[caption id="attachment_34379" align="aligncenter" width="1080"]
Image Credit: innisfree Singapore Facebook[/caption]

Give her the extra treat she deserves with a complimentary Jeju Pomegranate Revitalizing Special Care Kit when you pamper her with either the Jeju Pomegranate Revitalizing Essence ($46) or Jeju Pomegranate Revitalizing Cream. 

Jeju Pomegranate Revitalizing Essence
Where to buy: Find your nearest Innisfree outlet
Image Credit: Sephora Singapore[/caption]
All you have to do is go to Sephora's online store, choose a design and enter your gift amount. Write a special message for her and wait for a confirmation email for your gift card purchase.
Here's a quick and easy way to make your mum feel truly special this Mother's Day.
Sephora Online Gift Cards
Where to buy: Head on to Sephora's online store here
Price: $20 – $100
7. For The Yogi Mums
You look at her and wonder how in the world does she manage to go to work, care for the entire family and even squeeze in time to stay healthy.

She's not just a regular mom, she's a cool mom.

She downs a bottle of protein shake for breakfast, eats kale and quinoa for lunch and squeezes in a yoga session after work.

If that's your mum, then she'll love these fashionable tights from Lululemon for her next yoga class.

[caption id="attachment_34389" align="aligncenter" width="2048"]
Image Credit: Lululemon Singapore Facebook[/caption]

Taking her from street to yoga, cruise through the day with this light weight and buttery-soft, All You Do Tights in Nulu fabric.

She'll definitely rock these tights at her next yoga class.

All You Do Tights
Where to buy: Lululemon Ion Orchard, 2 Orchard Turn, B1-11, Singapore 238801
Price: $150
8. For The 9 – 5 Office Mum
All mighty mothers deserve a spa session at any time of the year. Hence for Mother's Day, Auriga Spa is offering two treats throughout May to thank the caring figures in your life.
Mum's month ($250 per person) includes a Body Massage and a Rose Facial, both 45 minutes long. The self-explanatory Spa Date with Mum ($550 for two) includes a 30-minute Body Scrub, a sixty minute Body Massage or Rose Facial, and afternoon tea for two. Both packages come with an Aesop Travel Set to take home.
Auriga Spa
Address: Capella Singapore, 1 The Knolls, Sentosa Island, Singapore 098297
Price: From $250
Website
9. For The Ice Queen
Thank mum for her love and devotion with beautifully crafted sterling silver charms. Give your mum something special this year to celebrate what she means to you.

Pandora is known for their collection of charm bracelets and what better way to show your love for her than getting her charms that represents the both of you.

Breathtaking in design, expertly crafted and intricately hand-finished, this limited edition Flourishing Hearts Silver Bangle ($149) is the perfect gift for her.

[caption id="attachment_34401" align="aligncenter" width="960"]
Image Credit: Pandora Facebook[/caption]

Hand-finished in sterling silver, this limited edition bangle features a detachable clasp with a tree of love motif she can mix and match with other clasps.

Flourishing Hearts Silver Bangle
Where to buy: Find your nearest Pandora outlet here
Price: From $149

Mothers wear so many hats at any given point of the day. Spend time with your mum this Mother's Day, after all, it's the thought that truly counts right?

Also Read 10 High Tea Spots To Make Your Mum Feel Like The Queen She Is This Mother's Day

(Header Image Source: @kikki.k ,Pandora Singapore Facebook )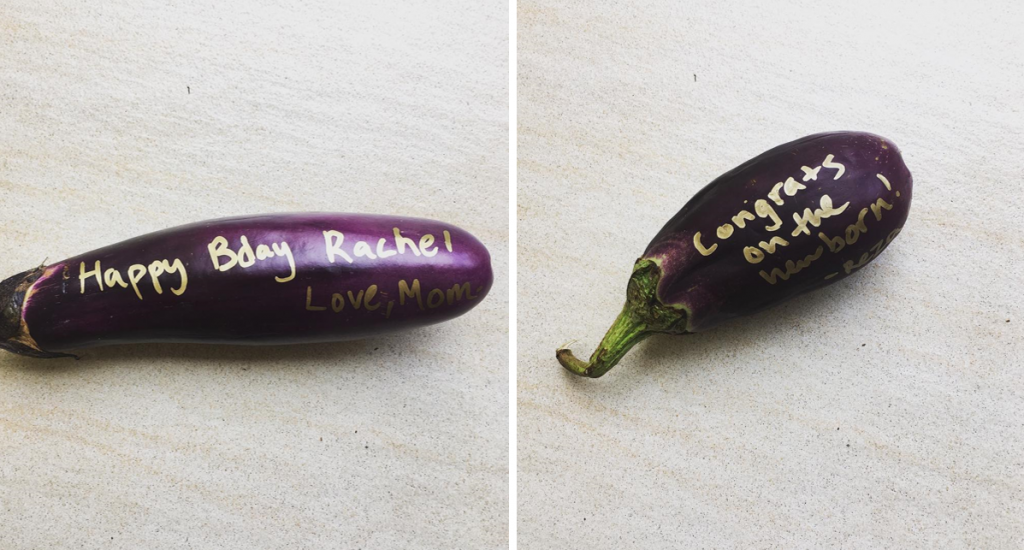 Fans of the eggplant emoji, now you can start sending real eggplants to your friends – and you won't even have to set foot in a grocery store.

A fruit that has gained a whole new level of popularity since the advent of emojis, it has become the universal symbol of the male appendage.

[caption id="attachment_30185" align="aligncenter" width="710"]
Image Credit: The Cut[/caption]

Now, there's a website called Eggplant Parcel that lets you send a cheeky eggplant to anyone – your partner, your friend, even your family members – with any message you'd like.
Message On An Eggplant
The most basic Eggplant Parcel, Eggplant Message, will set you back $9.90*.

[caption id="attachment_30172" align="aligncenter" width="1080"]
Image Credit: @eggplantparcel[/caption]

Create a custom message of up to 50 characters and Eggplant Parcel will have it written on your eggplant in gold paint. If you want your friends (or enemies) to know it was you who sent it, sign off with your name. And if you don't, send it completely anonymously!

While you will not be able to choose the size of the eggplant, the longer your message, the more likely it is that you will wind up with a larger fruit.

[caption id="attachment_30173" align="aligncenter" width="1080"]
Image Credit: @eggplantparcel[/caption]

That aside, Eggplant Parcel tries to pick an eggplant that's fitting for the message. For example, a small, round eggplant, if it's sent to congratulate someone on the birth of their baby.

[caption id="attachment_30178" align="aligncenter" width="540"]
I QUIT![/caption]

For an added $2, your custom eggplant will come with protection. And by that, we mean condoms. Yes, seriously.

While it may seem like just an extension of the gag, the latex protection actually ensures the message is kept untampered – it serves as "an added layer of insurance", according to the people at Eggplant Parcel.

If you'd like to go further in making your point, opt for the Eggplant Head.

At $17.90*, send someone an eggplant with not just text on it, but also an image. All you have to do is upload a picture and Eggplant Parcel will paste the printed image on the phallic fruit.

Each eggplant comes packed in a Ziploc bag. Eggplants are a tough fruit, so don't worry about it getting bruised while being processed in the mail!
A Personal Touch
If you'd like to add even more of a personal touch to your eggplant (e.g write on it with your own handwriting, bedazzle it, etc.), opt for the Eggplant Parcel Starter Pack ($19.90*).

[caption id="attachment_30174" align="aligncenter" width="740"]
Image Credit: @eggplantparcel[/caption]

The starter pack comes with everything you'll need to send a message to whoever you may have in mind – 3 eggplants, 1 gold coloured Pentel Paint Marker, and 3 eggplant explanation cards which explain to the recipient why they've received a random eggplant.
Send A Message, Save An Eggplant
So… Why eggplants?

Cheeky as the whole idea of sending eggplant parcels may be, the idea actually came from seeing food go to waste.

The founder of the business explains, "I read an article about how eggplants go to waste everyday, and I thought before it does, why not use it to put a smile on someone's face?"

And from there, this cheeky personalised gift service was born.

[caption id="attachment_30177" align="alignnone" width="1260"]
Image Credit: Epicurious[/caption]

The team is already considering expanding its product line. What this means is sometime down the road, you may get to pick from not just your typical purple eggplant, but eggplants of other shapes and colours!

Got a friend who's thirsty AF? Want to send a passive aggressive message but haven't yet found the right medium to send it across? Send them an eggplant!

Make sure you come up with a good, cheeky message – that'll make your gift all the more interesting!

*Prices stated are prices at the time of writing.

Also read 10 Exciting Events And Eats That Will Wake You Up Before September Ends [16-30 Sep]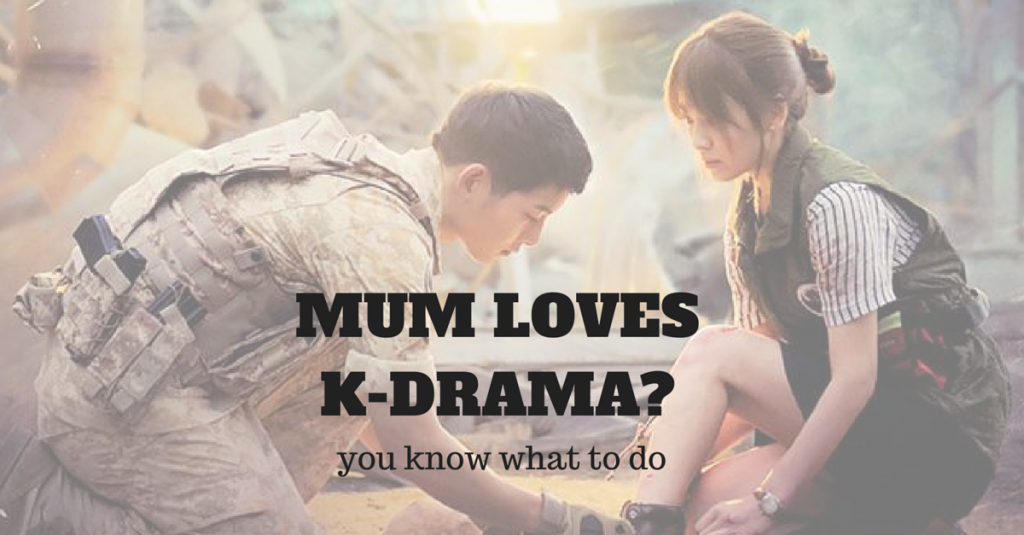 As Mother's Day draws near, we keep an eye out for florists, gifts and online deals, if only to get the best gifts for our mums on that special day. Some mums love flowers, whilst others think of it as a waste of money (it's going to wilt anyway); some mums love accessories and clothes, whilst others haven't dressed up since they had us.
Which is why this article recommends gifts based on Mum's hobbies and tastes – think lululemon for yoga enthusiasts, and a nice chopping board for mums who love to cook.
We've compiled a list of 9 Singapore Mum personalities, ranging from the Yogi to the Traveller – and a great gift for each type of mummy this Mother's Day.
The K-Drama Ahjumma
[caption id="attachment_6622" align="aligncenter" width="975"]
Credit: Persona:


Other mums may complain that we spend too much time in front of the screen, but K-Drama lover Mum is just as guilty of that as we are. She'll stay up till the wee hours to finish her latest rom-com. She remembers the day of the week by the episodes released. Don't even think of testing her database of cute Korean male leads, she'll ace it for sure. A true blue K-drama addict, 'Eomma' will do anything and everything to get her daily drama fix.

Suggested gift for her: A Descendants of the Sun Poster

Surprise her with memorabilia from this mega-popular series – she'll treasure your gift forever. If Mum doesn't know what we're referring to, then she has not become a full-fledged K-Drama Ahjumma, find something else on this list for her instead. 
Foodie Mum
Persona:
She may or may not know how to cook, but Mum certainly knows how to eat – and very well at that. Always caught munching on something regardless of the hour, and forever on the prowl for the next café to hop to, Mum lives for food and food only.
Suggested gift for her: A Free Flow Italian Brunch Buffet at Garibaldi for 2
What better way to treat a foodie mum, than a buffet at one of the best Italian cuisine restaurants in Singapore? Forget the usual flowers and decent restaurant meals – Mum deserves to be served only the best, and pampered on this special day. The buffet upgrades include free flow of alcohol, ensuring a merry Mother' Day for you and Mum.
Yogi Mum
Persona:
Mum is flexible, in the most literal sense, and it certainly isn't too much of a stretch to say that she's absolutely obsessed with yoga. Be it Bikram or Yin, and no matter the pose, she always appears to be in perfect zen – but closer inspection reveals that she's peeking at the timer and muttering: 30 more seconds…
Suggested gift for her: As if Mum doesn't look awesome enough in those back-breaking poses, adorn her with yoga gear that her fellow yoga buddies will be jealous of with this lululemon gift card. Give your mum the freedom to fill her wardrobe with their esteemed collection.
Cooking Mum
Persona:
Saying Mum loves to cook is a huge understatement. Deriving immense satisfaction from stuffing her children (lucky you!), she spends her time experimenting with new recipes and different ingredients. Baking, frying, stewing, and force-feeding are peanuts to her, and whipping up a new dish everyday is 'chicken feet".
Suggested gift for her: Slice Cutting Board by Qualy Design
Albeit a little cliché, the cuteness and style of this cutting board will make your mum go gaga – cutting vegetables and fruits has never been more satisfying. Available in four different designs, each representing meat, fish, vegetables and cooked respectively, this board makes the best gift for any cook, and will surely show her how much mum and her cooking means to you.
Fashionista
Persona:
Many follow the latest fashion trend, but Mum is one of the rare few who can ACTUALLY pull it off. From her meticulously styled hair to her chic outfits, she dresses to wow – and much wow she gets.
Suggested gift for her: Rose Tear Drop Necklace 16'' from Marilyn Tan Jewellery
Mum will never have enough accessories – so fret not about adding this little beauty to her collection. Available in 6 different colours, this locally designed necklace features an elegantly carved rose that will look good on any lady. As an added bonus, instead of gifting it in a box, put it around her neck personally and round it off with a hug to show your love and appreciation for her.
Travel Mum
Persona:
Family members call her proactive and outgoing, which roughly translates to 'cannot sit still' – and you have to agree. Unable to stay in one place, and still bursting with the curiosity of youth (despite her inevitable wrinkles), Mum is a roamer, an explorer of places around the world. The definition of young at heart, she loves travelling and discovering new places – but not as much as she loves you!
Suggested gift for her: JOIK Grapefruit and Mandarin Gift Set
For mums who travel in and out of the country as though it were their front door, gift her a body lotion, soy candle and soap bar – all inside a beautiful gift set that she can bring out on her travels. Soy candles last much longer than paraffin ones, and can fill her room with a scent that'll remind her of you when she's away. The lotion can't return her youth, but at least it keeps her skin smooth and supple after all those hours in the plane! Both useful and stylish, this is a perfect gift for one who travels frequently.
Business Woman
Persona:
There are housewife mums, stay-home mums, retired mums, and then there's your Mum. Taking her work seriously, and seriously working her head off, you sometimes wonder how she found the time to have you. I mean, just look at her juggle that laptop, tablet, phone and stack of documents – on one hand.
Suggested gift for her: A5 Soft Leather Journal by Bynd Artisan Atelier
At a size of A5, and handcrafted with natural grain cowhide, this notebook will fit nicely in her extremely cluttered bag (which is probably already overflowing with other things). Perfect for taking notes during her long meetings, as a notebook of to-do lists, or a journal, remind her that you're always there for her when times are hard and deadlines are pressing! Engraving services are available, so you can print her initials on the notebook – and gift something that is hers and hers only.
Hipster Mum
Persona:
With great taste and an artistic flair, Mum busies herself with hobbies and interests – usually in the form of a DIY project. Which probably explains why her room is overflowing with the random-est things. Her motto: Huh, buy for what? I make for you la.
Suggested gift for her: Perfume Making Workshop by Je tamie
For mums who relish the challenge of crafting, and the satisfaction of using a product that they made themselves, no less, a perfume making workshop with definitely satisfy her hipster fingers. The workshop is for two, which obviously refers to you and mum, simply because the best memories you can give her are crafting experiences with you. Each participant gets to take home 105ml of perfume: three sample bottles of 10ml and one 75ml perfume in a hand- polished crystal bottle.
Grandma
Persona:
Grandma is… someone who has a grandchild (duh). Despite the many stereotypes about grandmas, such as their fussiness about the smallest things, Grandma is a wise person who is brimming with love for her children and grandchildren. A 'next level' Mother, the mother of mothers, Grandma fully deserves her title of 'Grand' Mother.
Suggested gift for her: Premium D24 Durian Puffs
Unless Grandma doesn't like durians, these puffs are the best gifts for her, simply because they taste awesome. Available in a box of 12 and filled with the creamy goodness of fresh D24 durians, Grandma and the family will be in for a treat this Mother's Day. Forget the sugary restrictions that the doctor gave and indulge Grandma – just this time.
Get more Mother's Day gift ideas here.
This article is brought to you by MerryMakr
(Header image credit: 5 Posh Dinner Places To Bring Mom To So She'll Be Proud Of You