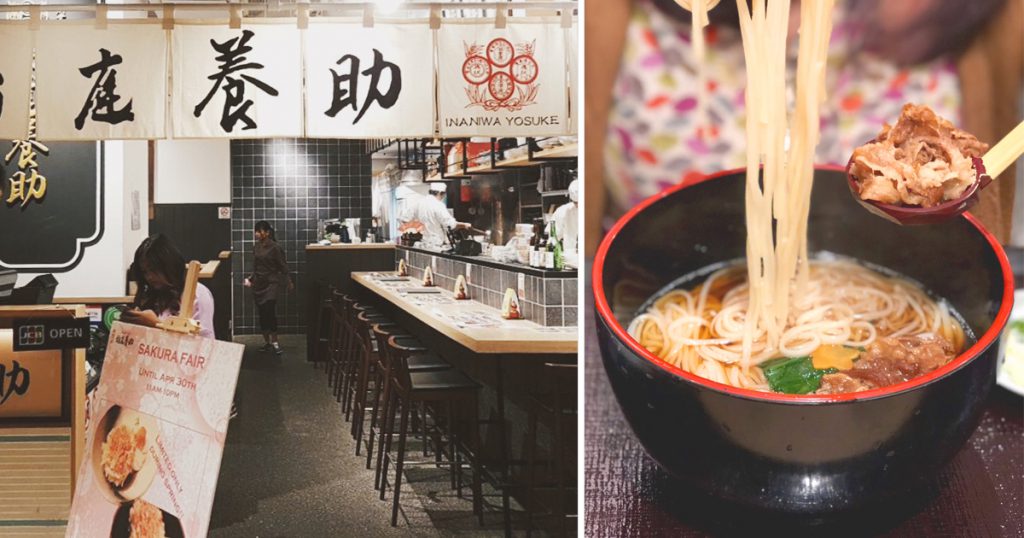 I don't think that there are official 'sides' to the Udon VS. Ramen argument. If it is even an argument in the first place. But if I had to pick sides, I'm a Ramen fan.
There's just something about thin yellow noodles that seems so much more appealing than the thick strand of udon. Udon just seems so…much.
Looking at Udon makes me feel like it's going to be jelak before I even order.
So this weekend, I did something (relatively) brave. My Udon-loving friend found a particular Udon restaurant in Wisma Atria and she wanted to try it.
So off we went on a lazy Sunday afternoon for Udon.
A Hidden Gem
Hidden in plain sight on Level 4 of Wisma Atria, next to FoodRepublic, is the Japan Food Town. If you think this is another "Shokutsu Ten" at Nex or Jurong Point, you're wrong.

The restaurants here are next level. Deep within the Japan Food Town was our destination, Inaniwa Yosuke.

[caption id="attachment_34217" align="aligncenter" width="1280"]
Image Credit: DiscoverSG[/caption]

The restaurant looked unassuming. Like a run-of-the-mill Japanese restaurant with limited seating and fancy-ish decor.

I went in with a sense of trepidation because I'm a person of habit and tend to stick to what's familiar and good. I'm really not an udon person.

I ordered the Beef Udon ($16.80) because that was the most familiar flavour besides the Carbonara Udon that was sadly, out of stock. My friend ordered the Wagyu Steak Don Set ($24.80) as well as the Agedashi Tofu ($6.80) and Salmon Sashimi ($10.80) to share.

The first dish to arrive was the Agedashi Tofu. Four large pieces of perfectly tempura fried tofu sitting in a light soy sauce.

This was a delight to eat. The biggest gripe I have with Agedashi Tofu is that their batter becomes soggy very quickly but this one was soft yet crispy with its delicate batter and the soy sauce was not too salty. Basically, AMAZING.

Next was the Salmon Sashimi and each piece was fresh and sliced thick.

[caption id="attachment_34231" align="aligncenter" width="700"]
Image Credit:
Image Credit: FourSquare User Janie Chua[/caption] [caption id="attachment_34229" align="aligncenter" width="960"]
Image Credit: FourSquare User Janie Chua[/caption]

Not that it's a bad thing, but the broth was definitely better than I expected. Next, the udon noodles.

The udon noodles here are thinner than the usual thick variety that we're all familiar with. The restaurant uses Inaniwa-style udon noodles which are thinner and smoother and is handmade every step of the way.

[caption id="attachment_34232" align="aligncenter" width="700"]
Image Credit: here.
I'm definitely going back for more and I recommend that you give it a shot.
Inaniwa Yosuke
Address: 435 Orchard Road, #04-45 Wisma Atria, Japan Food Town, Singapore 238877
Opening Hours: Mon – Fri: 11.30am – 11pm, Sat – Sun: 11am – 11pm
Contact no.: 6262 3279
Website
Also read Sorry, No Bags Provided – First Zero Waste Grocery Store Wants You To BYOB
(Header Image Source: FourSquare User Janie Chua)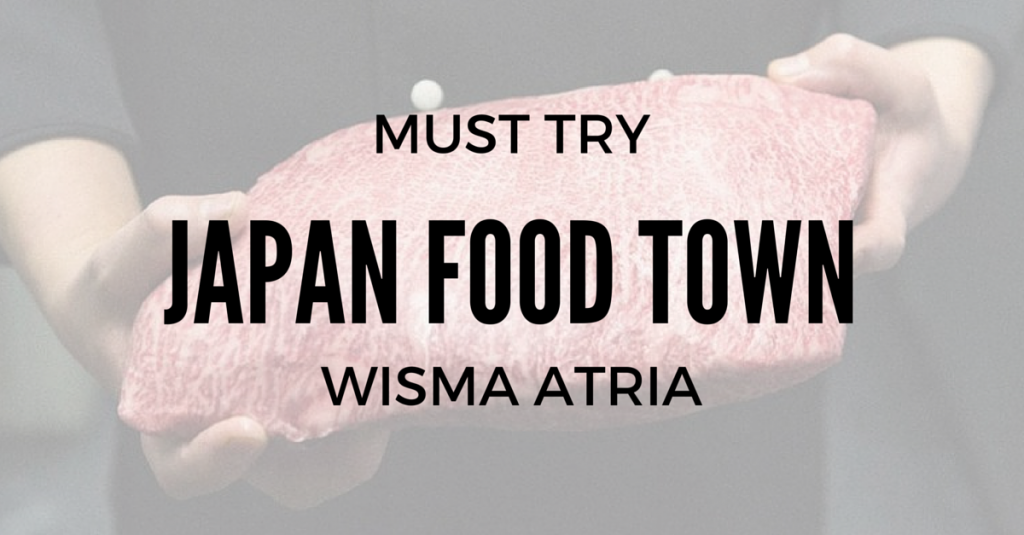 It's not cheap to fly all the way to Japan for a food adventure. Don't even get us started on the language barrier! But guess what? Japan Food Town will officially open its doors at Wisma Atria, Orchard on the 16th of July 2016! It's about curating and bringing the best of Japanese food to our sunny shores!
We Singaporeans loveeeeee Japanese food. From takeaway sushi rolls, cook-it-yourself curry rice or the 'I saved for moths for this piece of Kobe beef', there's always an occasion for Japanese food.
Image source: Japan Food Town
But how about authentic Japanese food? How many of us actually had proper artisanal sushi (not machine pressed rice with corn and mayonnaise)?
What is Japan Food Town?
[caption id="attachment_10981" align="alignnone" width="760"]
Image source:
Image source:
Image source: Japan Food Town[/caption]

Known for their deep fried pork cutlet (specifically Japanese black-haired pork, also known as kurobuta) served with homemade sauce, you sure can count on Anzu for your Katsu cravings. Everything is prepared from fresh Kyushu produce. They even grow the vegetables themselves!
2. Onigiri @ Bonta Bonta
[caption id="attachment_10966" align="alignnone" width="800"]
Image source: Japan Food Town[/caption]

Do not underestimate the Rice Balls (onigiri) at Bonta Bonta. Every grain of rice is carefully selected by a 'Rice Sommelier' and processed to the highest standards to qualify as Kinmemai – low-calorie brown rice with high nutritional value. Certainly a humble dish prepared with lots of effort and love.
3. Sake @ Dassai Bar
[caption id="attachment_10967" align="alignnone" width="640"]
Image source:
Image source: Hokkaido Izakaya[/caption]

Hokkaido's unique geographical location means access to the best flavours of both worlds – the sea and the land. You've heard people rave about their seafood (Hokkaido crab!!) and soba from the Tanjong Pagar branch. How about trying it for yourself at Japan Food Town?
5. Handmade Udon @ Inaniwa Yosuke
[caption id="attachment_10972" align="alignnone" width="1181"]
Image source:
Image source: shomao.h[/caption]

Ramen Ramen Ramen! Need we say more?? We'd love to let the broth do the talking but what makes Machida Shoten really special is their "Iekei" concept, which translates to noodles that are cooked to the diner's specified softness or hardness. Personalised Ramen, bring it on!
7. 2 Michelin Star Hotpot @ Nabe Seizan
[caption id="attachment_10971" align="alignnone" width="567"]
Image source: Japan Food Town[/caption]

Feeling under the weather? Maybe a 2 Michelin Star hotpot (nabe) will pick you up. Helmed by Tokyo-born chef, Haruhiko Yamamoto, Seizan strives to bring out the true flavours of each ingredient rather than rely on sauces. Be blown away by this nabe.
8. Premium Teppanyaki & Wagyu @ Osaka Kitchen
[caption id="attachment_10973" align="alignnone" width="780"]
Image source: Japan Food Town[/caption]

Ever wonder what a 'premium Teppanyaki' experience is like? Just head to Osaka Kitchen for the finest wagyu on hot stove. While you're at it, order Okonomiyaki (savoury pancake) and Yakisoba (fried noodle) for a true blue Kansai dining experience.
9. Fried Chicken @ Rang Mang Shokudo
[caption id="attachment_10974" align="alignnone" width="932"]
Image source: Japan Food Town[/caption]

This isn't just ANY fried chicken. Tokyo's Rang Mang Shokudo's fried chicken is marinated in buttermilk for 6 hours. It is then double fried in low heat to bring out the umami, that desirable Japanese flavour. Pair it with their signature frozen lemon cocktail…that's definitely finger licking good!
10. Mackerel @ Sabar
[caption id="attachment_10975" align="alignnone" width="780"]
Image source:
Image source: Japan luxury guide[/caption]

Started in 1997, this eatery operated on a simple motto – "good quality food with reasonable price". Try their beef and vegetable buffet Shabu Shabu or Sukiyaki and you'll understand the true definition of amazing quality food and reasonable price.
12. Sushi Takewaka from Tsukiji Market
[caption id="attachment_10977" align="alignnone" width="1000"]
Image source: Originally from Tsukiji (the super famous fish market), this 28 years old Edo style sushi place only uses good quality fish and seafood, prepared by their skilful chef.
13. Tempura Tsukiji Tenka
[caption id="attachment_10978" align="alignnone" width="700"]
Image source:
Image source: Japan Food Town[/caption]

At Yakiniku Heijyoen, their beef is treated like fine wine – only top quality black haired wagyu beef from Japan is used. Before the beef even sees the kitchen, it is first aged for tenderness to bring out a deeper concentration of beef taste. Beef lovers, this is a treat you don't wanna miss.
15. Yomoda Soba
[caption id="attachment_10980" align="alignnone" width="960"]
Image source: Japan Food Town[/caption]

"Yomoda" means many things – carefree, fun, easy going, but most of all, it's a word used for friends to see things on the lighter side of life. Boasting freshly made soba served with "Yomoda" hospitality at a surprisingly affordable price, this is the kind of place you'd want to visit with your family and friends.

With such a wide range of authentic Japanese food to choose from, which eatery would you like to try out first? You can bet that we'll be heading down with friends & family. Let's pen this new food town in our food bucket list!

Japan Food Town
Official opening date: 16 July 2016
Location: 4th Floor, Wisma Atria Shopping Centre, 435 Orchard Rd, 238877
Operating Hours: 11am-11pm daily
Website: Japan Food Town

Header image source: Pexels

For more Japanese food in Singapore, click here.
Also, read A Rundown Of What's Cooking At Food Opera – 8 Stalls You Must Check Out!