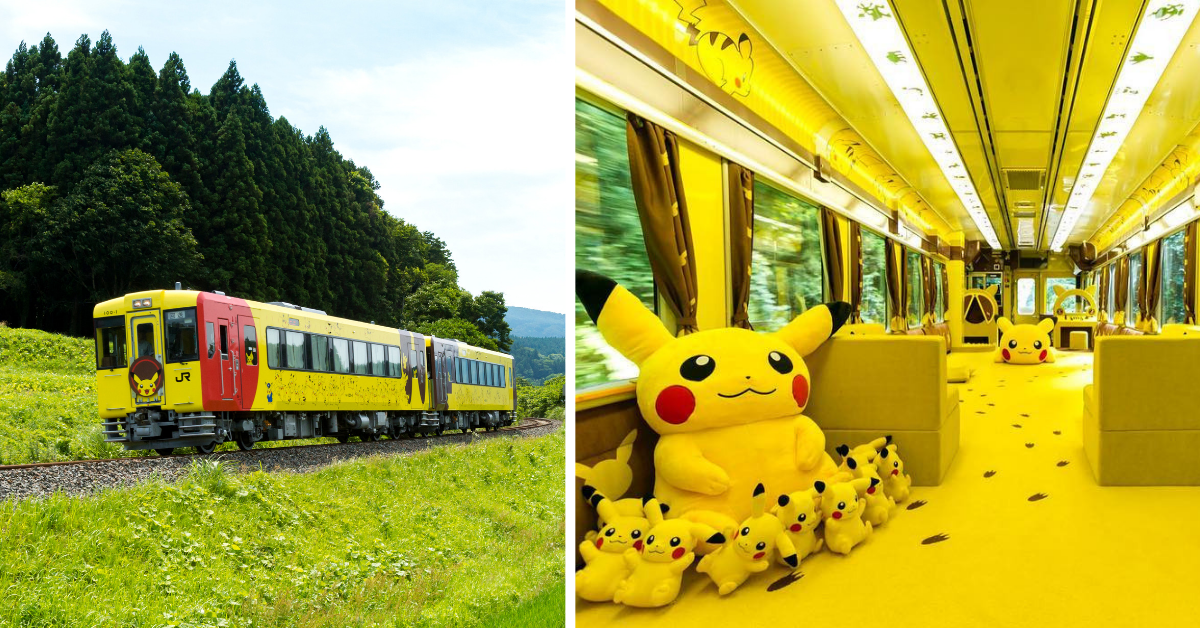 Pikachu fans and train otakus, it's time.
This October, Tanjong Pagar Centre Urban Park will transform into a "Japanese Train" with live music, a wide array of food and movie screenings.
Opened by East Japan Railway Company (JR East), Japan Rail Café will be hosting a train-themed event called "Autumn in the Train" at Tanjong Pagar Centre!
In Japan, 14 October is also known as "The Railway Day" (Tetsudou-no-hi), as it marks the opening of the country's first railway back in 1872. To celebrate this special day, Japan Rail Café, will unfold a train-themed event at Tanjong Pagar Centre from 11 – 14 October.
[caption id="attachment_37744" align="aligncenter" width="1297"]
Image Credit:
Japan Rail Cafe
[/caption]
Pikachu Meet-And-Greet Session
The most exciting part of this 4-day event is definitely the Pikachu meet-and-greet session. If you missed the first Pikachu Parade that was held at Changi Airport in 2017, this is the perfect time to catch this adorable character in action.
[caption id="attachment_37745" align="aligncenter" width="1080"]
Image Credit:
Japan Rail Cafe
[/caption]
Pikachu will be making a special appearance on all 4 days at different times to promote the makeover of the "POKÉMON with YOU" train which runs between the JR Ichinoseki Station and JR Kesennuma Station in Tohoku.
Don't miss out on this rare opportunity to snap a photo with Pikachu at the train photo panel!
[caption id="attachment_37746" align="aligncenter" width="1080"]
Image Credit:
Japan Rail Cafe
[/caption]
If you're visiting Japan soon, you can purchase the JR-East Pass (for Tohoku) to enjoy unlimited train rides including the special Joyful Train here.
Meet-And-Greet Timings
11 & 12 Oct (Thu & Fri): 1pm – 1.30pm
13 & 14 Oct (Sat & Sun): 2pm – 2.30pm
Food & Movie Screenings
If you're not into Pikachu or trains, there are plenty of other things to look out for at the event as well such as trying out amazing Japanese food. From onigiri and bentos to cakes and ice cream, you definitely won't go hungry at this event.
Look out for the autumn-themed cakes by Chef Yamashita, marron cream buns from Hattendo Singapore, roasted sweet potatoes and melon cream buns from Japan Point and much more.
[caption id="attachment_37747" align="aligncenter" width="1080"]
Image Credit: Chef Yamashita Facebook[/caption]
Or catch the critically acclaimed Japanese movie "Jimami Tofu" featuring a Chinese-Singaporean chef discovering his love for Okinawan cuisine. A Makoto Shinkai Anime Marathon will also be held, featuring some of his acclaimed works such as "5 Centimeters per Second", "Voices of a Distant Star" and "The Garden of Words".
Jimami Tofu Screening
Date: 11 Oct, Thursday
Time: 7.45pm – 9.45pm
Makoto Shinkai Anime Marathon
Date:  13 Oct, Saturday
Time: 5pm – 7pm
For The Train Otakus
Live your fantasies of driving a train at a train simulation game "Densha de go" – one of the most interesting things to check out at the event, given the depth of the game's realism.
This game set up has a realistic control system and hyper realistic graphics making it the top train simulator around. Check out videos of the game on YouTube as it's pretty much a dream arcade game for hardcore train lovers.
https://www.youtube.com/watch?v=BuEeUlJe9JE
This is possibly the closest you'll get to Autumn in Japan right here in Singapore. Head down to Tanjong Pagar Centre Urban Park from 11 – 14 October for 4 days of food, anime and trains!
Autumn In The Train
Venue: Tanjong Pagar Centre L1 Urban Park
Date: 11 – 14 Oct 2018
Time: 11am to 10pm
Also Read Chanel Is Painting The Town Red With Its New Le Rouge Beauty Pop-Up This October
(Header Image Source: Japan Rail Cafe)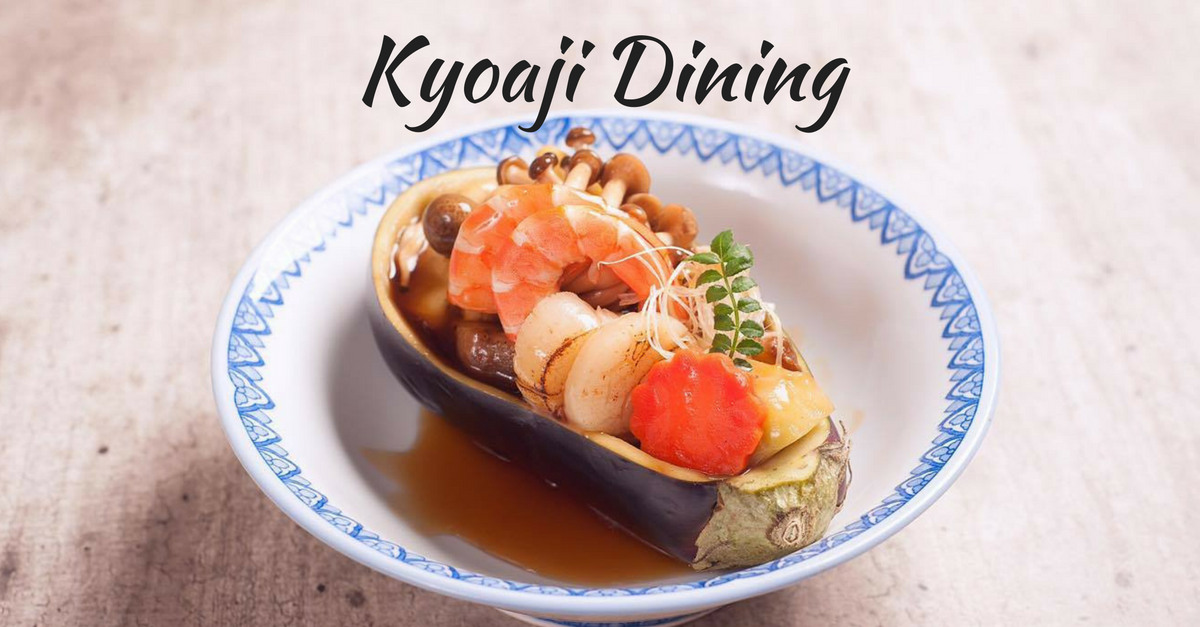 If any of you were disappointed by the closure of Fukuichi Dining at TripleOne Somserset, you'll be relieved to know that Kyoaji Dining is helmed by the same team.
Executive Chef John Phua, with over 30 years of experience in Japanese cuisine, continues to wow our taste buds with a thoughtfully conceived menu featuring familiar and well-loved dishes!
The rebranded name "Kyoaji" literally translates to "A taste of Kyoto". Situated on the 4th level of the newly revamped wing of Centrepoint, Kyoaji Dining promises to serve authentic Japanese fare at reasonable prices. Read on for our experience!
1) Kani Tofu
A unique spin on the traditional chawanmushi, the Kani Tofu (tamago with tofu) is topped with a decadent layer of century egg puree with juicy crab meat!
The cold handmade tofu is incredibly silky while the liberally sprinkled Tobikko packs a subtle crunch with each bite.
Crab Meat Bean Curd ($6)
2) Shio Maguro Aburi Maki
Tired of the usual salmon aburi maki dominating the menu in almost every Japanese restaurant?
We have here a beautifully presented seared white tuna roll topped with Tobikko and green caviar.
We would aburi everything if we had it our way! Nice and smoky, each thick slice of tuna, wrapped around a california roll base, was fully savoured.
Seared White Tuna Roll ($22)
3) Caterpillar Maki
If you thought that Japanese food automatically translates into Insta-worthy captures, the Caterpillar Maki is a great example.
The avocado slices give the illusion of a caterpillar coming to life – it even has eyes (made of Tako) to boot!
On a low carb diet? This maki is made without rice.
Pop each little segment of the caterpillar body in your mouth and be overwhelmed from the freshness of each light bite.
Avocado roll ($20)
4) Ebi Almond Tempura 
If you're a fan of almonds, this dish might just hit the spot! Here's an ebi tempura with extra crunch and flavour.
Each tempura is generously coated with sliced almonds and deep-fried to perfection. We liked how the nutty profile complemented the sweeetness of the prawns. The batter coating was not too thick too!
Deep Fried Prawns with Almonds ($15)
5) Fukiyose Beinsu
This is one of Chef's Phua's signature creations.
A whole eggplant is sliced and stuffed to the brim with a seafood lover's dream.
The fresh scallop and prawns are coated with a thick, savoury base braised with Japanese soya sauce, mirin and sake. Expect to pick up light notes of yuzu as well. This is one said to be one of their top signature dishes. A must-try!
Egg Plant with Seafood ($25)
6) Fagura Chawan Mushi
Kyoaji Dining sure knows how to get their chawanmushi right- They have an entire menu page dedicated to this particular dish.
This silky steamed egg custard is layered with foie gras liver sauce and cubes (an elevated version of the common chawanmushi) stole the show. The liver sauce tasted almost caramalized and gave the chawanmushi a lot more depth in flavour. The foie gras cubes were oh so sinful, but extremely satisfying.
Goose Liver Steamed Egg ($25)
If you were a fan of Fukuichi Dining, expect to find your favourite Japanese dishes resurrected at Kyoaji Dining. Have a look at their set lunches, they are affordably priced as well!
To celebrate the opening of their new restaurant, you can enjoy 15% of your total bill, valid till 30th November so head on down soon! We know, good news and great food have to be shared.
This was an invited food tasting session.
Kyoaji Dining
Address: 176 Orchard Road #04-17/18 The Centrepoint
Opening hours:
For lunch, Monday – Friday: 11.30 am-3pm (last order at 2.30pm)
For dinner, 5.30pm – 10.30pm (last order at 10pm)
Sat, Sun & PH: 11.30am – 10.30pm (last order at 10pm)
Website: Facebook, Instagram
Also, read New Hangout Spot, Chip Bee Gardens, Is Where All The Cool Things Are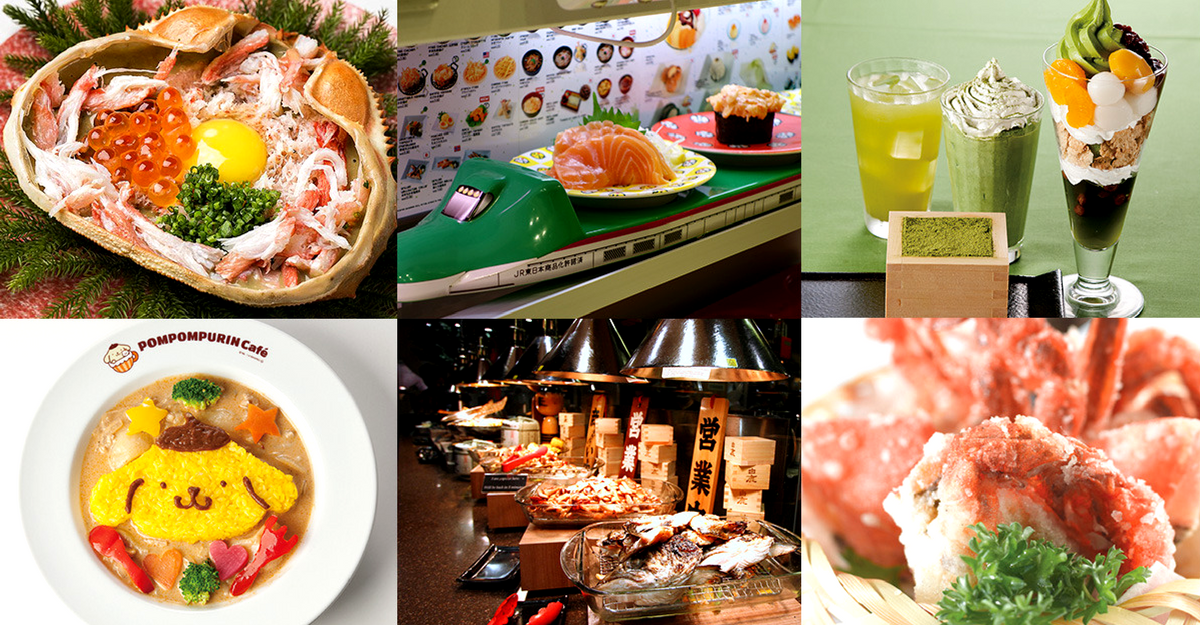 For the whole month of October (7 Oct – 6 Nov), Orchard Central is going all out to celebrate Japanese culture. Hosting All Things Japanese @ OC 2016, Orchard Central wants you to get into the festivities as well!
If you've not noticed, Orchard Central is somewhat of a "Little Japan", and is home to several Japanese food outlets and retail shops. From an all-you-can-eat Japanese buffet to a Pompompurin themed cafe, Orchard Central is the perfect place for a Japan-lover to spend their weekends.
We've compiled a list of these particular shops, and what you can look forward to when visiting them!
1. UNIQLO (Global Flagship store)
[caption id="attachment_16851" align="alignnone" width="1024"]
!) and a dedicated UT Graphic T-shirt section, UNIQLO Orchard Central is the best place to get great styling inspirations!

UNIQLO (Global Flagship store)
Orchard Central
#01-01/#02-01/#03-01
181 Orchard Road, S238896
Operating Hours: 11am – 10pm
2. TOKYU HANDS
[caption id="attachment_16854" align="alignnone" width="1000"]
TOKYU HANDS[/caption]
TOKYU HANDS offers day-to-day necessities as well as creative and unique knick-knacks. From colourful stationery to beauty treats from well-known Japanese labels, TOKYU HANDS is the one-stop shop for all your must-haves!
A great place to pick up gifts, especially now that Christmas is around the corner. Check out some interesting products we've found at TOKYU HANDS!
[caption id="attachment_16855" align="alignnone" width="250"]
Nigiri Sushi Tong[/caption]
Getting a gift for a friend who loves having friends over for dinner? Get the Nigiri Sushi Tong, picking up sushi just a whole lot easier. Never waste fallen pieces of sushi again!
[caption id="attachment_16856" align="alignnone" width="1000"]
Ceraphyto[/caption]
If you haven't got a green thumb but you still love the idea of miniature plants around the house, Ceraphyto makes sure that your plant gets the water it needs. Without having to lift a finger, your miniature plant will thrive and brighten up your room!
[caption id="attachment_16857" align="alignnone" width="750"]
Yuki Yuki Ice Shavers[/caption]
Want to try creating your own Bingsu? Good news for you, TOKYU HANDS has Yuki Yuki ice shavers for you to create icy desserts in the comfort of your own home!
3. Kiseki Japanese Buffet
[caption id="attachment_16859" align="alignnone" width="1000"]
Kiseki Japanese Buffet[/caption]
Absolutely value for money and quality food Kiseki Japanese Buffet serves up all your Japanese favourites at an amazing $19.80++ for weekday lunch!
[caption id="attachment_16860" align="alignnone" width="800"]
Kiseki Mighty Taste Of Autumn[/caption]
Head on down to Kiseki Japanese Buffet this month to experience their newest promotion, Mighty Taste of Autumn. Serving up both traditional and Singapore inspired fusion dishes, look out for the Salted Egg Tempura Maki, Salted Egg Seafood Pizza and the Pork Paitan Herbal Hot Pot! Bursting with flavor, The Mighty Taste of Autumn is available until 31 October 2016!
Kiseki Japanese Buffet
Orchard Central
#08-01/02/03,
Contact: 6736 1216/9626 7767 (SMS)
4. POMPOMPURIN Café
[caption id="attachment_16861" align="alignnone" width="900"]
Coconut Milk Chicken Curry[/caption]
Looking for a dish that is bound to fill your appetite? The Coconut Milk Chicken Curry is the perfect dish for you! A warm and hearty dish accompanied with a mix of veggies, this dish is the perfectly balanced meal.
[caption id="attachment_16863" align="alignnone" width="1024"]
En Sakaba[/caption]
Newly-opened En Sakaba offers traditional Japanese dining and a casual spot to catch up with friends over drinks.
With a wide array of tapas, sake and cocktails, this is the perfect spot to unwind after a stressful day at work.
Their speciality here? The Jumbo Hotate Yaki and Zuwai Kani Kourayaki are the favourites at this casual dining spot.
En Sakaba
Orchard Central
#01-06
Contact: 6634 1018
6. Supermama –Pop-Up Store (Level 1)
[caption id="attachment_16869" align="alignnone" width="1000"]
Supermama Popup Store[/caption]
One thing to look out for at OC this month is the Supermama Popup Store. Not your ordinary run-of-the-mill popup store, Supermama collaborates with local artists and traditional craft facilities in Japan to create Japanese-influenced contemporary giftware.
Kyoto-to Embroidery Purses
Look out for Kyoto-to's embroidery purses. Fusing both traditional and contemporary sides of Japan, Kyoto-to explores new ways of promoting Japan's culture and tradition through its embroidery designs.
[caption id="attachment_16870" align="alignnone" width="1000"]
HAKOYA bento box[/caption]
Spend $100* at Orchard Central and you'll be rewarded with a HAKOYA bento box!
A new design will be released each week, collect the remaining designs of this unique bento boxes that will brighten/cheer up your meal times!
*Terms & Conditions apply. While stocks last.
So what are you waiting for? Grab your family and friends and head on down to Orchard Central to join in the festivities!
Orchard Central is located at 181 Orchard Road, S(238896).
Customer Service hotline: 6238 1051(opens daily from 11am to 10pm daily)
Follow them on FACEBOOK & INSTAGRAM for more information.
Also Read: Top 5 Events You Cannot Miss: 17 October – 31 October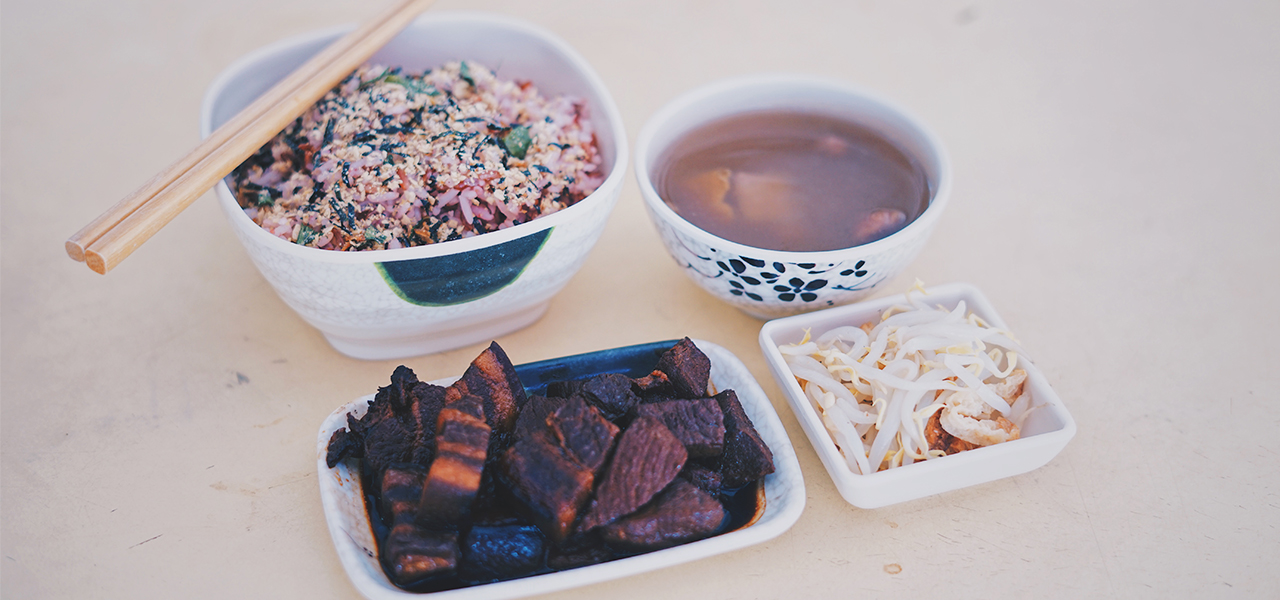 Fusion food is a rather ingenious concept that gives us the best of both worlds, but it more often than not comes with a premium price tag as well.
The much-hyped Lobster Nasi Lemak, for example, costs a whopping $22 — a price point higher than some restaurants, mind you — while hawker chain Fish & Chicks charges $12.90 for their chilli crab and salted egg fish & chips.
The folks at Plum & Rice, however, have flipped that idea on its head, and the result is an incredibly satisfying meal at an even more satisfying price.
Small Menu, Big Flavours
[caption id="attachment_37664" align="alignnone" width="3024"]
Image Credit: Discover SG[/caption]
Occupying a humble corner stall at Bedok North Street 1 Market and Food Centre, Plum & Rice serves Japanese-inspired rice with Singaporean-inspired dishes.
The concept is the brainchild of three friends who graduated from the Culinary Institute of America (Singapore) — they discovered the titular combination of Umeboshi and rice while searching for inspiration in Japan, and decided to adopt the fusion angle to better suit the Singaporean palate.
[caption id="attachment_37666" align="alignnone" width="6000"]
Image Credit: Discover SG[/caption]
The menu, while small, is all about choices — right from the get go you can choose between rice or porridge, both of which are infused with an Umeboshi paste.
Unfortunately, the porridge was sold out by the time we got there (a testament to how popular it is, perhaps), but the rice is definitely something to write home about.
Thanks to the addition of house-made furikake, cereal, curry leaves, dried shrimp and seaweed, everything comes together to form an extremely flavourful bite, and I could have seriously ate a bowl of it on its own. The owners have also recently added red rice into the mix, making it as healthy as it is tasty.
[caption id="attachment_37673" align="alignnone" width="6000"]
Image Credit: Discover SG[/caption]
On the meat side of things, you have three choices: braised pork belly, braised pork shoulder, and fish. Both pork dishes are prepared in the same dark soy sauce and are therefore rather similar in taste, but the belly is ultimately is the one to get thanks to its silky smooth texture.
Breaking apart at the slightest touch, every slice quite literally melts in your mouth. There's also a rather…homely feel to the taste, which forms a nice juxtaposition with the Japanese rice.
[caption id="attachment_37670" align="alignnone" width="6000"]
Image Credit: Discover SG[/caption]
The fish was also sold out (pro-tip: go early), but co-owner Raphael tells us that it's cooked sous-vide style, which makes it very, very tender. Judging by how smooth the pork belly was, we wouldn't doubt it.
[caption id="attachment_37675" align="alignnone" width="6000"]
Image Credit: Discover SG[/caption]
Each meal also comes with a side and (refillable!) soup, both of which change every two weeks. We were served bean sprouts and peanut soup, and their lighter tastes balanced out with the savoury meat and rice perfectly.
One personal recommendation I have to make is the house-made chilli —it provides a decent kick of spice without going overboard, and adds a whole new dimension of to an already-flavourful meal.
Cheaper Than You Think
You might think that all this would be pretty expensive, but a meal at Plum & Rice will actually cost you less than $7.
[caption id="attachment_37676" align="alignnone" width="6000"]
Image Credit: Discover SG[/caption]
Yup, that's right — you're getting rice, meat, a side and free-flow soup for the unbelievable price of $4.90 ($6.90 if you're going for the fish, which is still very reasonable), which honestly might be the best deal we've seen in recent history.
One caveat, however, is that the stall closes at 2pm, which might be a problem for office workers and those not living in the east.
Those willing to put in the effort to try them out, however (there's always the weekend), will not be disappointed.
Plum & Rice
Address: 216 Bedok North Street 1, #01-45, Singapore 460216
Opening Hours: 8am – 2pm (Closed on Mondays)
Also Read Tsukiji Fish Market Restaurant Is Pretty Close To The Real Deal — Serves Fish, Ramen, Yakiniku All In One Place
(Header Image Source: Discover SG)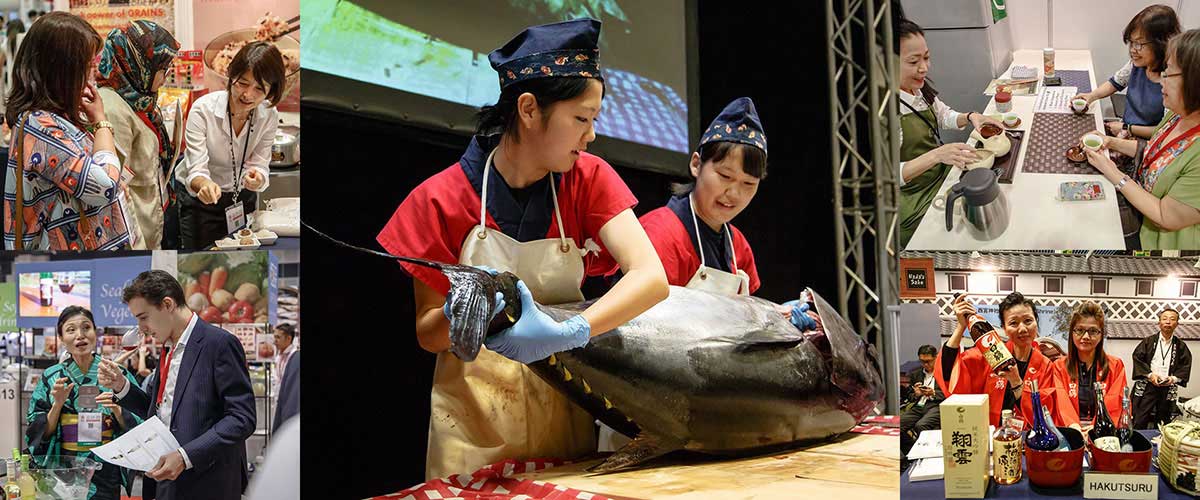 If you're a huge fan of Japanese food and culture, good news for you Food Japan is back! Also known as Oishii Japan, Food Japan 2016 is ASEAN's biggest Japanese showcase! This year they've really outdone themselves!
With over 300 exhibitors showcasing Japanese products, innovative technology and services you're bound to find something that piques your interest!
Food Japan 2016
[caption id="attachment_17228" align="alignnone" width="1000"]
Meat @ Food Japan 2016[/caption]
Food Japan 2016 Workshops
[caption id="attachment_17223" align="alignnone" width="768"]
Sakai City Knives[/caption]
There's something for everyone at Food Japan 2016! If you have a sweet tooth head to All Japan Trade Association Of Confectionary Manufacturers booth who are offering up popular Japanese confectionary and snacks. Looking to invest in some high quality kitchenware?
Sakai City is selling Sakai knives, sharp carbon-steel blades these knives are highly valued among top chefs worldwide! Food Japan 2016 has everything you need!
[caption id="attachment_17237" align="alignnone" width="690"]
Matcha Tiramisu
[/caption]
The best part? Food Japan 2016 is hosting some workshops! Look out for Temari Zushi & Matcha Tiramisu Workshop! At the helm is Angelia Lau part of ABC Cooking Studio Singapore, who will be dishing out tips & tricks to assembling a Matcha Tiramisu!
29 Oct (Sat)
11.30am – 12.30pm, 12.45pm – 1.45pm
[caption id="attachment_17239" align="alignnone" width="400"]
Miniature Bento Boxes
[/caption]
Looking for a creative outlet? Polkaros Cafe is holding a Mini Teishoku Workshop! Ros Lee a Singaporean artist – designer will be guiding you in creating your very own miniature Teishoku lunch set modelled out of Japanese stone clay!
29 Oct (Sat)
2pm – 4pm
[caption id="attachment_17230" align="alignnone" width="1000"]
Udon & Soba Booth[/caption]
Food Japan 2016
29 Oct (Sat)
11am – 4.30pm
Suntec Singapore Convention & Exhibition Center
Hall 401 – 402, 1 Raffles Boulevard, Suntec City, S039593
Admission Fee: $4/pax, FREE entry for children under 12
For more information check out Orchard Central's "All Things Japanese" Festival Is Bringing Japanese Food And Culture Under One Roof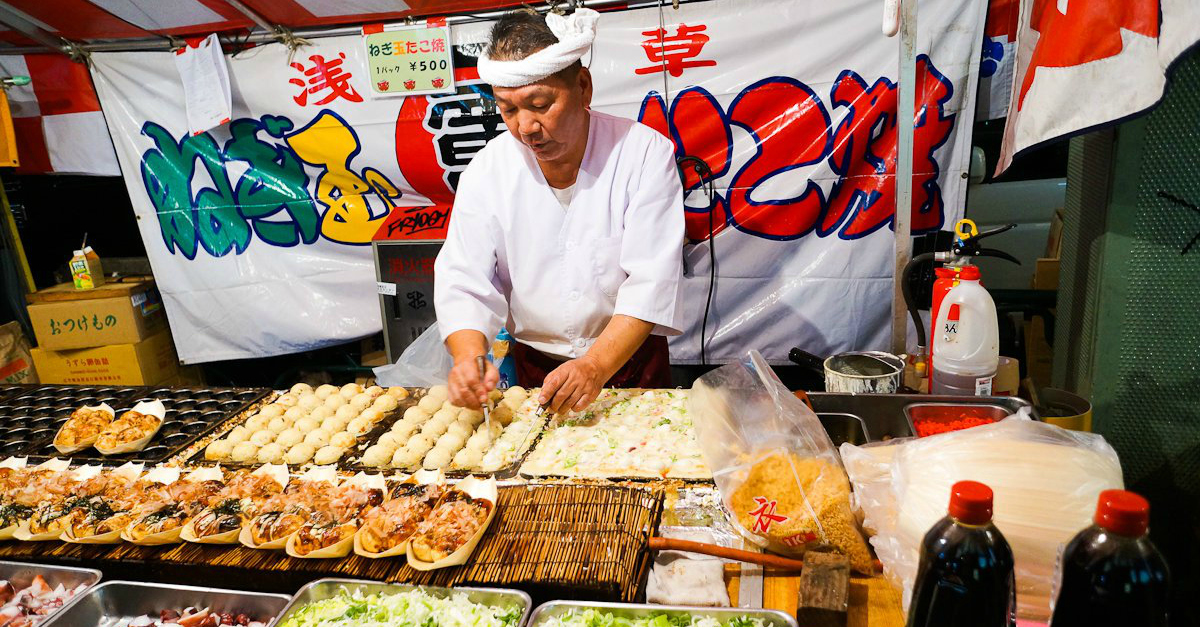 If you love Japanese culture like we do, mark your calendar! Super Japan Matsuri will be held from 20 to 22 May 2016 at the Esplanade – Theatres on the Bay from 5pm to 10pm daily.
Food
Like every other Matsuri (festival), you can look forward to a weekend of traditional Japanese festival food such as Takoyaki (octopus balls), Okonomiyaki (Japanese pancakes), soft serve ice cream, and of course, Japanese beer.
[caption id="attachment_5798" align="alignnone" width="924"]
Yummy Takoyakis up for grabs at the Super Japan Matsuri.
Credit: 
Wikipedia
[/caption] [caption id="attachment_5846" align="aligncenter" width="1200"]
Food stall at a typical Matsuri. 
Credit:
antoniotajuelo.com
[/caption] [caption id="attachment_5847" align="aligncenter" width="1200"]
Food stall at a typical Matsuri. Credit:
antoniotajuelo.com
[/caption]
Games
Those who want to try your hand at Japanese games, you might want to start practising your Yo-yo tsuri (water balloon fishing), Senbonbiki (lucky strings game), Katanuki (candy moulding), Shateki (shoot prizes down), and many more.
[caption id="attachment_5842" align="aligncenter" width="1920"]
Shateki – Shooting at prizes with a rubber band gun.
Credit:
Yo-yo Tsuri – Fish water balloons up to win prizes.
Credit:
Children trying their luck at the Senbonbiki game. 
Credit:
Pinterest (Dejiki)
[/caption]
Senbonbiki is a game where treats or prizes are attached to long strings. The game player will pull on a string, not knowing which treat is attached to it. Apparently, this is usually a 'sure-win' game.
Dress up
On top of that, if you dress to match their nightly theme (see image below), you'll receive one free game coupon to be used at the festival.
[caption id="attachment_5794" align="alignnone" width="960"]
Image source: Super Japan Matsuri
[/caption]
This sure sounds like a great opportunity to dress up, cosplay, or put on a yukata (summer kimono)!
[caption id="attachment_5844" align="aligncenter" width="1920"]
Ladies dressed in yukatas at a Matsuri. 
Credit:
dannychoo.com
[/caption]
Details
Super Japan Matsuri
Date: 20 – 22 May 2016 (Fri – Sun)
Time: 5pm – 10pm (Fri), 3pm – 10pm (Sat & Sun)
Address: Esplanade – Theatres on the Bay, 1 Esplanade Drive, Singapore 038981
Entry fee: Free admission, coupons required for games
Event page: Super Japan Matsuri
A Matsuri is all about having fun with friends and family. Call your friends, bring your family, get dressed for the theme, and play some games! Fun and laughter guaranteed.
Follow us for more updates!
(Header image credit: antoniotajuelo.com, words by editor)
Also read: 5 Free Events & Shows All Lovers Of Japanese Culture Must Attend!
https://www.facebook.com/discover.sg.official/posts/1993552710870421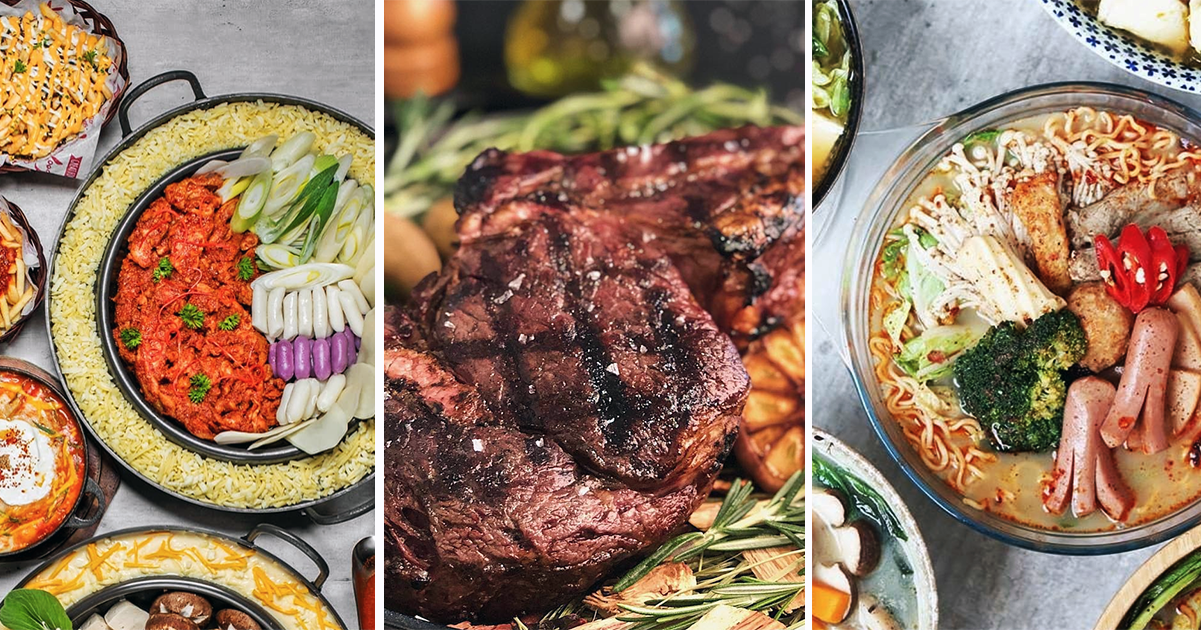 Singaporeans are truly spoilt for choice when
it comes to food and shopping.
Gone are the days when we need to travel long
distances from our homes in the heartlands for a shopping spree, or to feast on
cuisines we cannot find at neighbourhood kopitiams.
For one, the folks at Westgate want to satisfy
all your cravings without you needing to take that long train ride to town.
If you're looking for some recommendations for F&B places to check out during your next visit to the mall, Westgate is running a 'Tantalising Treats Are Made Of These' campaign showcasing the diverse flavours that they have to offer.
From mouth-watering Korean barbeque to an indulgent xiao long bao feast, there's something for every craving!
Here's a breakdown of
some of Singaporeans' most favourite cuisines, and the eateries that you can
visit.
Chinese Cuisine
Move aside salted egg, mala is the flavour for the year 2019.
We're all familiar with the tongue-numbing
goodness of a huge bowl of mala xiang guo,
but have you tried mala tang?
The soupy variation of the unofficial Singapore dish of the year, Gong Yuan Ma La Tang's (#04-07) piping hot bowl of mala soup is the perfect complement to a cold, rainy day.
For those unable to take too spicy food, Gong
Yuan also offers soup bases like pork broth and pickled vegetables.
Regardless, we would still recommend that you
try out their signature mala soup
base with a selection of your favourite ingredients for a unique mala experience you can tell your
friends about!
Still need more mala in your life?
Pop by Ooh (#02-K1) and grab a pack (or ten!) of
their signature mala potato chips, a
perfect match for your Netflix marathons.
If you want to indulge with a little less
guilt, Ooh also offers mala cassava
chips.
Known to be a healthier alternative to potato
chips, cassava is said to be a good source of protein and vitamin K!
Digging into a whole grilled fish over a flame
is the new steamboat, and TANYU (#B1-02) is one of the more well-known
brands serving that option in Singapore.
Westies will be glad to know that TANYU now
has an outlet in Westgate, and fans will be able to savour 12 different kinds
of grilled fish flavours on its menu.
If you like the numbness that mala gives you but not so much the spiciness, we'd recommend you to try TANYU's Grilled Fish with Green Peppers, which has garnered rave reviews from customers!
If you're into more traditional eats, all-time
favourites Paradise Dynasty (#02-13) and Crystal Jade (#04-42) are also there to whet
your appetite.
Since a round of xiao long bao is already a given, why not add on a plate of
fragrant fried rice to end off the feast?
Korean Cuisine
You don't have to be a fan of K-Pop to enjoy
the bold flavours of Korean cuisine.
In the spirit of communal dining, grab some
friends and cook up some spicy chicken galbi
at the ever-popular Yoogane (#03-08).
Don't forget to add the cheese ring!
Cool all that spicy chicken off with naengmyeon, a chilly and refreshing bowl of buckwheat noodles in a slightly savoury broth topped with slices of sweet Korean pear and cucumbers. We guarantee that your tastebuds will thank you for the break!
If you're looking for Korean fare with a twist,
why not check out NY Night Market (#01-08) for some
Korean-Western fusion fare?
Hailing from Seoul, NY Night Market brings you
to Korea and the US with every morsel.
Want to try something that will definitely
leave your dining buddies in awe? Try their 50cm Baguette!
An intimidating-looking 50cm-long baguette
loaded with beef, salsa, cheese, jalapeno and more, the experience that comes
with sharing one with friends is one that cannot be missed.
Cool it all off with over 15 different
flavours of bingsu at Nunsaram (#04-37). From the classic injeolmi flavour to local favourites
like Milo, there's a bingsu flavour
for every preference.
To recreate the experience of snacking at a
roadside cart in Korea, Nunsaram also sells savoury dishes like tteokbokki and fried treats.
We'd recommend you to try Nunsaram's Special Tteokbokki, which comes with rice cakes,
fishcakes, fried dumplings, seaweed rolls and half a roll of gimbap!
Japanese Cuisine
For fans of the all-time popular Japanese
cuisine, head down to Gochi-So Shokudo (#01-02) for some next level
rice bowls.
Using Iberico Pork, Gochi-So Shokudo grills
their meat over charcoal, resulting in a delectably smoky flavour in every
bite.
Did you know: The Premium Iberico Pork they
use in their delicious rice bowls contains oleic acids which have a beneficial
effect on blood cholesterol levels!
Craving for a hearty bowl of ramen? Ippudo
(#03-03) is a renowned ramen chain which has captured the hearts and stomachs
of ramen lovers all around the world!
Try out Akamaru Shinaji, where Ippudo's
signature tonkotsu soup is enhanced by fragrant black garlic oil, which adds
depth to the already rich broth!
Indian Cuisine
Delight your taste buds with the wonderful
world of Indian cuisine!
If you can't decide between North or South
Indian cuisine, Anjappar
(#04-08) has got any craving you have covered.
Bringing Singaporean foodies the best that the
cuisine has to offer, we suggest you get their Chicken Briyani which
comes with chunks of flavourful chicken and fragrant basmati rice.
For a garlic naan and butter chicken feast, check out Zaffron
Kitchen (#01-20) for mouth-watering dishes that will leave you hungry for
more.
Once you're done, wash it all down with a cup
of Teh Halia, which mixes milk tea
with ginger for a comforting combination.
Did you know: South Indian cuisine tends to
use rice and rice-based items while North Indian cuisine leans towards breads
like naan and chapati?
Western Cuisine
We've covered Asian favourites – what about
some Western-style cuisine?
Check out homegrown brand COLLIN'S (#01-05) for some delicious yet wallet-friendly
steaks, pizza, pastas and chicken chops.
If you're looking for a little treat, try out
COLLIN'S Grilled Tiger Prawns and U.S. Scallops, which comes at a rather
affordable price tag of $22.
For something more indulgent, order a sharing
platter and a round of chilled beer at Brotzeit (#01-04) and get immediately
transported to Germany!
A sharing platter comes with crispy pork
knuckles, pork ribs and a generous variety of sausages so get your fill of
meaty goodness at Brotzeit!
If you're bored of froyo, check out the
IG-worthy acai bowls at An Acai Affair (#B1-30).
With every bowl packed with fresh fruits,
organic ingredients and superfoods, who says healthy food needs to be drab?
Share Your IG-Worthy Photos And Win
$50!
Westgate is holding a
photo contest and you can be one of the 5 lucky winners to win $50 worth of
Crystal Jade vouchers if you're selected!
All you need to do is
snap a photo of your meal and include the hashtag #WestgateSGEats
for a chance to win.
For the entire dining selection at Westgate, click through this link!
Westgate
Address: 3 Gateway Drive, Singapore 608532
Opening Hours: Daily, 10am – 10pm
Website | Facebook | Instagram
Header Image Credit: Yoogane, Collins, Gong Yuan Mala
Also Read: 6 Experiences At This M'sian Island Paradise – And It Costs Less Than SGD100 To Fly There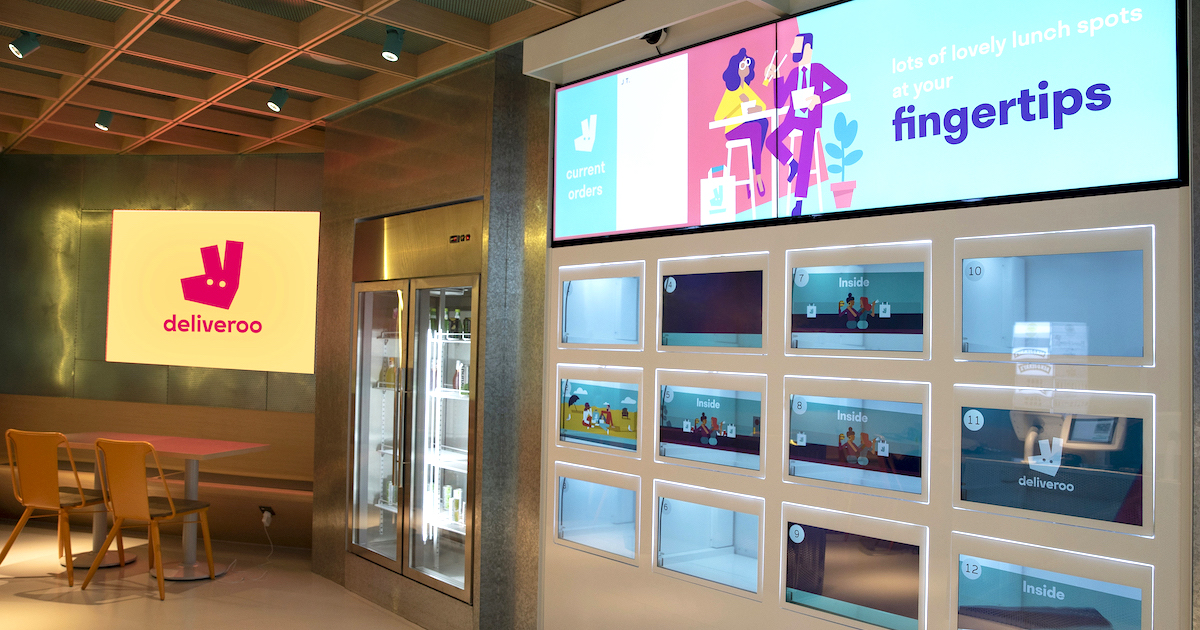 We all know Deliveroo for delivering our favourite eats right to our doorstep, but they've since pushed the envelope to go from online to offline.
Within the last two years, the food delivery giant has launched two physical dining spaces in Singapore known as 'Deliveroo Editions', which double up as their delivery-only super kitchens.
Following the success of these two sites, Deliveroo has recently launched their biggest and most advanced Editions site in Singapore to date.
Called the deliveroo food market, this new space is just a stone's throw away from the new Mediacorp headquarters, sitting on the first floor of ALICE @ MEDIAPOLIS. Its eye-catching teal interior makes the place hard to miss!
This new site is a significant 'upgrade' from their previous Editions sites, with the addition of a tech-enabled dining space that can accommodate up to 40 people.
7 Restaurants Housed Under One Roof
Deliveroo food market houses 7 restaurants and a total of 11 food concepts, which has been carefully curated based on user demand.
Some noteworthy restaurant partners include popular favourites like Korean fried chicken brand Bonchon, Vietnamese noodle bar NamNam, NamNam's sister brand COMNAM, Omakase Burger, and Rasa Rasa.
You can also order from some of the virtual brands that are exclusive to Deliveroo such as EZO Hokkaido Eats by Omakase Burger, which serves quality Japanese dons (like their Signature Butadon).
For those who are health-conscious, there are plenty of wholesome options as well. VIOS by Blu Kouzina for one, offers bowls that are carefully packed for a balanced diet without compromising on taste. You can even pick your favourites with their Build Your Own Bowl option!
Its sister brand, Lucky Souvlaki by Blu Kouzina, specialises in traditional Greek street food that is made with quality ingredients like organic meat.
On the other hand, Chop Shop by Pot Luck Club offers delicious grain bowl options like the Thai BBQ Chicken, and you can also get gourmet salads and sandwiches from Delismith by Pot Luck Club.
A Taste Of Dining In The Future
What's unique about this food market is its fully-automated ordering system.
Designed to offer customers "a taste of dining in the future", the entire ordering experience is automated and powered by eatsa, a San Francisco-based technology automation company.
The ordering process is seamless and very user-friendly. If you're familiar with ordering food through Deliveroo's app, this shouldn't be a problem for you. In any case, there are instructions on the screen to guide you along through the whole ordering process. If you do encounter any issues, there are service staff around as well.
Instead of ordering over the counter or at tables like most dining establishments, you get to browse the menu and place your order at any of the five self-serve kiosks onsite. Once you've settled on your order, checking out is just as easy! You simply need to tap or swipe your card for payment.
After placing your order, your name will appear on the digital status board. Once your food is ready, the number of an assigned digital cubby will appear alongside your name.
You can then head over to the designated cubby for food collection. Your name will also appear on the door of the cubby, which is a pretty nice touch as it makes the dining (or ordering) experience more personalised.
For those who prefer takeouts, there is a takeaway option as well, which you can select when you place your order at the kiosks.
An Alternative Dining Experience At One-North
Lunch can be a stressful experience for the working crowd, but the entire order-and-collect system makes it so much easier. It is perfect for those who want to avoid unnecessary fuss during their precious lunch break — simply tap to order, pay, and collect your meal.
The deliveroo food market is also a good alternative for group dining as the many restaurants housed under one roof offer a plethora of options for all. Unlike a food court, the laid-back ambience there makes you feel like you're dining at a cafe instead.
Moreover, the space offers power points and wifi access, which makes it a great place for working professionals to dine and chill at.
For those who need their caffeine fix, the food market also houses Nineteen95 Espresso Bar—this is the first fixed location for the mobile coffee cart brand. Besides that, you can also get Magnum ice cream bars and pints of Ben & Jerry's ice cream there.
The deliveroo food market is only open for dining during lunch from 11am to 2.30pm, and for dinner from 4.30pm to 9.30pm. Beyond these hours, you can still order from the restaurants via delivery until 10pm!
Deliveroo Food Market
ALICE @ MEDIAPOLIS #01-02/03
Opening hours: 11am – 2.30pm (Lunch), 4.30pm – 9.30pm (Dinner)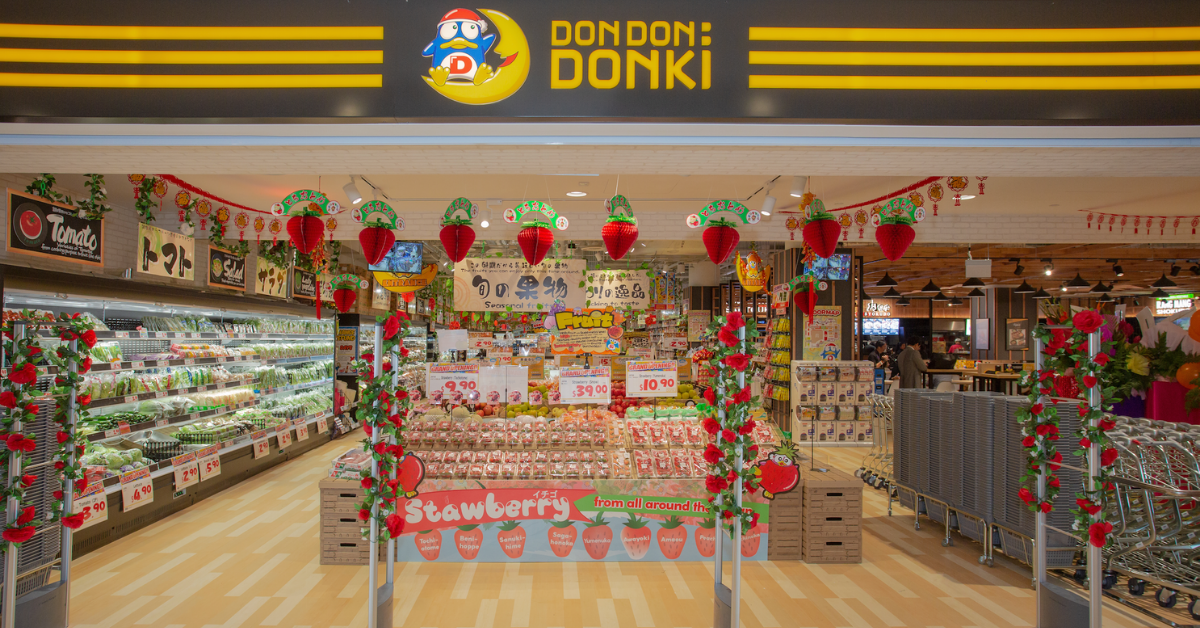 DON DON DON, DONKIII~
If you find yourself humming to the addictive theme song of the famous Japanese store, we have exciting news for you. Don Don Donki just opened their third outlet at City Square Mall!
Their first outlet at Orchard Central is already enough of a big maze, but their third outlet will be its largest one yet at 26,000 sqf!
[caption id="attachment_38714" align="aligncenter" width="2122"]
Image Credit: Don Don Donki[/caption]
Don Don Don, Don't You Wish Your NTUC Was Hot Like Me?
If you're wondering why we need a bigger Don Don Donki outlet, here's why.
The new outlet will offer three unique features everyone will appreciate – a food court, bargain section and fresh groceries.
A Japanese Food Court
[caption id="attachment_38715" align="aligncenter" width="2120"]
Image Credit: Don Don Donki[/caption]
When you're done with shopping or simply craving for Japanese food, swing by the in-store food court to get your ramen or hokkaido ice cream fix.
The food court will house five different stores,where mains like ramen, donburi (rice bowl), Japanese barbecue, and fried chicken will be available.
Indulge in a piping hot bowl of ramen from the famous Hokkaido Ramen Santouka – the ideal comfort food after a long day at work and grocery shopping.
[caption id="attachment_38719" align="aligncenter" width="1200"]
Image Credit: Hokkaido Ramen Santouka Facebook[/caption]
Round off your meal with Naganuma Ice Co's creme brulee soft serve ice cream.
[caption id="attachment_38720" align="aligncenter" width="1080"]
Image Credit: Naganuma Ice Co Facebook[/caption]
Treasure Hunting At The Bargain Section 
[caption id="attachment_38717" align="aligncenter" width="2122"]
Image Credit: Don Don Donki[/caption]
If you're secretly a Singaporean auntie who loves her discounts, then you're going to love Don Don Donki's bargain section.
Set in a corner of the store, customers can hunt for treasure bargains starting from $2. This area will also mimic the signature Don Quijote displays in Japan that use carton boxes and handwritten price tags.
Snatch all the good deals you can get and reflect on your life decisions afterwards. No regrets, we promise!
Extensive Japanese Delicatessen Offering 
Looking to whip up a Japanese feast at home?
Don Don Donki City Square Mall boasts an extensive range of fresh produce and perishables that is much wider than its other outlets, so you can pretty much find everything you could dream of here.
[caption id="attachment_38713" align="aligncenter" width="2128"]
Image Credit: Don Don Donki[/caption]
If you're not in the mood to cook, grab some freshly-made Japanese dishes from the delicatessen section and you're good to go.
[caption id="attachment_38712" align="aligncenter" width="2124"]
Image Credit: Don Don Donki[/caption]
Opening Day Promotions
Don Don Donki City Square Mall officially opens today (11 January 2019)!
To celebrate its launch, new and existing Don Don Donki mobile app members get a chance to spin a wheel of fortune. Prizes up for grabs include:
Limited edition Donpen plushies
10 pairs of tickets to Airzone, the suspended playground in City Square Mall
100 Don Don Donki Eco Bags
The first 1,000 customers who spend at least S$50 will win a limited edition Don Don Donki Tote Bag so make sure you get there early.
Pokemon fans can also swing by Don Don Donki as Pikachu will be making special appearances on 11-13 Jan at 1pm, 3pm and 5pm.
Don Don Donki City Square Mall
Address: Basement 2, City Square Mall, 180 Kitchener Road, Singapore 208539.
Opening hours: 9.00am – 12am, daily
Nearest MRT station: Farrer Park
Also Read Keisuke Is Opening A New Omurice Joint At Bugis+ – Prices Start From $9.90 And You Can Upsize For Free
(Header Image Source: Don Don Donki)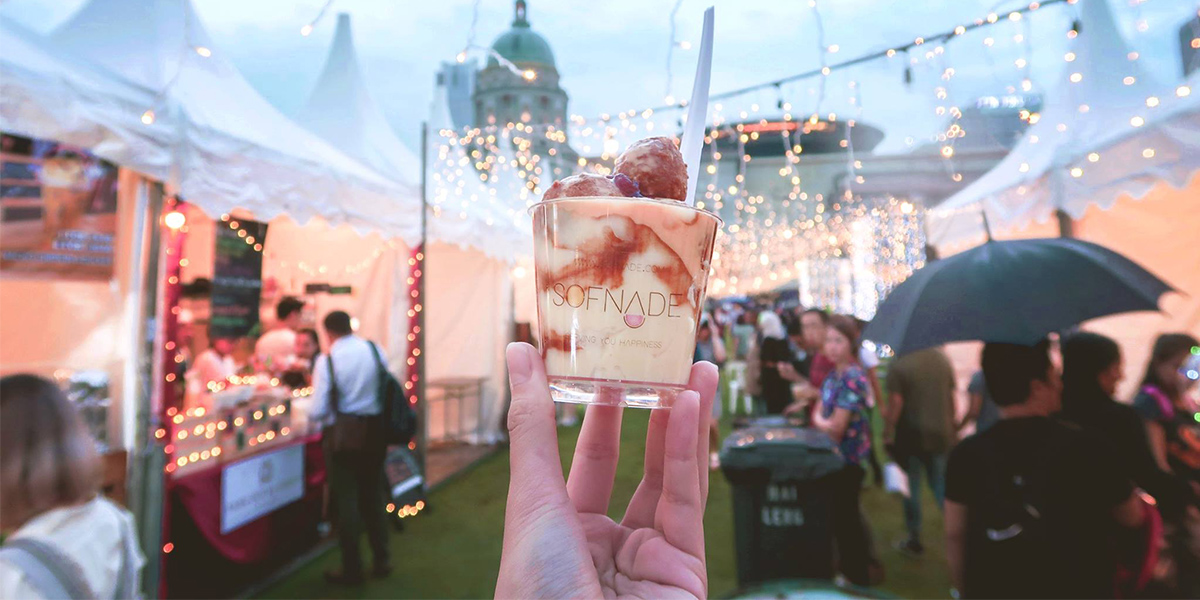 Thai-inspired flea markets are becoming more and more ubiquitous these days, and Artbox could arguably be regarded as the one that started it all.
Thanks to the massive success of its first instalment back in 2017, similar events such as CMYK, Let's Go Jalan Jalan! and Twilight: Flea & Feast have blessed us with a constant stream of hipster food and knick knacks we probably don't need but buy anyway.
Considering that the 2018 edition was back in June, however, we're probably going to have to wait more than a few next months for the OG market to return to our shores.
…or do we?
Hipster Food Heaven
[caption id="attachment_38428" align="aligncenter" width="979"]
Image Credit: Invade[/caption]
Taking place over two weekends in January (the 11th-13th and 18th-20th, to be exact) at Downtown East, Eatbox is described by its organisers as a "boutique edition of Artbox".
We're not sure what that means exactly, but judging by the name we're going to go on a limb and say that there'll be a bigger emphasis on food (which is the most important part, tbh).
What we do know is that the market is set to feature more than 50 local and regional F&B brands, and will no doubt include hipster food mainstays like rainbow toast, poke bowls and milk tea served in comically large buckets.
Here's what you can look forward to:
1. Beef Bro
If you were at the Geylang Serai Bazaar last year, you'll probably recognise Beef Bro. They were the newcomers at the annual Geylang Serai bazaar last year and generated long queues.
What they're known for is, of course, beef. Specifically, flame-grilled beef cubes, like the ones you find in Taiwan. Each order of beef cubes is seared and cooked with a blow torch upon order and comes with a selection of toppings such as Mentaiko, Cheese, Garlic Chilli, Barbecue Sauce, and even their signature Sambal Belacan!
2. Broti
The best Thai Milk Tea we've tried at events comes from Broti, a pop-up store that appears at events like the Ramadan Bazaar and Twilight Fest. Broti's Thai Milk Tea is aromatic and is not overly sweet.
Broti also stands out for being value-for-money. You know how most vendors would fill your cup halfway with ice and the remaining half with water? Well, Broti is truly a bro because they don't play you dirty like that. For $4, you get a way bigger cup compared to most other places we've tried!
3. Inariku
If you eat, sleep and breathe all things Japanese, then you're going to love this one.
Trained at the Tokyo Sushi Academy to fortify her passion for Japanese cooking, you can expect her highly raved lobster inari which comes in small sets of 4, ramen, unagi bento and more!
We recommend getting the lobster inari which is a combination of lobster and squid salad which sits atop a bed of sushi rice. All these premium ingredients are nestled within some Inariage aka Aburaage (the sweet beancurd pouch) and finished off with some Japanese mayonnaise.
4. Saiko
Think of Saiko as the elevated version of your typical pasar malam takoyaki joint!
Serving up Japanese street food realness, Saiko serves takoyaki in sizeable portions with full bite-sized fillings. You can choose from 3 different fillings – octopus, chicken and braised mushrooms. You also have the option of mixing 2 different fillings in one serving.
Other selections include Classic, Dashi (takoyaki with dashi broth, bonito flakes and scallions) and Miso (takoyaki with miso butter and rice krispies). Top it all off with a perfectly cooked onsen egg!
We promise you that the takoyaki from Saiko won't disappoint!
5. RUMI The Poet's Cup

Rumi The Poet's Cup is new in the scene and has crazy delicious drinks like Hazel Malt, Caramel Cream and High Tea.
Just like breaking open a fortune cookie and unwrapping the message, each customer will receive a scroll containing different poems and messages from various writers and poets with each drink purchase.
Of course, food won't be the only thing to look forward to – resident EATMEPOPTART DJ's weelikeme and KIDG will be on the decks to provide their signature brand of alternative party music (Mr. Brightside, anyone?), and there'll be a host of interactive art murals to get your Instagram on as well.
Until then, you might want to start thinking of excuses for why your new year's resolution to get fit will have to be postponed again.
Eatbox
Venue: Downtown East, Open Plaza by D'Marquee
Date: 11th January – 13th January, 18th January – 20 January
Time: 3pm – 11pm
Also Read Tiong Bahru Bakery Takes A Walk On The Wild Side With A Safari-Themed Cafe In Dempsey
(Header Image: Invade)