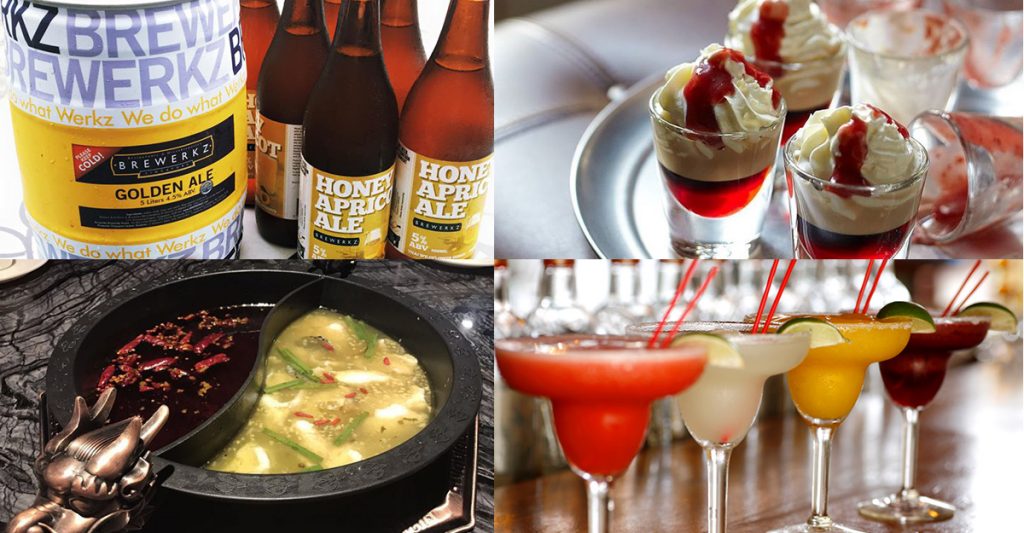 The Singapore River was an important feature of Singapore's growing port back when we were still in our developing stages.

Fast forward to a few decades later, and the River has now evolved into the urban city's hotspot.

With thumping music and diners spilling onto the banks of the Singapore River, it's no surprise Riverside Point has become a mainstay along the Singapore River.

[caption id="attachment_19732" align="alignnone" width="1024"]
Choo Yut Shing[/caption]

A stone's throw from Clarke Quay MRT Station, Riverside Point houses popular restaurants that offer breathtaking views of Singapore's night scene. For those of you who want a meal with a view, here are 5 Riverside Point restaurants that are serving up delicious Christmas eats this festive season!
1. Christmas Special @ JUMBO Seafood
[caption id="attachment_19733" align="alignnone" width="600"]
#01-01/02, Riverside Point, Riverside Point 30 Merchant Road,058282
Everyday: 12pm – 3pm, 5.30pm – 12am
Contact: 6532 3435
2. Late Night Happy Hour @ Café Iguana
[caption id="attachment_19734" align="alignnone" width="1024"]
Cafe Iguana[/caption]
Traditional Christmas dinners have never been your style?
Good news for you, because Café Iguana not only serves up authentic Mexican fare, they also want you to celebrate this festive season by letting loose!
Happy Hour starts at 10pm at Café Iguana with half-off House Margaritas!
Café Iguana wants you to unwind this holiday season with traditionally-flavored Margaritas like strawberry, and exotic flavors like soursop alongside a sizzling platter of Mexican delights, you're bound to have a Christmas you'll never forget!

Café Iguana

Harry's[/caption]
What better way to celebrate this festive season than indulging in the joy of feasting with some friends?
Harry's at Riverside Point is serving a dine-in buddle for 4 pax. Inclusive of Harry's Signature Wings, a mouthwatering Triple Sausage Platter and a couple of Cupcake shooters, you'll be stuffed-full of Christmas cheer at Harry's!
If you're stuck on ideas for Christmas presents, Harry's has also got you covered.
The restaurant has got a couple of voucher packs that would fit any beer aficionado – for example, at $49, the Berry Christmas voucher gets you 6 pints of Harry's Premium Lager, or a meal to share at any Harry's outlet!
Brewerkz isn't your average run-of-the-mill bar – it's known for its high quality craft beer and a winner of several awards for its signature and seasonal beers. Serving up 13 different brews on tap, it's no wonder beer aficionados flock to Brewerkz!
Throwing the biggest Christmas party? You're going to need some drinks to get the party started!
This year, Brewerkz is offering up a Takeaway Special you can't refuse. With 25% off when you purchase two 6-packs and mini kegs, and 30% if you bring home four, you know you're pretty much set when it comes to alcohol for your Christmas get-togethers. 
Brewerkz

Spicy House[/caption]
Let's be honest, we Singaporeans love our spice – just look how people jumped on the bandwagon of downing bowls of Samyang Ramen! The majority of us Singaporeans also live by the mantra "the spicier the better".
For Spicy House, 'spice' takes on a whole new meaning. A Chengdu-style hotpot restaurant that just opened its doors three months ago, the popular Chinese restaurant chain is known for its spicy broth and fresh ingredients.
This holiday season, Spicy House has a late night promotion with 32% off your total bill from 10pm to 3am from Fridays to Sundays! To make things even sweeter, Spicy House will be giving out cash vouchers from 10 to 18 December!
Share the joy of feasting and indulge in the restaurant's flavourful broth with signature dishes such as the spicy beef balls!
Spicy House
Facebook
#01-07 Riverside Point 30 Merchant Road
Opening Hours: 11am – 2pm; 5pm – 4am
Contact: 6493 7213
Christmas At Riverside Point
[caption id="attachment_19741" align="alignnone" width="570"]
The Joy Of Christmas Comes with A Smile[/caption]

This festive season, Riverside Point wants to treat all its Christmas shoppers to some amazing giveaways!

Spend a minimum of $50* and stand a chance to win an iPad Air, Apple Watch, and shopping & dining vouchers worth up to $250,000! Riverside Point will also be giving out exclusive journals when you spend a minimum of $100*!

With these amazing Christmas deals and restaurants serving up some delicious eats this festive season, head on down to Riverside Point for al fresco dining by the river and celebrate this year end the right way!

*Terms and conditions apply. Redemption is at Clarke Quay Central Concierge from now till 25 Dec 2016.

Clarke Quay Central Concierge is located at Level 1 (Blue Zone), 6 Eu Tong Sen Street, Singapore 059817. The Concierge opens from 10am to 10pm daily.

Please visit Gareth Phua)

Also Read: Under $25: 9 Super Local Christmas Gifts That Will Surely Amaze Your Friends!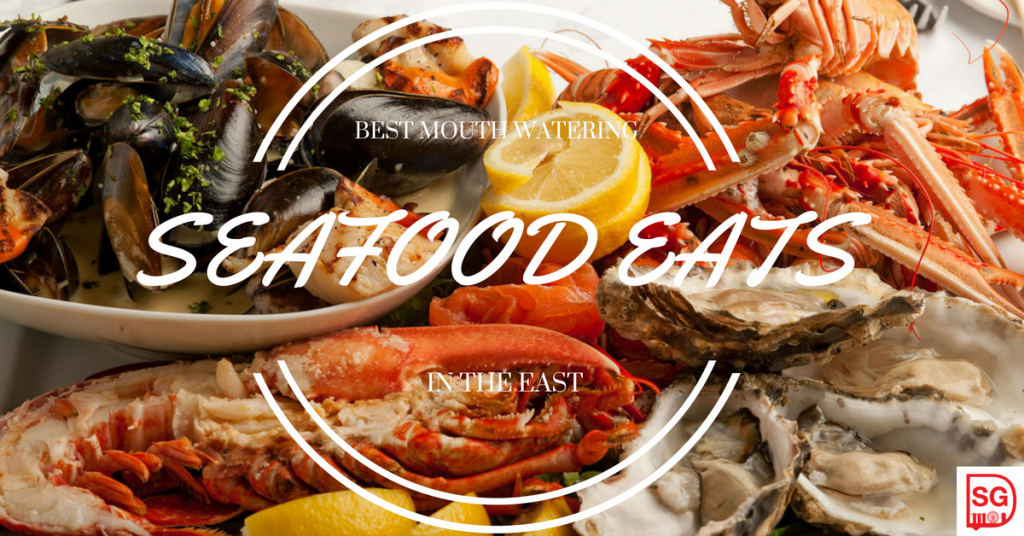 Singapore may not have the best amusement parks or the nicest beaches but one thing that Singapore definitely has is the best food. Being a small island surround by water, it's no surprise that us Singaporeans can cook up some mean seafood dishes.
Whether you're looking for a nice restaurant to celebrate a special occasion or you're looking for something a bit more casual and laid back, the East side has it all.
(Be warned, the following post is not for the hungry)
1. Long Beach

Image credit: may be the best seafood restaurant in the island. Long Beach Seafood was first established way back in the 40's. Back then it was patronized by the British Army where it grew it popularity attracting local Singaporeans.
Fun fact: Long Beach Seafood was the very first restaurant to cook up Singapore's favourite black pepper crab, and it remains the restaurant's best seller.
70 years and 5 branches later, Long Beach Seafood can boast several awards and accolades throughout its establishment.
The selling point of this popular seafood restaurant is its Outlet Specialities, dishes that are only available at a specific branch. Look out for the Portuguese Style Live Lobster and Thai Emperor Prawns only available at its main East Coast branch .
Address: 1018 East Coast Parkway, S449877
Contact: 6445 8833
Opening Hours: Mon-Thur, 11am-3pm, 5pm-11pm; Fri, Sat, Eve of PH, 11am-3pm, 5pm-Midnight
2. Jumbo Seafood

Image credit: is a Singaporean household name, established in 1987 at the East Coast Seafood Center by the Ang family (which is now their flagship restaurant) the restaurant had a rocky start in its early years. However, after the Ang family took more a more active role in running the restaurant, Long Beach soon gained a loyal following.
Now with over 5 branches all over the island, 3 in Shanghai and several accolades under its belt, Jumbo Seafood may be the most successful seafood restaurant in Singapore.
A must have at Jumbo? The chilli crab of course. Having dinner al fresco style at its flagship restaurant,elbow deep in crabs and moping up the sticky spicy chilli crab sauce with mantou buns? Where do I sign up?
Address: Block 1206 East Coast Parkway #01-07/07; S449883
Contact:6442 3435
Opening Hours: Mon-Fri, 5pm-11.45pm; Sat-Sun, Public Holidays; 11.30am-Midnight
3. Hua Ya Wee Seafood

Image credit:

Image credit:

Image credit:

Image credit:

Image credit: Address: 6 Tebing Lane #01-03, Punggol East, S828835
Contact: 6441 1848
Opening Hours: Mon-Sun, 4.30pm-11.30pm

There is an abundance of seafood places to dine at across the island, but with these 5 amazing seafood places to choose from, you're not going to be disappointed! Grab your friends and family for a delicious seafood feast in the East!

[googlemaps https://www.google.com/maps/d/embed?mid=1G-_dKfSekpiFPICIZ48CTJH_1AY&w=640&h=480]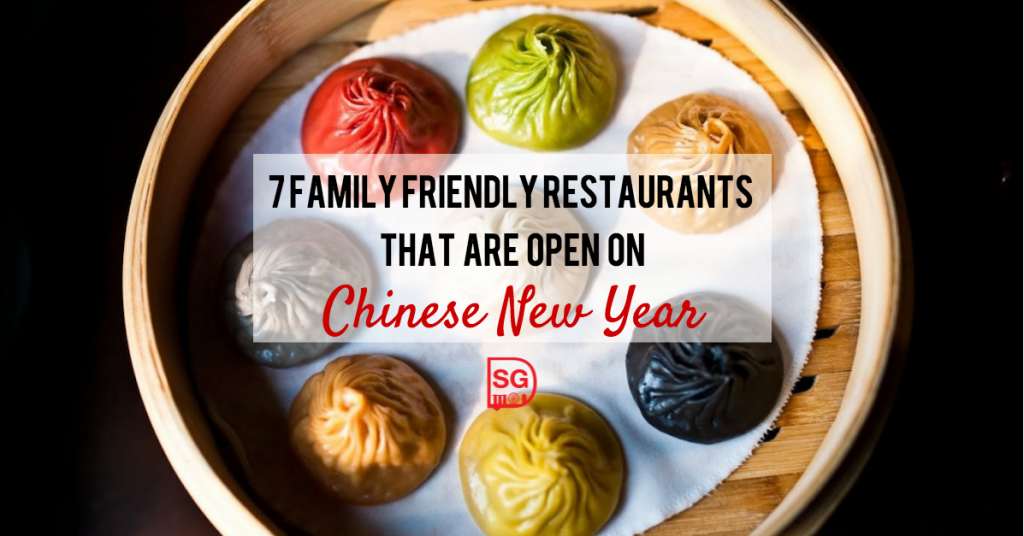 Many restaurants here in Singapore begin to close their doors as the Lunar New Year festive season close approaches. This leaves many of us at a loss as our once abundant range of food options slowly dwindle away. If this is sounding familiar to you, then fret not! You won't go hungry this New Year as we've compiled a list of 7 well-known eateries that will gladly welcome you and your family as we welcome in the Year of the Monkey.
1. COCA Restaurant 
If you're looking for a place to satisfy your steamboat craving this Lunar New Year, look no further. With three locations around the island, Thai restaurant chain COCA offers you steamboats with a traditional taste. COCA is especially well known for its sauce – a secret family recipe that has been carefully passed down through the generations.
Address:
COCA Ngee Ann City
391 Orchard Road
#04-23 Ngee Ann City
Singapore 238872
Opening Hours:
1115 – 2230
2. Din Tai Fung 
When convenience comes into play, why not head to one of the many Din Tai Fung outlets open this Lunar New Year? With 13 years of experience under their belt, you'll not go wrong with their platter of dishes that also features the sumptuous Xiao Long Bao. Do also try their modern take on the Yu Sheng, served with Tender Smoked Unagi and topped with Fried Salmon Skin and Pine Nuts.
Address:
Central
Paragon
290 Orchard Road #B1-03 Singapore 238859
North
Nex
23 Serangoon Central #B1-10 Singapore 556083
East
Tampines Mall
4 Tampines Central 5 #02-01 Singapore 529510
West
JEM
50 Jurong Gateway Road #02-07 Singapore 608549
Opening Hours:
1100 – 2200
3. The Kitchen Table
Should you feel a little more generous this year, round up your family and head to The Kitchen Table – an international buffet concept managed by the W Hotel Group. It ensures to disappoint with its six live cooking stations that ensures both freshness and quality. As such, it comes with a little more hefty price at $98 per pax, but with an extensive spread ranging from dim sum, crisp salads, succulent seafood and crackling wood-fired pizza, The Kitchen Table definitely does not disappoint.
Address:
21 Ocean Way
Singapore 098374
Opening Hours:
0600 – 2300 

4. Jumbo Seafood 
Famous for their well-known Singapore Chill Crab, JUMBO Seafood opens its doors to customers this Lunar New Year. Head down to one of its 4 outlets to have a taste at their carefully prepared CNY Set Menus, and treat yourself to a Fesitve Pen Cai and Prosperity Abalone Yu Sheng while you're at it!
Address:
Dempsey Hill
Block 11 Dempsey Road #01-16
Dempsey Hill, Singapore 249673
Opening Hours:
Monday to Fridays: 1200 – 1500 (Lunch), 1800 – 0000 (Dinner)
Saturday, Sunday & Public Holiday: 1200 – 1500 (Lunch), 1730 – 0000 (Dinner)
5. Paradise Group 

 This Lunar New Year, Paradise Group aims to present diners with an array of dining choices ranging from Crabs and Lobsters at Seafood Paradise to Dim Sum at their Canton Paradise. With over thirty restaurants scattered across the island, you will definitely be spoilt for choice with the Paradise Family as we usher in the Year of the Monkey.
Address:
Taste Paradise
No. 2 Orchard Turn
ION Orchard #04-01
Singapore 238801
Opening Hours:
Monday – Friday: 1130 – 1500, 1800 – 2300
Saturday, Sunday & Public Holiday: 1100 – 1630, 1800 – 2300

Address:
Canton Paradise
112 East Coast Road
i12 Katong #B1-15
Singapore 428802
Opening Hours:
Monday – Friday: 1100 – 2200
Saturday, Sunday & Public Holiday: 1030 – 2200
6. The Roti Prata House 
The Roti Prata House offers some of the best Roti Prata's available here in Singapore, with its crispy yet flaky external. Their prata comes in a variety of flavors as well – from the typical egg prata to more interesting creations like the chicken floss prata. They also offer Indian Delicacies like Briyani, Maggi Goreng, and Masala, and you're guaranteed to find something that suits your taste palette here.
Address:
246 Upper Thomson Road
Singapore 574370
Opening Hours:
Monday – Thursday: 0700 – 0200
Friday – Sunday: 24 Hours
7. SPIZZA

Fancy some authentic Italian Pizzas instead? Try SPIZZA, a pizza parlor that promises to deliver affordable yet authentic thin-crusted-wood-fired pizzas and tasty Italian dishes. Try this month's special Prosperity Pizza topped with Chicken Sausage, Pork Floss, Pineapple and Parsley. Also in lieu with the festive season, SPIZZA's latest promotion offers a complimentary 10-inch pizza to parties in a group of 4 adorned in the auspicious red!
Address:
SPIZZA Club Street
29 Club Street
Opening Hours: 
Monday to Friday: 1200 – 1430 and 1800-2230
Saturday, Sunday & Public Holidays: 1200 – 2230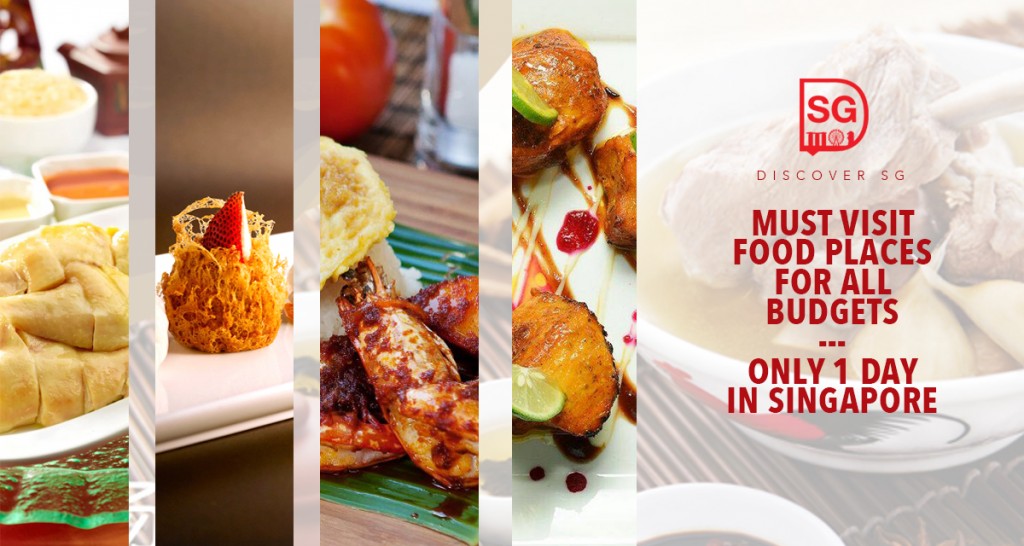 Everyone loves hosting friends from overseas in Singapore! Watching them marvel at how delicious hawker food is or how clean the streets are stirs up an unmistakable sense of patriotism. However, once in a while we face our worst nightmare – the friend who only has 1 day to spare.

Where should you bring him/her to eat? How much is him/her willing to spend? Worry no more, as we have compiled 4 different eating itineraries for any budget!
Low $ (Average spending per meal – Below SGD $10)
Breakfast at YA KUN; Local – Chinese
Indulge yourself with a treat in the local kopi (coffee) culture within the cozy atmosphere. With more than 50 stores island wide, make sure you lay your hands on its famous kaya butter toast set from SGD$4.90. If you fall in love with its kaya (coconut jam) flavor, you can also bring back these jars of homemade spread. 

Lunch at BOON TONG KEE; Local – Chinese

Known for their silky white sauce chicken rice, this well received chain serves this popular local dish from as low as SGD $5. If you become a fan for its delicious dipping sauce, you can purchase these in house sauces that they have used in their dishes.
www.boontongkee.com.sg

Dinner at SPIZE; Asian Fusion and Mediterranean

Serving both Eastern and Western cuisine food from evenings till wee hours in the morning, this vibrant restaurant chain is the perfect hang out especially for night owls. The must try dishes include assorted pratas, nasi lemak, maggie goreng, roti john and not forgetting milo dinosaur drink!

Mid $$ (Average spending per meal – Below SGD$30)
Breakfast at SONG FA; Chinese – Teochew

With its signature dish Bak Ku Teh "meat bone tea" from SGD $7, Song Fa promises their loyal patrons its tingling peppery aftertaste in their soup, accompanied with succulent and tender pork ribs. If you cannot get off the flavourful broth off your mind, simply bring home a box of 10 sachets of Song Fa spices at SGD$22.

Lunch at THE CURRY HUT; Asian – North Indian

Aimed to attract all the curryholics island wide, The Curry Hut serves sumptuous true Indian Curry dishes as their specialties. Using various unique spices such as cumin, mustard, turmeric, fenugreek and black pepper, every dish is made to perfection. Must try dishes include Purdah Biryani, Dhehati Murg curry, Tandoori kebabs and of course, Mango Lassi drink to finish off the meal.

Dinner at I'M KIM KOREAN BBQ; Korean barbecue

With dinner starting from SGD $22.90, guests can pick from a free-flow selection of cooked Korean dishes, fresh poultry, condiments, drinks and more. Often populated for its attractive price and seasonal Facebook promotions, it will be recommended to book in advance for reservation before you miss its signature volcano chicken and irresistible chicken wings!

High $$$ (Average spending per meal – Below SGD$50)
Breakfast at WILD HONEY; International

Enjoy all day breakfast at anytime of the day at Wild Honey! Be it signature dishes like The English, Tunisian or European, or new modern favourites such as Norwegian or Aussie, you will fill that craving spot for sure. Be sure to make an advanced reservation at this popular joint!

Lunch at COFFEE LOUNGE; Chinese – Taiwanese

Situated within Goodwood Park Hotel, get to enjoy the extensive Taiwan Porridge and local degustation menu. With its lunch bento starting from SGD $21, it also serves a la carte buffet with 31 traditional favors, accompanying piping hot bowls of rice or sweet potato porridge. Be sure to make an advanced reservation.

Dinner at JUMBO SEAFOOD; Local – Chinese

Garnering prestigious culinary and service, JUMBO Seafood captures the diners' hearts with its fresh seafood cooked to perfection. With its award-winning JUMBO Chili Crab, it also serves black pepper crab, golden salted egg prawns, crispy-fried squids and other innovative seafood cuisine. Reservation required.

Super High $$$$$ (Average spending per meal – Above SGD$50)
Breakfast at YAN TING; Chinese – Cantonese

Located at The St. Regis Singapore, Yan Ting showcases the exquisite yet hearty Cantonese fine dining. Aside from Executive Chef Tony Wun's signature creations on the a la carte menu, patrons can also enjoy the Weekend Dim Sum Brunch from SGD $53. This style of Cantonese cuisine prepares steamed or fried food that are traditionally served in streamer baskets or small plates. Due to its bite-sized portions, get to try a wide variety! Reservation required.

Lunch at NATIONAL KITCHEN BY VIOLET OON; Asian Fusion

Showcasing Singapore's culinary treasures and heritage from Nyonya, Chinese, Indian and Malay cuisines, local chef Violet Oon's latest addition at National Gallery Singapore celebrated the authentic colorful flavours. Treat yourself to a luxurious meal from Tumeric Chicken Rings, fragrant Beef Rendang, Daging Chabek Beef Cheek and top off with a must try Roti Jala with Gula Melaka and Bananas. Reservation required.

Dinner at WILD ROCKET; Asian Fusion

Opened by local Chef Willin Low, he described himself and his food as "Mod Sin" cuisine – Modern Singapore fusion food of local delight and European cuisine. Apart from a la carte menu, four-course meal is also served from SGD $75. Do contact the restaurant to find out the specials created on its omakase tasting menu at the chef counter.