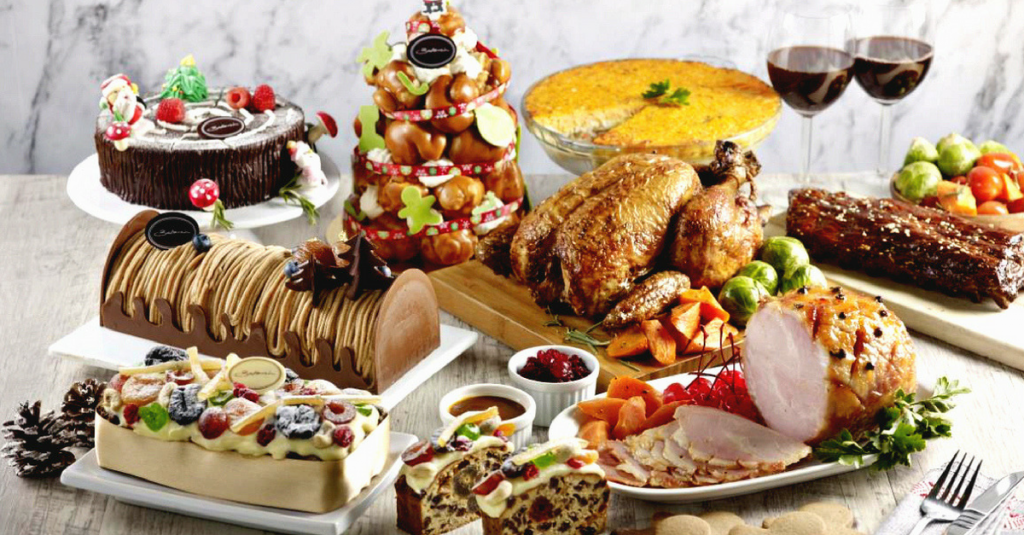 After hanging up your hundredth bauble, unwrapping your thousandth present, and exchanging your millionth kiss under the mistletoe, you bet it's time for something more. If what you're thinking is what we're thinking, it's none other than a Christmas feast.
Be it turkey with all the trimmings, indulgent desserts or spiced tipples, tis' the season for feasting!
Read on for our choice picks of binge-worthy festive fare.
1. Bakerzin
This festive season, let home-grown Bakerzin tantalise your taste buds, spice up your parties, and keep your guests coming in droves.
We were lucky enough to lay our hands on a few items in their Enchanting White Christmas Takeaway Menu, and it had us wishing Christmas would never end.
Roast Cajun Capon – $36 (approx. 2kg)
Roasted for 1 ½ hours under carefully-calibrated temperatures, marinated overnight and stuffed generously with aromatic herbs and spices – that's how much goes into preparing each roast.
It was all worth it because the chicken was moist, tender and flavourful. And, it came with crispy golden skin – a big plus.
We dipped pieces of the meat into the refreshing and tangy Chimichurri Sauce, an interesting Argentinian-inspired concoction. Equally tasty was the Christmas Tangy Sauce – an earthy, wholesome sauce made from hours of simmering chicken bones and tomatoes, and infused with red wine.
To round off the dish, we tucked into heaps of sweet roasted carrots cut to bite-sized perfection and moreish mini potatoes.
Yule Love Chocolate Log Cake ($52 – approx. 1.2 kg)
Not for the faint-hearted, don't mess with this bad boy unless you're a serious chocolate lover. We're glad to say that the confection contained more chocolate mousse than cake, with a chocolate-to-cake ratio of approximately 70 to 30.
Rich and decadent, this bittersweet chocolate mousse cake is made from fine Valrhona chocolate, and luxuriously covered with chocolate frosting. 
The cake was an overall winner, considering that it nailed the chocolate just right and it was a treat for the eyes. Decorated with adorable mini Santas and crunchy candy canes, we couldn't say no to it!
Galette des Rois – $40 (approx. 580g)
Add some pizazz to your Christmas party with this rustic Northern French pastry, otherwise known as the King Cake.
At first bite, we noticed how delicate and buttery the puff pastry was. It was considerably tastier and more buttery than most other puff pastries that we've tried. After that, the sweet and fragrant scent of the almond frangipane filling hit us. Baked to a golden brown hue, the cake looked as good as it tasted.
What's more, this dessert contains a fève (porcelain toy figurine)! According to tradition, the lucky person who finds it will be the "king of the day". Will it be you?
Croquembouche (Available in vanilla custard or Coffee Cream) – $22.80 for 27 pcs (approx. 800g)
A traditional French confection popular at weddings, this sweet pyramid dessert consisted of 27 mini choux pastries, stacked like an awesome Christmas tree.
Freshly-baked daily and glazed with a generous coating of indulgent, homemade butterscotch, this dessert is worth getting a belly for. The delicate and airy choux pastries were filled with rich and smooth coffee cream, which brought the dessert to great heights.
While the choux pastry was fluffy but not the fluffiest, the coffee cream was pretty amazing. Deep and fragrant, the coffee flavour was strong enough to lend the dessert an edge. Popping several of them made us feel like we'd downed a good cuppa, which we absolutely love.
Bakerzin
Enchanting White Christmas Takeaway: 11 November  2016 – 2 January 2017
Order: Place orders online at https://www.bakerzin.com/ or at Bakerzin outlets in Singapore

2. Cat and The Fiddle
Looking for a little slice of decadence?
Cat And The Fiddle's Happy, Merry, Boozy! cake is a dense black forest cake crafted from a layer of chocolate mousse atop a layer of brandy-infused chocolate sponge cake. A generous offering of brandied cherries comes with every second bite.
The cake even comes with a Christmas tag and two gold Christmas tree ornaments!
Our ambassador, Vanessa, tried the cake, and here's what she had to say:
"In lieu of the festive season, I tried The Cat and The Fiddle black forest cake that was such a sensation for my taste buds! Loved the surprise of brandy infused cherries and the soft mousse on the chocolate cake. Unconventional compared to the usual creamy log cakes!"
We'll be giving away this cake on our Facebook soon. Like us for updates!
Cat and The Fiddle
Happy, Merry, Boozy! is available from 15 November 2016 to 1 January 2016
Price: $49.90 (inclusive of GST)
Approximate weight: 1KG (good for 8-10 servings)
Order: Place your order online at https://www.catandthefiddle.com
3. Flor Patisserie
Named after the Portuguese word for 'flower', FLOR Patisserie is a Japanese-inspired confectioner serving authentic French pastry. For honest baking, fresh ingredients and sincerely tasty baked goods, step right up.
Strawberry Log Cake
Our ambassador, Stephanie, tried the Strawberry Log Cake, here's her experience:
https://www.instagram.com/p/BNl_YFjDwSo/
"I really liked that the cake was moist and fluffy, and that it wasn't very sweet, so it wasn't too rich or overwhelming to have one slice after another. Also there wasn't a lot of cream used, which I liked, cause it's not that oily and fattening. ? The strawberries were a little sour, but it was a nice contrast to the sweetness of the cake ??"
Chocolate Brick Log Cake
After a bite of this tasty brick, you'll probably crack a grin, but not your teeth! The bittersweet cake offered a solid chocolate punch.
A strong player in the texture game, smooth chocolate fudge cream was sandwiched between fluffy layers of dark chocolate sponge, complemented by crisp and flaky puff pastry on both sides of the cake.
Offering an interesting texture contrast, were the crunchy chocolate-covered pearls hidden within the cake
FLOR Patisserie
Strawberry Log cake
9.5 x 17cm – $53.50
9.5 x 24cm – $69.60
Chocolate Brick
9.5 x 17cm – $55.70
9.5 x 24cm – $72
Order: Place your order online at  at their outlets
4. Asanoya Bakery
Asanoya Bakery first captivated the people of Japan. Now, they're doing the same right here – blending the best of Japanese flavours with tried and tested European recipes. You might have known them for their creative spins on the salted egg craze – matcha lava, and maple lava salted egg croissants. This Christmas 2016, they've hit us with yet another round of tasty tricks.
Chocolate Banana Log Cake
Our ambassador, Victoria, tried the log cake. Here's what she had to say:
https://www.instagram.com/p/BN5eu1MBtQj/?taken-by=victoinette
Christmas Gift Box
Asanoya's Christmas Gift Box makes for a great gift – 1 traditional stollen, 9 pieces of Madeleine, 9 pieces of Christmas cookies and 9 pieces of Yuzu Miso Rusk, we guarantee the recipient of this box will be grinning like a Cheshire cat.
We enjoyed everything! Every bite of the stollen guaranteed fruit bits and it was very addictive. Unlike traditional Madeleines, the ones from Asanoya are green tea flavoured and perfect to go with tea. The Yuzu Miso Rusk was a unique twist – the mishmash of flavours is surprisingly delectable. You get a strong yuzu taste that does not overpower but was the perfect contrast. As for the Christmas cookies, they were crunchy yet smooth but not too dry.
All in all, we couldn't think of a better Christmas goodie box to gift to friends.
Asanoya
Christmas Gift Box: $78
Chocolate Banana Yule Log: $45.80
Website: Diana, tried the log cake. Here's what she had to say:
https://www.instagram.com/p/BN–qezDUXb/?taken-by=dianabakar_
"Bursting with nutty flavour, the log cake was an eruption of pure joy at first bite. A myriad of textures – from the smooth pudding, sponge cake to the crunchy wafer bits delighted my palate. The log cake was complete with dark chocolate toppings and the cutest reindeer that joyfully highlights this Christmas season."
Shangri-La Hotel, Singapore
Order online More details Pies & Coffee is a bold and vibrant cafe that specialises in freshly baked handmade gourmet pies and coffee. Tuck into their scrumptious buttery and flaky pastry crusts which will melt in your mouth.
This Christmas, Pies & Coffee has taken an unconventional twist on the traditional Christmas log cake by infusing our local favourite – Ondeh Ondeh flavour!
Bite into a piece of this Ondeh Ondeh-infused log cake and revel in the sweet yet not overpowering gula melaka creamy exterior. Coupled with slightly crispy coconut flakes and a deliciously soft and slightly moist pandan chiffon interior, it is almost like having an Ondeh Ondeh itself!
This unique cake is artfully decorated with white chocolate bites and sweet golden balls as well. For a refreshing and Singaporean-style log cake this Christmas, Pies & Coffee's Christmas Rhapsody Log Cake will surely not disappoint!
Pies & Coffee
Christmas Rhapsody (Ondeh-Ondeh) Log Cake
Weight: 1kg (approx.)
Price: SGD45 nett
Website
A slight nutty aftertaste of the cream rendered us dumbfounded until we found out it was made of kinako (soya bean) powder. Perfectly light and fluffy, you'll definitely reach for seconds!
Christmas Nama Chocolate Log Cake
Topped with an array of adorable Christmas treats, the Nama cake had a fluffy sponge that was mildly sweet and yet hid just the right amount of nama cubes within the airy layers of cream.
Definitely the choice for those who subscribe to the non-sweet tooth club but yet wouldn't mind finding the occasional hidden sweet delights.
Patisserie Glace
Website: Named after a stop on London's Northern Tube Line, Chalk Farm is a cosy white bakery that is well-known for its plethora of sweet treats. From delectable Salted Caramel Macadamia cupcakes to chocolate Guinness loaf, brownies and cheesecakes, expect an array of uniquely crafted desserts here at Chalk Farm.
Rich Christmas Fruitcake
Christmas will certainly be an even more beautiful festive season with this Rich Christmas Fruitcake from Chalk Farm! This yearly fruitcake offering looks positively gorgeous with its pink marbled fondant robe.
The dark and moist interior is a mixture of fresh prunes, sultanas, raisins, currants, glace cherries and walnuts which offers an authentic fruity flavour. Prepare your taste buds for a slight rum hint as you savour a small piece of this rich fruitcake. Artfully decorated with a crown of gold-dusted bay leaves and nuts, this Rich Christmas Fruitcake from Chalk Farm is surely a pretty sight.
Rich Christmas Fruitcake
Weight: 2.2kg
Price: SGD140 (including GST)
Espresso Meringue
You know that first sip of coffee on a busy morning? Chalk Farm's Espresso Meringue is the perfect embodiment of that warm cup of coffee. We were impressed by how the light coffee flavoured sponge cake balanced the dense heavy coffee-infused cream.
A slightly bitter kick of the cream pairs well with the light and slightly sweet fluffy sponge cake. If you're a true coffee enthusiast, Chalk's Espresso Meringue is a treat worth splurging on.
Espresso Meringue
Weight: 1kg
Price: SGD78 (including GST)
Midnight Chocolate Bundt Cake
Dark, smoky and just slightly bitter Chalk Farm's Midnight Chocolate Bundt Cake is crafted from a dense chocolate cake, unlike light sponge cakes.
This dessert is both a sweet treat and a perfect tea time snack. With hints of coffee and Christmas spice, Chalk Farm's Midnight Chocolate Bundt Cake is topped with chilli spiked chocolate for that perfect dark twist.
Midnight Chocolate Bundt
Weight: 1.2kg
Price: SGD86 (including GST)
Chocolate, Banana and Peanut Butter Cake
[caption id="attachment_19838" align="aligncenter" width="460"]
Chocolate, Banana and Peanut Butter Cake[/caption]

The Chocolate, Banana and Peanut Butter cake is layered with moist sponge and cream with banana. The peanut butter wasn't overpowering, and the chocolate was decadent, smooth, and left us wanting for more.

Chocolate, Banana and Peanut Butter Cake
Weight: 1kg
Price: SGD75 (including GST)
Chocolate Chestnut Log
[caption id="attachment_19839" align="aligncenter" width="705"]
Chestnut Log Cake[/caption]

The Chestnut Log featured luscious chocolate ganache slathered on the soft chocolate sponge, with a chestnut cream middle. With the perfect amount of sweetness, this gold encrusted log is fit for kings!

Chocolate Chestnut Log
Weight: 1kg
Price: SGD88 (including GST)

Chalk Farm
Paying homage to age-old recipes from their grandmothers, the folks at Butter Studio have a fierce passion for cakes and all things sweet. Everything is made by hand, well-sourced quality ingredients are used, and they're dedicated to making honest, delicious desserts.
What are some of their Christmas goodies? Christmas Rocher Ganache Log, Cupcakes, Macarons, and Speculoos Red Velvet Yule Log!
Butter Studio's Christmas Rocher Ganache Log has just the right amount of chocolatey goodness! Light chocolate sponge cake is coated with a luxurious and sweet layer of chocolate ganache.
Their cupcakes were also moist and flavourful, perfect for those with a sweet tooth. As for the Speculoos Red Velvet Yule Log, this soft and fluffy cake reminded us of cookie butter. The log was topped with cookie butter crumbs and they provided a nice crunch with every bite.
Butter Studio
Chocolate Rocher Ganache Yule Log, $62 per 1kg
Season's Greetings Cupcakes, $35 per dozen
Speculoos Red Velvet Yule Log, $62 per 1kg
Website:
While Christmas may be celebrated in many ways around the globe, one tradition has stuck worldwide – the Christmas feast. Food brings people together, sparks merriment and bonds hearts. What better way to experience the warmth of this season than to love, laugh and eat?
Header image credit: Bakerzin
Also, read Riverside Point Is Bringing The Joy of Feasting To The Next Level With All Their Amazing Giveaways!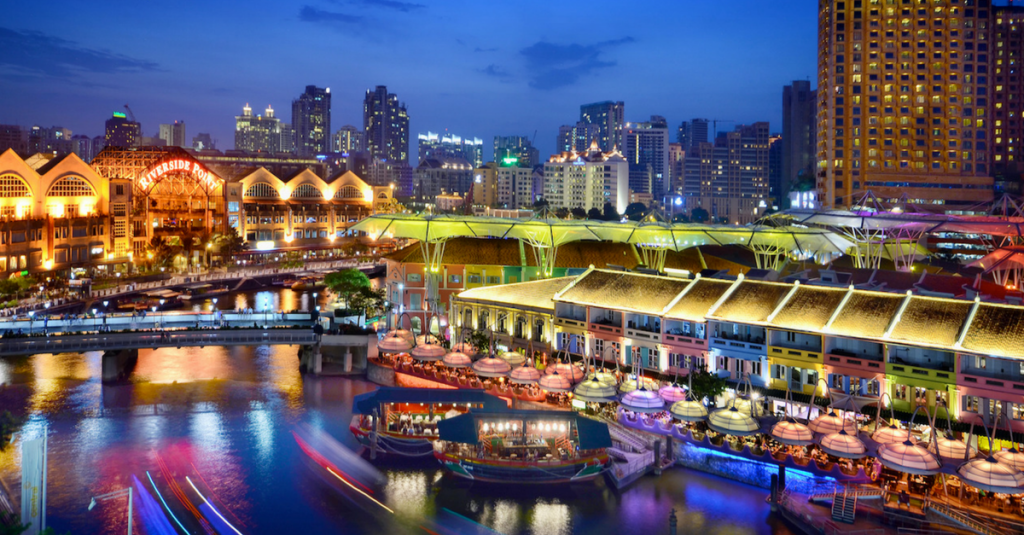 Time sure flies! Can you believe it's November already? Give yourself a pat on the back for making it this far into 2016. The year may be ending in 2 months' time, but the fun is surely not slowing down.
No shave November aside, here are 13 exciting ( and facial hair friendly) activities to check out during the first half of the month.
Discover & Play
1. The Zouk Run
Zouk is moving to a new home in Clarke Quay, but it's not leaving Jiak Kim without a mega farewell. Right before closing its doors, Zouk will be having their inaugural Zouk Run.

[caption id="attachment_17197" align="alignnone" width="918"]
Image source: The Zouk Run[/caption]

The Run is open to all 16 years and above, spreading across four race categories – Mambo King, Podium Queen, The Shuffler, and The Musichead. Food and drinks are available at the end of the 3km run.

Those 16 and above will have access to the afterparty at Velvet Underground while 18 and above can enjoy access to all Zouk dance rooms.

The Zouk Run
Date: 5 November 2016 (Saturday)
Time: 5pm till late
Venue Zouk, 17 Jiak Kim Street, 169420
Price: $42
Website:
Image source: SG Beauty Week[/caption]
Set to take place from 10 to 19 November, Singapore Beauty Week is here to attend to your beauty needs.
From mani-pedicures, hair removals, facials to spa treatments, start planning your preferred time slot and set your beauty appointment here ahead of the event week.
Singapore Beauty Week
Date: 10-19 November 2016 (Thursday – the following Saturday)
Time: Various time
Venue: Various venues
Website: Singapore Beauty Week
Facebook: Singapore Beauty Week
Also, read Singapore Beauty Week Is Your One-Stop For Exclusive Beauty Treatments At Attractive Prices
3. Singapore Writers Festival
Writers, linguists, or even punctuation enthusiasts, the Singapore Writers Festival is back!

[caption id="attachment_17201" align="alignnone" width="960"]
Image source: Singapore Writers Festival[/caption]

With a theme of 'Sayang' (Malay for 'love' or 'regret'), this 10-day festival will see 300 programs involving more than 320 writers, speakers and performers.

We suggest you get a Festival Pass at $20 which will give you access to over 100 events at the fest while the Lectures, Performances and Workshops are ticketed.

Singapore Writers Festival
Date: 4 -13 November 2016 (Friday to the following Sunday)
Time: Program Schedule 
Venue: Various venues
Price: $20 – $60
Website: Singapore Writers Festival
Facebook: SG Writers Fest
Ticketing: Ticketing Guide 
4. St. James Fitness Festival
In need of some body-positivity? Kickstart your first Saturday of November with the St. James Fitness Festival.

[caption id="attachment_17206" align="alignnone" width="600"]
Image source: Mynameisjessamyn[/caption]

We all know that great music and fitness goes hand in hand together. You can expect exhilarating beats while you try some of the most current workouts such as Zumba, HIIT, Dance Yoga, Bollywood Yoga and U-Jam Fitness.

And did we mention that yogi and body positve advocate Jessamyn Stanley will be at the festival? We heard tixs are selling faster than our heartbeat after HIIT. Get yer tickets now before it's too late!

St. James Fitness Festival
Date: 5 November, 2016 (Saturday)
Time: 11am – 10pm
Venue: Millian, St. James Power Station, 3 Sentosa Gateway #01-05, 098544
Price: $12-$37
Ticketing: St James Fitness Festival
5. Circular Spectacular!
While you're taking a break from all that food at the River Festival (more info below), head down to Circular Road for a street carnival.

[caption id="attachment_17199" align="alignnone" width="960"]
Image source: Circular Spectacular[/caption]

You can expect live Raggae music, art installations, roving performances, and interactive activities for all ages.

And the best part of all, it's free! But do register ahead of the event if you'd like to join the Puppet-Making workshop.

Circular Spectacular!
Date: 5 November 2016 (Saturday)
Time: 3-10pm
Venue: Circular Road, Boat Quay
Event Page: Circular Spectacular 
Eat
6. Suntory Dinner & After Show Party
Love Japanese whisky?

Tippling Club will be collaborating with Suntory to host a beer and whisky pairing dinner at Bin 38.

[caption id="attachment_17233" align="alignnone" width="600"]
Image source:

[email protected]

 or 

+65 6475

 2217
7. MasterChef Asia Top 3 Finalist – From Sarawak With Love
MasterChef Asia Top 3 finalist, Jasbir Kaur is bringing her spices to Singapore. In a two-day only pop-up event, she will be cooking up some of East Malaysia's specialty dishes.

[caption id="attachment_17185" align="alignnone" width="784"]
Image source: Spice Ranee Cafe[/caption]

Ever wonder what a deconstructed Sarawak Laksa is? Curious how Jasbir would revamp the all time favourite cendol? And the best part of all, she'll be cooking with Bario rice. Yes, it's THE Bario rice.

Reserve a spot before it's too late!

From Sarawak with Love
Date: 3-4 November 2016 (Thursday – Friday)
Time: 7:00pm
Venue: BIN 38, 38 Tanjong Pagar Road
Price: $99 /pax (including drinks)
Event Page: POP UP Kitchen Singapore
Reservation: Whatsapp Spice Ranee Cafe at +60198194088 to get your tickets
8. Prized Autumn Gourmet Delicacy – Hairy Crab
The arrival of autumn months in Asia can only mean one thing – it's the season of Hairy Crabs!
From 17 October to 30 November, Shangri-La Hotel's Shang Palace will be dishing out a six-course hairy crab menu!
Besides Steamed Crab, you can expect other unique dishes on the set menu, such as Barbecue Kurobuta Pork with Shredded Lobster Roll, and Claypot Braised Bird's Nest Dumpling.
If the course meal is too heavy for your liking, there are 9 a la carte crab dishes to chose from.
Shang Palace's Hair Crab
Date: 17 October – 30 November 2016
Time: Available for lunch and dinner
Venue: Shang Palace, Shangri-La Hotel, 22 Orange Grove Rd, 258350
Price: $138.00++ per pax (six-course meal), $24.00 ++ (a la carte dishes)
Reservation:  Call (65) 6213 4473/4398 or e-mail [email protected]
Online reservation: Shangri-La Singapore
Also, read Shang Palace's Hairy Crab Menu Is So Magical, It'll Make You Feel Like Hairy Potter
Shop
9. Boutique Fairs
The wait is finally over! Singapore's biggest and most anticipated shopping extravaganza- Boutique Fairs is back!

[caption id="attachment_17252" align="alignnone" width="599"]
Image source: Boutiquefairssg[/caption]

With a whopping 150 vendors spanning from women, men to home decor, you will definitely walk away a happy shopper.

We get it that 150 vendors can be a little overwhelming and that's why we've pick 9 shops that you NEED to drop by over the event weekend.

Boutique Fairs
Date: 4-5 November 2016 (Friday – Saturday)
Time:  9am-8pm (Friday 4 Nov), 10am-8pm (Saturday 5 Nov)
Venue: The F1 Pit Building, 1 Republic Blvd 038975
Website: Boutiques

Also, read Boutique Fairs Is Back, And It'll Make You Say "I Do" All Over Again
10.

[email protected]
Love all things throwback? This flea market is the place to go for your vinyls records, retro knick knacks and vintage treasures.

[caption id="attachment_17210" align="alignnone" width="960"]
Image source: The Retro Factory[/caption]

When you're too hungry from all that shopping, a scrumptious array of grub will satisfy the foodie in you.

On top of that, there will also be live bands, DJ sets wine fair, beer tasting and gin tasting.

[email protected]
Date: 6 November 2016 (Sunday)
Time: 12-8pm
Venue: Hive by Wala Wala 407 Havelock Road #01-01, 169634
Event Page: [email protected]
11. Etsy Made Local
Christmas is just around the corner and that means that it's time to start hunting for gifts and cards.

[caption id="attachment_17187" align="alignnone" width="640"]
Image source: Etsy made Local Singapore[/caption]

If you're looking for something special (not mass produced), artisanal and collection worthy, Etsy Made Local (EML) is the perfect place to start your Xmas shopping.

From jewellery, crochets to knick knacks and clay gifts, you'll sure to find something suitable for people on your 'Nice' list.

Etsy: Singapore
Date: 12-13 November (Saturday – Sunday)
Time: 12:00pm – 9:00pm
Venue: Capitol Piazza, 13 Stamford Road, 178905
Event Page: Etsy Made Local Singapore
All in One
12. Singapore River Festival
Singapore River Festival will transform the three Quays- Boat, Clarke and Robinson Quay into a weekend of festivities.

There will be art installations, flea markets, theatrical performances, food stalls and music.

[caption id="attachment_17241" align="alignnone" width="1024"]
Image source: Weekender[/caption]

It may be a celebration of river heritage but the highlight of the festival is definitely the SR Signatures (read: 21 mouth watering dishes along the Singapore River). We know 21 dishes is a bit heavy on the waistline so we've curated a food trail for your reference.

Singapore River Festival
Date: 4-5 November 2016 (Friday – Saturday)
Time: l

Also, read Our Food Trail With SR Signatures Will Leave You Drooling [Singapore River Festival 2016]
13. Camp Kiko x Common Creatures Presents Art Club
Enjoy art, music, food and fun? This Art Club will sound like the perfect Sunday for you.

[caption id="attachment_17227" align="alignnone" width="960"]
Image source: Camp Kilo[/caption]

With an aim to support and grow a community of makers, doers, and craftspeople, Art Club will be featuring artists/ makers such as Juls (the first Singaporean to design a Swatch watch), Forest Child, Unusual Felines, Reza Hasni and more.

Camp Kiko x Common Creatures: Art Club
Date: 6 November, 2016 (Sunday)
Time: 2-7 pm
Venue: Camp Kilo Charcoal Club 66 Kampong Bugis #01-01, 338987
Event Page: Camp Kilo x Common Creatures Presents Art Club

With 13 exciting activities to choose from, the first half of November sure is a busy one! Drop us a comment and let us know which event tickles your fancy.

Header image credit: Orchard Central's "All Things Japanese" Festival Is Bringing Japanese Food And Culture Under One Roof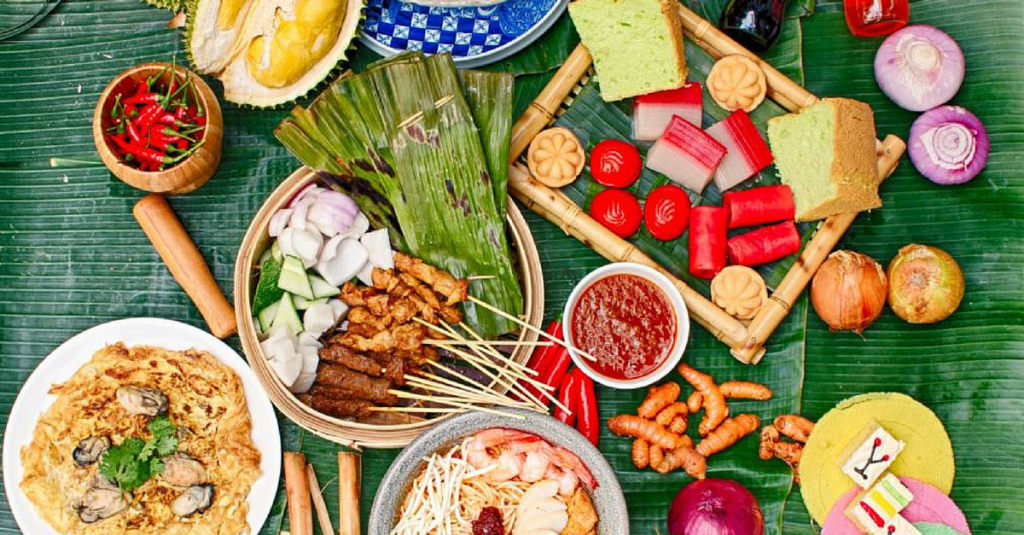 This National Day, get ready for a huge treat! The Line (at Shangri-La Hotel), one of Singapore's best international buffets, is taking Singaporeans on a journey through our unique food culture!

You can expect innovative twists of our local favourite dishes! Exactly what kind of twists? We're talking about out-of-this-world bizarre creations.

Have you heard of Chendol – but served in bubble form? What about Tau Huey Popcorn, or Oyster Omelette served on an Oyster shell? As weird as these dishes sound, you need not fret!

[caption id="attachment_11716" align="alignnone" width="4912"]
Chendol Bubbles – it looks cute, but you'll be surprised – each sip you take is full of flavour![/caption]

We've gone ahead to taste and savour these not-to-be-missed unique creations. They're as good, if not, even better than the originals of our local favourites.

The best part? You can enjoy these local delights alongside the best international selection. That's right – there'll be fresh cuts of sashimi, seafood on ice, beef, and not to mention, a wide selection of desserts and pastries, including the best chocolate lava cake (we had 2 servings, guilty as charged).
Without further ado, we'll quickly take you through a few highlights. There's just so much good food, that we can only pick and choose the very best. Keep reading, because you will stand a chance to win this dinner buffet for two as well!
Flavours of Singapore at The Line
In celebration of National Day, Shangri-La's famous buffet dinner at The Line will transform into a traditional food street from the 1960s.
Local Delights
Chef de Cuisine Vincent Wong is a figure you won't miss at the buffet – passionate, tattooed, and engaging, he stands out among the others. The brains behind the delectable and innovative dishes, he brought us through the story behind each dish he conceptualised.
Chendol Bubbles
Take, for example, the Chendol Bubbles. Deftly and expertly, these bubbles of goodness were scooped into this cup. It looks deceivingly bland, but trust us, this is full of flavour. Its intriguing appearance is due to pockets of Chendol-infused air. There's red bean mousse, and standard Chendol toppings waiting at the bottom of the cup. This is the epitome of guilt-free dessert – all the flavours you want in a Chendol, but without the guilt.

[caption id="attachment_11716" align="alignnone" width="4912"]
Crowd favourite Chendol Bubbles[/caption]
Tau Huey Popcorn
If you're in the mood for another dish that's out of this world, try the Tau Huey popcorn! You heard us right! Here's a hint: the futuristic kitchen at The Line uses nitrogen gas. Our local soya bean beverage will be chilled to a point where it solidifies.. and resembles popcorn! Its extremely light and delicate texture will melt in your mouth in mere seconds, only to leave you begging for more.
Keep a lookout on our FB and IG for videos of Chef Vincent preparing and explaining these dishes!
Other Creations
There are more favourite old-time delights that are sure to bring a smile to your face. Think Chicken Rice Maki Rolls (with the best chicken rice chilli), Chilli Crab Brioche, Kaya-flavoured Arabic Bread and Nasi Lemak: canapé style!

[caption id="attachment_11728" align="aligncenter" width="1000"]
Chicken Rice Maki with the best chilli[/caption] [caption id="attachment_11717" align="alignnone" width="4912"]
Chee Cheong Fun Nasi Lemak[/caption]

Our local Oyster Omelette takes on an imaginative twist with deep fried egg artistically placed on each fresh and tender oyster. We couldn't help filling our plates with these mini crowd-pleasers!
A Durian Alfresco Fruit Stall!
[caption id="attachment_11729" align="aligncenter" width="1000"]
The jovial Durian Master[/caption]

Durian lovers will be ecstatic to note that there will be an alfresco fruit stall full of specially-imported tropical fruits! When we were there, we were treated to D13 and Pheonix durians, all opened fresh in front of you by a charming and jovial Durian Master. So rich, creamy, sweet, and good, we had a few servings each! There may also be other tropical fruits like mangosteen, rambutan, longan, and jackfruit.

All the durians you see in the picture were wiped out at about 9:30PM! Yea, that's how good it is.
Other Delights
Besides all these, there are stations serving Satay, Laksa, Drunken Prawn, warm food dishes, childhood snacks and drinks, and local pastries and desserts – the coconut durian cake was the best!
International Spread
Marine Harvest Seafood
The Line is well known for one of the largest buffet spreads in Singapore. Its fame stems from its generous selection during the Marine Harvest Seafood nights (Tuesday & Thursday). You name it, they have it! A few types of lobsters, oysters, clams, mussels, shrimps, crab claws, prawns, are served on a cold bed of ice.
The Oysters are also shucked live and fresh in front of you!
Other Stations
[caption id="attachment_11733" align="aligncenter" width="1000"]
Here's a close shot of how good it looks![/caption]

In addition, there is also a Roast Station offering salmon, and different kinds of beef. The Japanese station serves up a wide selection of sashimi; Salmon, Tuna, Yellowtail, Swordfish, Octopus, and more!  If you like to have some greens for every meal, you can count on the Salad Bar. Lovers of cheese, we counted at least 5 different types of cheeses to go with biscuits, bread, or ham!

Tip: You can request for salmon belly at the sashimi station.
Unlimited Wines, Beers, Juices, & Drinks
Only on Tuesdays and Thursdays, for Marine Harvest night, enjoy a selection of unlimited sparkling, red and white wines, beers, soft drinks, and juices!
Dessert
[caption id="attachment_11734" align="aligncenter" width="1000"]
That's not all. There are like 6 shelves of desserts.[/caption]

Our best advice? Always save space for dessert. We adore the delicate toffee and nut tartlets, chocolate lava cake with matcha ice cream, and durian coconut cake. There is even a selection of local sweet treats such as kuih and traditional cream cakes for those who want to take a walk down memory lane.

Tip + food hack: Drizzle olive oil, and sea salt (from the salad bar) on their vanilla soft serve for a delightfully sweet treat with a salty crunch. Our initial scepticism about this combination melted away the moment we took a bite.
We Never Wanted To Leave
https://www.facebook.com/discover.sg.official/videos/2051248505100841/
The Line undoubtedly remains one of the best buffets to be found on our island. We loved how approachable the chefs were at their stations. They entertained the crowd as they cooked on the spot, engaged and explained the dishes, and served up hot and fresh food along with a joke or two.
If you'd like to enjoy Shangri-La's The Flavours of Singapore dinner buffet at The Line, make a reservation here and revel in old-world charm, makan-style! You could also stand a chance to…
Win a dinner buffet for 2 at The Line, Shangri-La!
Simply LIKE and SHARE this post on Facebook, and LIKE Shangri-La's Facebook to stand a chance to win The Flavours of Singapore dinner buffet* for two! Yes, it is that simple! That's all you need to do for a chance to feast at The Flavours of Singapore dinner buffet. This giveaway ends 4th August, and the lucky winner will be notified through Facebook.
*Not valid for use on the eve of and on public holidays
The Flavours of Singapore dinner buffet will run from 18 July to 14 August 2016.
Monday, Wednesday, Sunday: $79 per adult, $39 per child
Friday and Saturday: $92 per adult, $46 per child
Tuesday Marine Harvest: $98 per adult, $44 per child
Thursday Marine Harvest: $108 per adult, $44 per child
The Marine Harvest dinner buffet includes an enhanced seafood selection, and a selection of unlimited sparkling, red and white wines, beers, soft drinks, and juices.
Click here to book a table.
All prices exclude 10% service charge and 7% GST.
This was an invited food tasting session. Thoughts and opinions are our own.
This article is brought to you by Discover SG x Shangri-La Hotel
https://www.facebook.com/discover.sg.official/posts/2050764938482531
Also, read [WIN] Tickets To A Romantic Movie With Your Date Under The Stars!