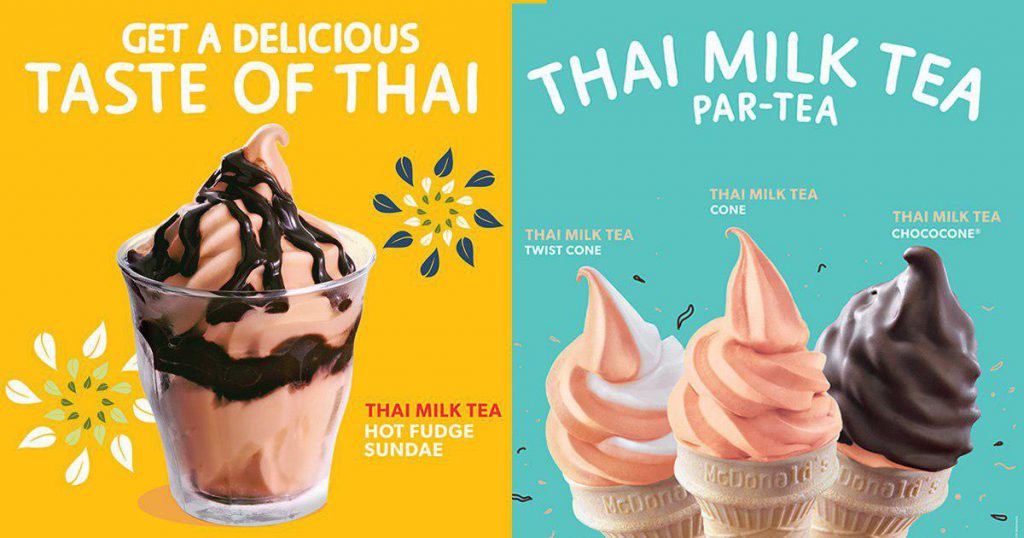 A few days ago, we were blindsided by the sudden news of the arrival of the Rich Chocolate Pie, Fish And Fries, and the Sweet Chilli Fish Burger.

Today, 4 new desserts show up in McDonald's dessert kiosks islandwide.

First up is the Thai Milk Tea Hot Fudge Sundae.

[caption id="attachment_33364" align="aligncenter" width="720"]
Image Credit: McDonald's Singapore[/caption]

There's also the Thai Milk Tea Cone, Thai Milk Tea Twist Cone, and the Thai Milk Tea ChocoCone.

[caption id="attachment_33365" align="aligncenter" width="720"]
Image Credit: McDonald's Singapore[/caption]

At the moment, these 4 new items are not available on the McDelivery portal. However, you can still get yours at any McDonald's Singapore dessert kiosk.

Locate your nearest dessert kiosk here.

Also read McDonald's Expands Its Menu With Chocolate Pie And Fish & Fries – And We're Lovin' It

(Header Image Source: McDonald's Singapore)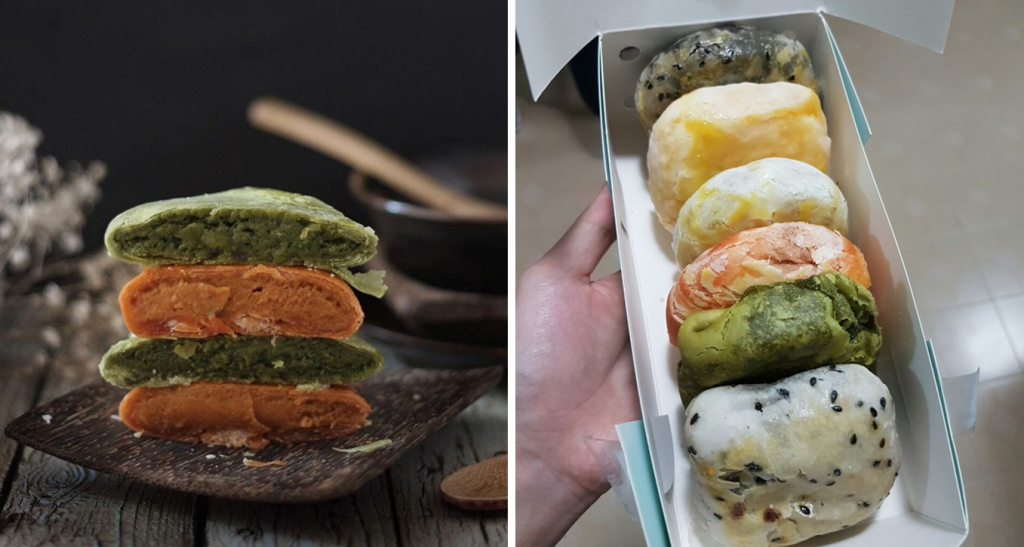 If you frequently travel to Thailand, you'll probably have heard of or seen April's Bakery around.

With 60 outlets scattered across the country, their home-made pies are now available in Singapore not just in Tampines, but also in the CBD. Located at the bustling food hall at the basement of One Raffles Place, this branch is much more accessible to those of us who, well, don't live in the extreme east of Singapore.

[caption id="attachment_29516" align="alignnone" width="1484"]
April's Bakery at One Raffles Place[/caption]

While April's Bakery has its roots in Thailand, their pies are unmistakably Cantonese at heart. Bearing some similarity to the traditional Wife Cake, or lao po bing, April's Bakery puts its own spin on the pie by switching up its flavours and fillings!

Think Thai Milk Tea, Matcha Latte, Tokyo Banana, Sweet Potato… The list goes on.

[caption id="attachment_29454" align="aligncenter" width="958"]
Flavors from top to bottom: Thai Milk Tea, Taro, Matcha, Tokyo Banana, Purple Potato (Image Credit: @oo_foodielicious)[/caption]

Some of their pies come filled with a tasty paste and custard combo, while others have a purely paste filling.

Priced at at just $2, these affordable pies are perfect for breakfast or a midday snack when you get a case of the munchies.
The Story Of April's Bakery
The original April's Bakery in Thailand started out as a small, obscure bakery in Central Plaza Ratchada-Rama III shopping centre. Selling cakes, biscuits and pastries, its founder, Nathanaporn Euawanthanakhun, started baking pies after discovering a love for roast pork pies during a trip to Hong Kong.

[caption id="attachment_29517" align="alignnone" width="1484"]
April's Bakery Pies[/caption]

That inspired her to come up with her own signature pie recipe, which eventually led her to expand her range to include flavours like Taro, Custard and Matcha Latte. To date, the bakery has over 30 pie flavours in Thailand, including both sweet and savoury varieties!
Pies For Every Preference
Unfortunately for us, April's Bakery's Singapore outlets currently only sell their sweet pies.

The signature flavour at April's Bakery is Thai Milk Tea. Filled with a mixture of custard and paste, fans of Thai milk tea will likely enjoy this pie that's rich and creamy, without being overly sweet.

Other custard-paste pies include the Matcha Latte, Custard and the Singapore-exclusive Tokyo Banana. Not available even in Thailand, this is hands down one of our favourites of the lot.

[caption id="attachment_29518" align="alignnone" width="4233"]
April's Bakery pies all cut up![/caption]

Some favourites among the health-conscious (and apparently, the gym-going crowd at One Raffles Place) are the Pumpkin and Sweet Potato pies that come with no added sugar. While much more subdued in flavour, the natural sweetness of Pumpkin and Sweet Potato really come through in these pies.

Durian lovers, here's another durian-flavoured pastry to add to your must-try list. The latest flavour to hit the shelves at April's Bakery, these will surely not disappoint.

[caption id="attachment_29456" align="alignnone" width="1180"]
durian season should be all year round (Image Credit: @aprilbakerysg)[/caption]

While most of these pies are best enjoyed warm, we were told that you can also enjoy the custard-paste pies cold – and even with a scoop of ice cream!

If you're working in the CBD area and are ever feeling peckish, grab one of April's Bakery's delicious pies. With such a wide variety of flavours, it'll take you a while to work your way through all the pies to figure out which ones are your favourites.

Whether you're in the mood for something sweet, something healthy, or something to fill you up, April's Bakery got just the thing!

April's Bakery
Address: #B1-38 1 Raffles Place, One Raffles Place, Singapore 048616
Opening Hours: Mon – Fri: 7am – 7pm
Contact: 8122 7604
Website

Also read This Cafe Created A Diner-Themed Dessert Menu, And Our Eyes Are Confused 

(Header Image Source: Burpple User Kat X, Burpple User Amanda Ang)