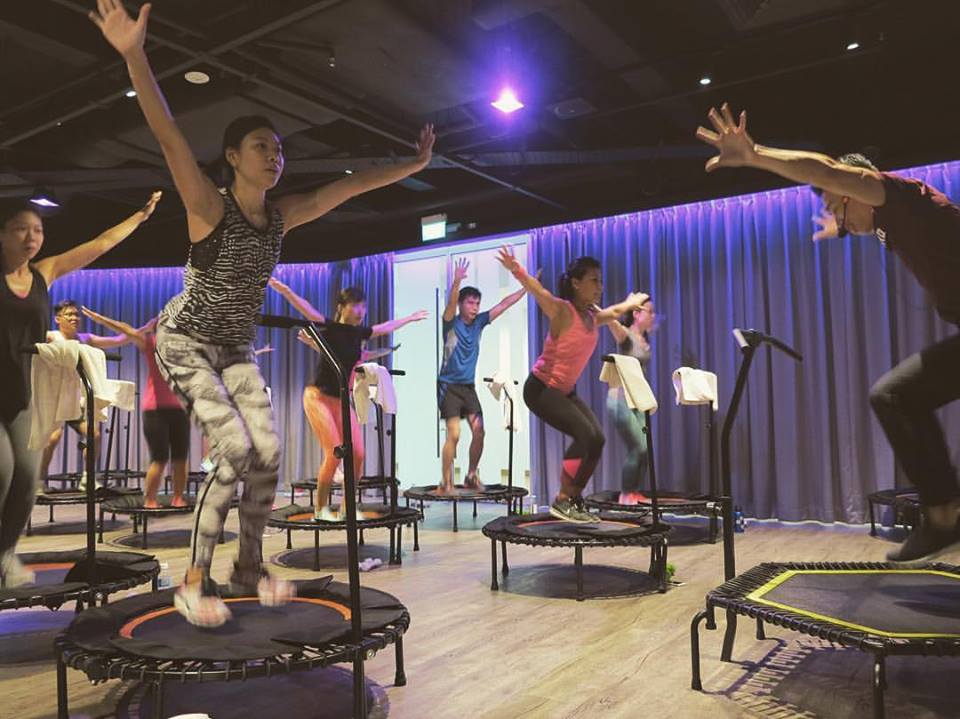 If you're in search of a sure-fire way to shed those pounds, smoothen out nasty cellulite, and have crazy fun all at the same time, BBOUNCE it out! BBOUNCE was opened only a few months back by former national swimmers Joel Tan and Leslie Kwok. It is the first of its kind in Singapore!
Bbounce in Singapore – Hybrid Rebounding
BBOUNCE is known to laypeople as "the trampoline thing", though not to be confused with free-and-easy trampoline parks. BBOUNCE requires so much more than being an energizer bunny. The workouts in this studio are in fact called Hybrid Rebounding – an intense cardio session that is two times more effective than running.
In addition, it also helps in toning muscles and building up core strength. You are forced to keep your core tight to gain momentum and maintain your balance.
Disclaimer: a strong core is not necessarily determined by whether or not you have a six-pack, so don't feel demoralised if your abs have not made an appearance after your tenth class!
However, you can trust that your core has indeed become stronger – and a strong core is extremely important in helping to protect the spine!
Our experience
The fun begins when you grab a pair of 1kg weights (or 2kg if you're up for the challenge) and pick a trampoline. If you bring along a bunch of friends just like I did, the class will be more fun and less painful. My first class was a beginner's class called BBOUNCE Lite, where all of 50 mins was spent on the trampoline.
Other classes such as Hybrid Rebounding, BBOUNCE's signature class, has you on the trampoline for 30 mins. You'll spend the rest of the time off the trampoline, working your way to your dream bod.
We were lucky enough to have the founder, Joel, push us to our limits during our first beginner's class. Joel mentioned that a single class can burn up to an insane amount of 500 calories. Indeed, he worked us hard to reach that goal. We bounced to the rhythm of club hits and Mambo beats (who could forget Zouk's iconic Mambo nights).
https://www.facebook.com/bbouncestudio/videos/379927725679272/
The class became tougher when hand movements and weights were incorporated, and when we were instructed to shuffle our feet. The friction between my shoes and the trampoline net made my quads work extra hard. My core was burning from making sure that my feet stayed within the confines of the trampoline.
The workout wasn't just a test of stamina, but also a test of coordination – and boy did it feel good to be in sync with the music. My total calorie count at the end of it all: 352. I blame my lack of stamina for disallowing me to lift my feet off as high as I wanted to. However, I do see how 500 calories is possible if you gave your hundred percent.
Tip: Wear flat-soled shoes or cross-training shoes instead of running shoes. Running shoes are designed to make you go forward, but at BBOUNCE, the only way is up.
BBOUNCE Studio
Location: 176 Orchard Road #06-09, The Centrepoint, Singapore 238843
Tel: 6262 2273
Website F45 Training In Singapore: The Most Intense 45 Minutes Of My Life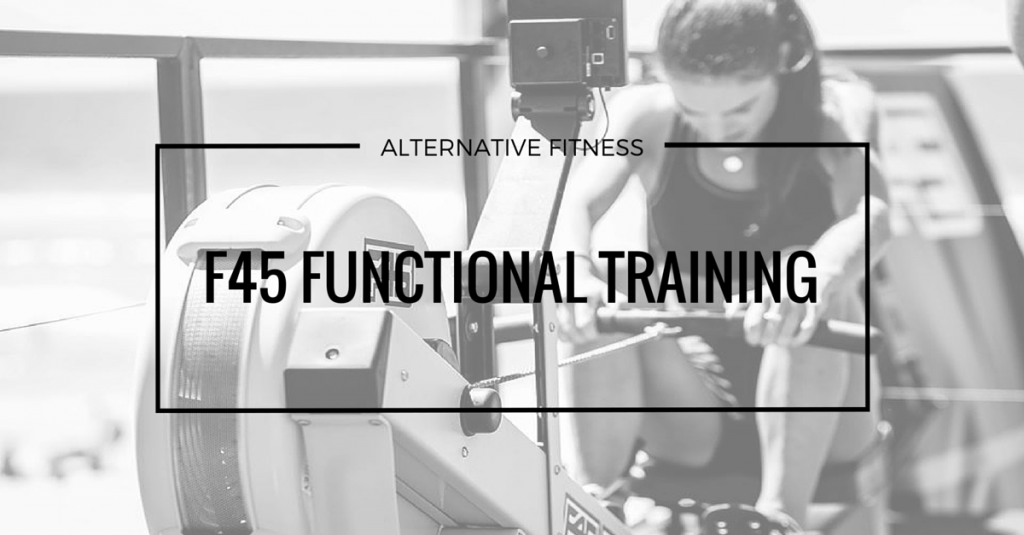 Somewhere between HIIT and Crossfit lies F45, a 45-minute-long functional training programme that has recently hit our shores early this year. The F45 fitness franchise was first developed in Australia, and has since taken the rest of the world by storm with its fast-paced full-body workout.
F45 – 45-minute-long functional training programme
If you ask me, I'd describe it as HIIT with a little more equipment than you bargained for – expect to get up close at personal with TRX straps, free weights, bosu balls, kettlebells, spin bikes, pull-up bars, rowing machines, prowlers, sledge hammers and sandbags. You could also say that it's a less intimidating version of Crossfit. The focal point is not to attain a personal record in an overhead squat but to complete as many reps as possible in each station.

[caption id="attachment_11148" align="alignnone" width="960"]
Image source: F45 Tanjong Katong[/caption]
Themed exercises
Each day is dedicated to a different workout so if you're a regular, you can be sure that you'll be working a different muscle every day of the week. The workouts are themed and playfully named – Brooklyn (MMA- and boxing-based), Romans (resistance-based), Quarterbacks (agility- and pylometrics-based). Saturday's Hollywood class ends off the week with a bang; combining resistance and cardio exercises across a whopping 27-stations in a mere 45-minutes.
Workouts
These themed exercises are different each week, and you'll be pleasantly surprised as soon as you step foot into class. At each station, each set of workout ranges from 35- to 55-seconds, with a 10- to 20-seconds rest between sets or stations.
The timings and workout videos will be flashed on a screen at the front of the room for instructional purposes. The trainer, Cat, walks around the room to correct our forms while spurring us on.
My experience
My first class was Quarterbacks. There were three pods and three stations in each pod – that's nine different stations altogether. Sounds like a manageable handful? Think again. Each station within each pod has to be completed twice (35-seconds workout, 10-seconds rest), and once all nine stations have been completed as a team, we had to repeat everything for one last round.
The workouts for that day included chest press, pull ups, push ups, weighed lunges, kettlebell lifts and prowler pushes – just to name a few.
I started to grow pale as soon as I hit my second round. I felt like I was on the verge of throwing up my non-existent breakfast (maybe I should have had a bite before leaving the house). But I soldiered on. I tried to shift my focus to the specially curated, upbeat F45 playlist in an attempt to drown out the agony I was in.
Before I knew it, the 45mins was over. Even though I found myself hobbling up the stairs as soon as my muscle soreness kicked in, it was totally worth it because I knew that I had emerged stronger.
F45 trainings have proven to be a test of endurance, cardio capacity and strength all at once, so expect to feel aches in parts of your body that you've never known could ache. If you're up for the challenge, F45 offers a two-week trial for you to have a taste of painful pleasure before you commit yourself to become a regular.
Tips!
Tip #1: To avoid disappointment, make a booking online or on the F45 app prior to coming to class. Classes can get pretty full – even the 6.15am ones!
Tip#2: Hop over to Do.Main Bakery (266 Tanjong Katong Road) after class for kickass pastries. It's only a stone's throw away!
This article is brought to you by Discover SG x Collette Miles
Also, read 5 Friendly Boutique Gyms To Kickstart Your Keep Fit & Exercise Resolution!