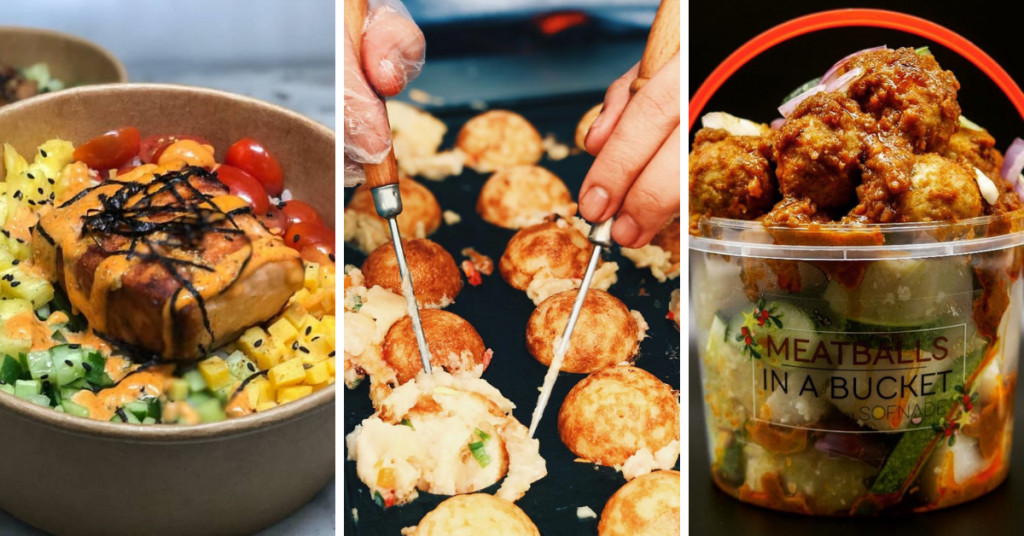 We've already seen two instalments of Twilight: Flea & Feast this year, but it looks like the indoor bazaar will be making a third appearance in 2018 to usher in the Christmas season.
Now rechristened as Twilight Express: Flea & Feast, the hipster extravaganza will be returning to the Suntec Convention Centre from the 7th to 9th of December (this Friday to Sunday), once again featuring more than 50 (halal!) f&b and artisan stalls to satisfy both the foodie and shopaholic in you.
With admission being free, however, it's almost guaranteed that the event is going to be a human sardine can. To make sure you get the most of your visit, we've gone ahead and rounded up 8 stalls that you should check out:
Oahu Poke
Is it still Poke Bowl season? Well, the folks at Oahu Poke are certainly doing their part to keep the trend alive.

[caption id="attachment_38409" align="aligncenter" width="1074"]
Image Credit: Ohau Poke[/caption]

Making their debut at Twilight Express, the stall offers healthy meats like like grilled salmon and teriyaki chicken, topped with classic poke ingredients like Japanese cucumber, tamago and pineapples.

With discounts of up to $3.90 available on their Facebook page — off an already-enticing introductory price of $8, no less — you'll be saving on both dollars and calories.
Saiko
Think of Saiko as the elevated version of your typical pasar malam takoyaki joint!

Serving up Japanese street food realness, Saiko serves takoyaki in sizeable portions with full bite-sized fillings. You can choose from 3 different fillings – octopus, chicken and braised mushrooms. You also have the option of mixing 2 different fillings in one serving.

[caption id="attachment_38447" align="aligncenter" width="3807"]
Image Credit: Discover SG[/caption]

Other selections include Classic, Dashi (takoyaki with dashi broth, bonito flakes and scallions) and Miso (takoyaki with miso butter and rice krispies). Top it all off with a perfectly cooked onsen egg for just an additional $2!

We promise you that the takoyaki from Saiko won't disappoint!
The Fab Five
If it's comfort food you're looking for, look no further than The Fab Five.

[caption id="attachment_38416" align="aligncenter" width="1204"]
Image Credit: The Fab Five[/caption]

Inspired by "Chicago's late night eats", this stall specialises in good ol' Mac & Cheese. For added guilt, you can add a variety of toppings such as chilli beef, meatballs, and even button mushrooms for the vegetarians out there. Save the dieting for next year, we'd say.
Sofnade
For those heading to Twilight Express in a group, Sofnade is one stall you have to put on your to-do list.

[caption id="attachment_38411" align="aligncenter" width="898"]
Image Credit: Sofnade[/caption]

From meatballs, twister fries and even milk-friggin-tea, everything is served in a comically large bucket (smaller sizes are available, but where's the fun in that?). At $10 for an entire bucket of meatballs, you're definitely getting your money's worth with this one.
Vintagewknd
Retro fashion will always be in, but if you're not keen on digging through your parent's old clothes to find the perfect #throwback outfit, Vintagewknd has got you covered.

[caption id="attachment_38412" align="aligncenter" width="879"]
Image Credit: Vintagewknd[/caption]

Featuring a wide catalogue of blouses, skirts, dresses and shirts that are unapologetically stuck in the 70s, you're sure to stand out among the sea of Champion tees that everyone seems to be wearing these days. And with prices hovering around the $20 mark, they're mighty affordable too.
Plate.ink
With Christmas just around the corner and secret santa's happening in every office and classroom, it's time to start thinking of gift ideas. Now, you could play it safe with a book or Takashimaya vouchers…or you could get them a personalised car plate instead.

[caption id="attachment_38413" align="alignnone" width="2048"]
Image Credit: Plate.ink[/caption]

That's right — at Plate.ink, you can emboss a message on a license plate for a truly unique gift. Whether it's their name or some inside joke that no one else will get, you're sure to be the MVP of your secret Santa with this one.
SticOnArt
In an age where everyone's pretty much carrying the same phones and laptops, personalising your gear is more important than ever. For a cheap and affordable solution, head on over to SticOnArt.

[caption id="attachment_38417" align="aligncenter" width="1080"]
Image Credit: SticOnArt[/caption]

Offering a wide variety of stickers that range from fancy typography to pop culture references, there's something for everyone here. Personalised options are available as well, if you're feeling particularly picky.
13rushes
A girl can never have too many makeup brushes, so why not #supportlocal while you're shopping for your next one?

[caption id="attachment_38415" align="alignnone" width="1440"]
Image Credit: 13rushes[/caption]

Painstakingly handcrafted in limited quantities and made with cruelty-free products, 13rushes just might be your new favourite brush brand. With brushes available in every size imaginable, you just might find some things to put on your Christmas wish list.

Twilight Express: Flea & Feast
Venue: Suntec Convention Centre, Halls 401/402
Date: 7th December – 9th December
Time: 10am – 10pm
Admission: Free

Also Read Up Your IG Game With Neon Installations And Catch A Pikachu Parade At Palawan Beach – Runs Till Dec 31

(Header Image Source: Oahu Poke, Sofnade, Saiko)