If you were born in the 90s, you probably grew up with your eyes glued to the TV screen. We're guessing one of the shows stamped into your memory is WWE–or WWF, as it was known then.
Many of us watched it religiously and loved everything from the epic entrances to the way the wrestlers would trash talk each other before slamming it down in the ring.
OG fans, you'll be excited to know that this June, WWE will be coming down to Singapore so you can watch your favourites fight it out in the ring!
After a sold-out show in 2015, WWE is returning for its ONLY show in Southeast Asia. Happening on 28 June for one night only, fans will see WWE superstars such as Chris Jericho, Roman Reigns and Seth Rollins wrestling in the flesh.
Also on the roster are Dean Ambrose, Braun Strowman, Hideo Itami, as well as female wrestlers Maryse, Alexa Bliss and Sasha Banks.
Tickets are priced from $48 to $488 for CAT 1 Ring Side seats, with each ticket coming with a WWE branded chair you'll get to take home as a special momento!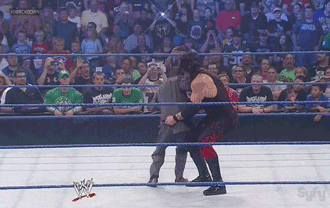 While this is all very exciting (and nostalgic!) for those of you hardcore wrestling fans, we have to warn you: Please do not try this at home.
Get your tickets from the Official Sports Hub Website.
WWE Live Singapore
Address: Singapore Indoor Stadium, 2 Stadium Walk, S397691
Date: 28 June
Time: 7.30pm

Also read 5 Harsh Realities Of Working In S'pore You Won't Want To Hear But Should