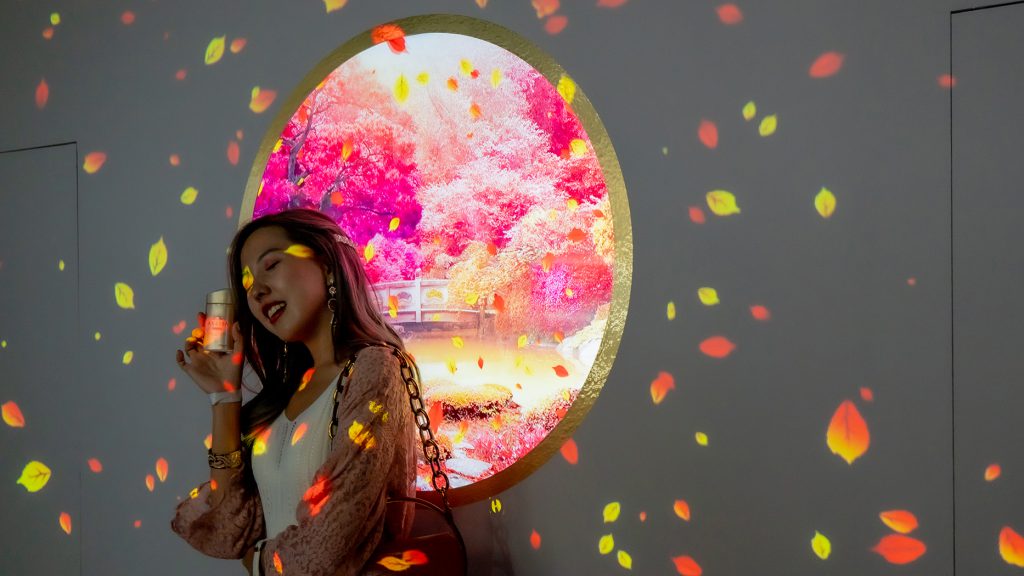 Are you a fan of Japanese beauty?
Do you want to experience a new and innovative way to shop for your beauty needs?
Well, there's a new shopping experience in town that we're sure you'll enjoy!
From now till 20 October, popular Japanese brands under the Shiseido family Anessa, Senka, and Tsubaki have partnered with personal care chain Watsons Singapore to open the world's first My Japanese Beauty Pop-Up Store.
Held in the heart of Orchard Road outside Takashimaya, the pop-up will allow visitors to discover the secrets of Japanese beauty and soak in Shiseido's rich heritage while embarking on what could be described as a "multi-sensorial journey".
Visitors can look forward to admiring eight historical products from Shiseido Corporate Museum, flown out of Japan for the first time with special escort and white-gloved treatment.
Highlights include Tsubaki's Classic Shampoo and Conditioner, Anessa's Sunscreen Milk, and Senka's Perfect Whip.
A Museum-Like Shopping Experience
The pop-up is unique in the way that it integrates high-tech digital touchpoints that are triggered by footsteps to deliver sound, music and animation to further enhance the immersive nature of the experience.
At the entrance, get a personalised greeting by a digital pixie and be guided through the space via the pop-up's microsite, accessible via the Watsons app, website or a QR code.
Navigate the space while completing interesting tasks – it's almost as if you are visiting a museum!
Take a break and enjoy a theatrical tea-brewing experience before sipping on a special collagen tea that will make you feel beautiful inside and out!
See The Three Brands In A Brand New Light
Enter a magical garden and learn about the brand history and features of Tsubaki line of shampoos.
If you're uncertain about which shampoo best suits your haircare needs, take a sensor-powered quiz to match your hair to the right products so you can make the best choice.
If you're more into skincare, stroll over to Senka's exhibition and discover how to achieve clear, moisturised bare skin at an interactive product bar.
The importance of an effective sunscreen can never be emphasised enough, so learn more about Anessa's suncare secrets at an immersive learning bar.
For those of you who live for IG-worthy shots, take envy-inducing photos at the animated wall projection that shuffles through images of the four seasons!
Check (The Exhibition) Out, Then Checkout!
Remember the Watsons app that we talked about earlier in the piece? It's also an offline-to-online shopping app which allows users to scan QR codes to read product descriptions and add items to their carts.
Acting like your personal shopper, simply checkout on the app, and Watsons will deliver your shopping purchases to you within the next few days!
If you're someone who prefers to shop on the spot, you can also purchase products from a cashless vending machine, or an on-site store at the showcase!
And good news for all you bargain-hunters – you can get to enjoy discounts of up to 30% at this pop-up too.
So if you're in town, why not check out the My Japanese Beauty showcase and experience a new way of shopping?
And good news for all you bargain-hunters – you can get to enjoy discounts of up to 30% at this pop-up too.
Get up to 20% off Anessa products, 25% off Senka products, and a whopping 30% off Tsubaki products!
What's more, you get a further $20 off with every $100 spent!
So if you're in town, why not check out the My Japanese Beauty showcase and experience a new way of shopping?
Shiseido My Japanese Beauty Pop-up Store
Opening Hours: 11am to 9pm (Weekdays), 11am to 10pm (Weekends)
Location: Outside Takashimaya (391 Orchard Road, S238872)
Also Read: 6 Experiences At This M'sian Island Paradise – And It Costs Less Than SGD100 To Fly There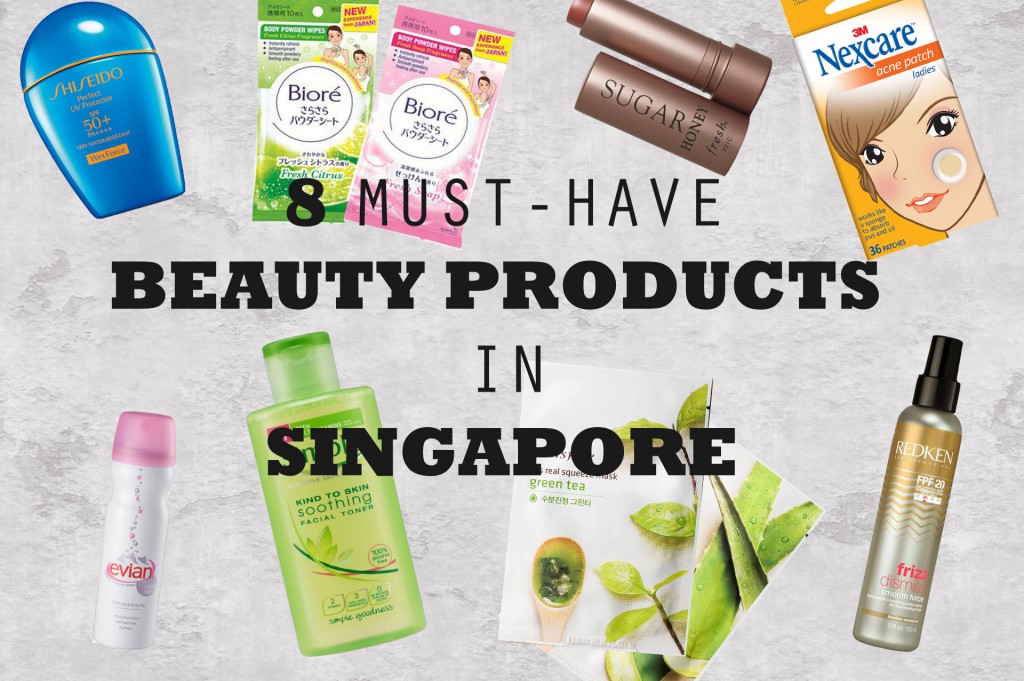 Have you ever had a good day ruined by the disastrous heat in Singapore? The scorching heat is always making you feel cranky, irritable and you end up looking like a mess towards the end of the day. Rain or shine, the last thing you want is a sunburn, break out or frizzy hair. We have gathered 8 must-have beauty products to keep you looking fresh and glamorous through the day.
1. Redken Frizz Dismiss FPF 20 Spray
Finally, a hair product we have all been waiting for! Redken Frizz Dismiss Spray is a lightweight smoothing lotion for fine to medium hair in low to high humidity, which works best in Singapore's heat.
This leave-in-spray helps in managing detangling, and provides protection from heat styling up to 230ºC. It also provides lasting frizz control, smoothing and humidity protection without weighing strands down.
Unlike leave-in oil treatment, Redken Frizz Dismiss is ultra convenient. You just have to spray it on your hair after a shower, run it through any tangled ends, and voilá! Your daily post-shower hair routine is complete. Best of all, the new Frizz Protection Factor (FPF) scale makes it easy to select which of the four new FPF treatments is right for you, based on hair type and humidity level, so you can go about your day frizz-free.
(Image credits: Click here to read more
Redken Frizz Dismiss Smoothing Lotion Spray, NA.
Kenaris (level 5 Wheelock Place) or Capello Loft @ The Centrepoint.
2. Innisfree It's Real Squeeze Mask
(Image credits: Tester Korea)
You are probably familiar with Innisfree, the popular Korean beauty store that has been popping up like daisies all over Singapore. One of its most popular products is the It's Real Squeeze Mask. You will be spoilt for choice by the plethora of mask types.
Tea tree, aloe vera and manuka honey have been much raved about. After just 15 minutes, these masks will leave your skin nourished. You'll also smell like a million bucks. At a price of S$2 per piece, these masks satisfy everyone's desire for affordable yet effective facial masks!
Innisfree Its Real Squeeze Mask, $2 each.
Innisfree stores.
3.    Shiseido Perfect UV Protector
(Image credits: Shiseido Perfect UV Protector has a liquidly, semi-matte and sheer finish for those who do not like an oily or thick layer on their skin. There's a travel-friendly design for those who travel frequently. This sunscreen is perfect for those who love being in the water or at the beach. The wetter you get, the better the Perfect UV Protector. Furthermore, Shiseido Perfect UV Protector can be used on both the face and body, and is formulated for Asian skin!
With such a proven record, the Shiseido Perfect UV Protector is worth the investment. Why waste anymore money on ineffective sunscreens?
Shiseido Perfect UV Protector, $59.
Major departmental stores.
4. Biore SaraSara Body Powder Sheets
(Image credits: Belledemoiselle)
Aside from having a good sunscreen lotion, there's another absolutely essential item you need everyday – Biore SaraSara Body Powder Sheets.
The sheets come in two different scents, Breezy Floral and Zesty Citrus. The Breezy Floral has a feminine and refreshing scent. Needless to say, these miracle sheets are perfect for the inevitable stickiness that is part and parcel of Singapore's humid climate. Say goodbye to unpleasant odours and perspiration!
The next time you're in Watsons or Guardian, pick up one of these packs – you won't regret it!
Biore SaraSara Powder Sheets, $3 per pack of 10
Watsons or Guardian stores.
5. Fresh Sugar Tinted Lip Treatment
(Image credits: TheNotice.net)
Behold… Fresh's Sugar Tinted Lip Treatment SPF 15. This highly popular lip product moisturises your lips and provides essential protection from damaging UV rays.  
With over 10 different colours to choose from, you'll definitely be able to find a shade of your liking. Furthermore, with buildable coverage, you have control over how sheer or vivid you want the colour to be!
This lip treatment is one of the best products we have ever tried. It kept our lips moisturised for more than 8 hours, even after drinking and eating! 
(Image credits: Beautifulbuns)
Fresh Sugar Tinted Lip Treatment SPF 15, $33
Fresh stores.
6. Simple Soothing Facial Toner
(Image credits: Simple Skin Care Australia)
It's so hard to look for a good toner that is budget-friendly. After trying Simple Soothing Facial Toner, we were surprised at how effective it was.
This soothing facial toner is formulated with skin-friendly ingredients such as chamomile, witch hazel and Pro-Vitamin B5. Simply put (pun intended), this toner will leave your face hydrated and fresh after application. 
Simple Soothing Facial Toner, $12.90.
Available at RedMart.

7. evian Facial Spray
(Image credits: Cloud 10 Beauty)
evian Facial Spray is the best way to keep your face hydrated in air-conditioned or over-heated offices. This life-saver enhances make up after you've spent a long time outdoors in the sun or in an air-conditioned place. Ultra-fine, pure and natural mist allows the skin to absorb a unique balance of beneficial minerals along with the water.
(Image Credits: evian Facial Spray (50ml), $11.80 per twinpack.
Guardian stores.
8. 3M Nexcare Acne Patch
We've all experienced the pangs of fear that strike when a pimple starts growing. It's the same story every time – a red bump that transforms into a huge and repulsive whitehead. And it takes ages to go away!
Apply this before bed and as you sleep, the patch completely drains away pus and bacteria while you catch your beauty rest. The best part is waking up to an (almost) completely shrunken pimple.
With this life-saver, you'll never have to worry about unwanted zits ruining a special occasion. Pimples, be gone!
3M Nexcare Acne Patch, $7.00 for a pack of 36 patches.
Watsons or Guardian stores.