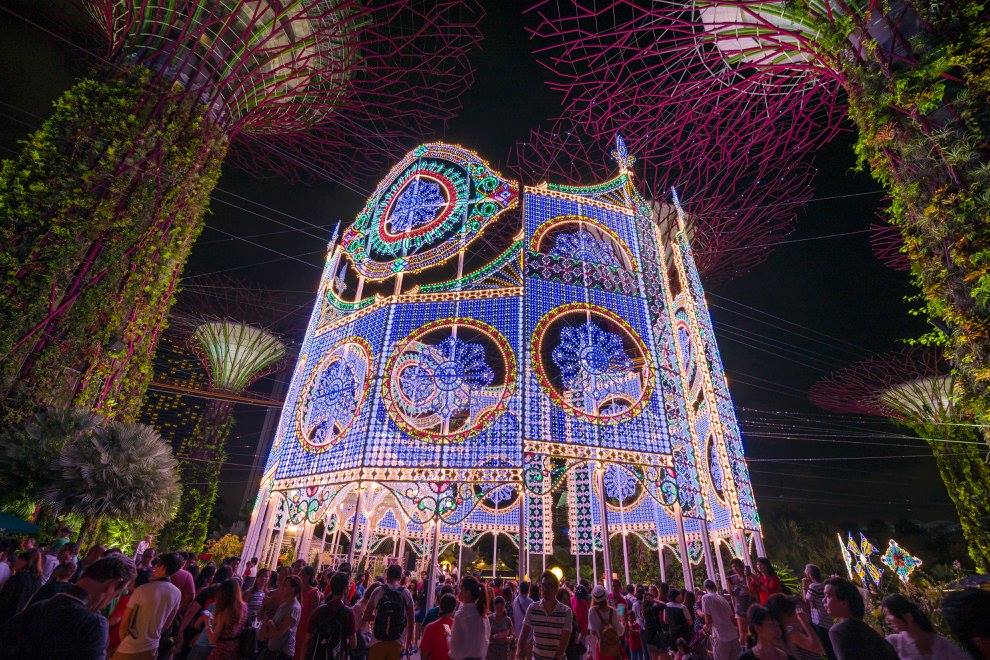 Tis' the season to be jolly! Actually, not really. Not yet. Not till December. However, this doesn't stop shopping malls from blasting Christmas music and hanging up the Christmas decorations.

But we digress. This December, Singapore's biggest Christmas event, Christmas Wonderland, is back for its fourth iteration, this time with new highlights to get everyone immersed in the festive mood!

[caption id="attachment_31321" align="alignnone" width="1080"]
Image Credit: @christmaswonderland[/caption]

Occupying the 57,000 sqm are new attractions such as an outdoor skating rink, Ethiopian circus acts, Santa's Grotto, and a food market lined with food from acclaimed restaurants.

Visitors can also expect the usual attractions like the stunning light installations, carnival rides, and caroling choirs.
It's The Most Wonderful Fair Of The Year
Look forward to skating in the festival's first ever outdoor skating rink at The Meadow. You'll get to skate past the intricate and stunning light sculptures that line the fairground!

[caption id="attachment_31322" align="aligncenter" width="1080"]
Image Credit: @christmaswonderland[/caption]

For those of you who haven't experience falling snow like us, Blizzard Time@the Spalliera is the closest thing that Singapore has to falling snow (Snow City doesn't count).

[caption id="attachment_31323" align="aligncenter" width="550"]
Image Credit: TripAdvisor[/caption]

For the adults, the organisers have brought in a circus performance, specifically Ethiopian Dreams by Circus Abyssinia. Expect gravity-defying stunts and captivating performances and a lot of "oohs" and "aahs" from the audience.

[caption id="attachment_31328" align="aligncenter" width="1200"]
Image Credit:
Image Credit: @christmaswonderland[/caption]

For those of you looking forward to the food, prepare your tastebuds for the Michelin treatment. SAVOUR: Christmas Wonderland will feature dishes from Michelin-starred restaurants such as Saint Pierre and Shoukouwa with prices as low as $6!

Other vendors include The Raclette Factory and Propupstore.

You can also shop for unique gifts such as Luminarie souvenirs and boutique goods at the Festive Market@SuperTree Grove. There will also be specialty food ranging from traditional Christmas dinners to European and Mediterranean fare.

Ticket prices start from $4 and can be purchased Also read The ArtScience Museum Is Bringing Fossils Of Extinct Animals To S'pore And Our Inner Nerds Are Screaming

(Header Image Source: Christmas Wonderland)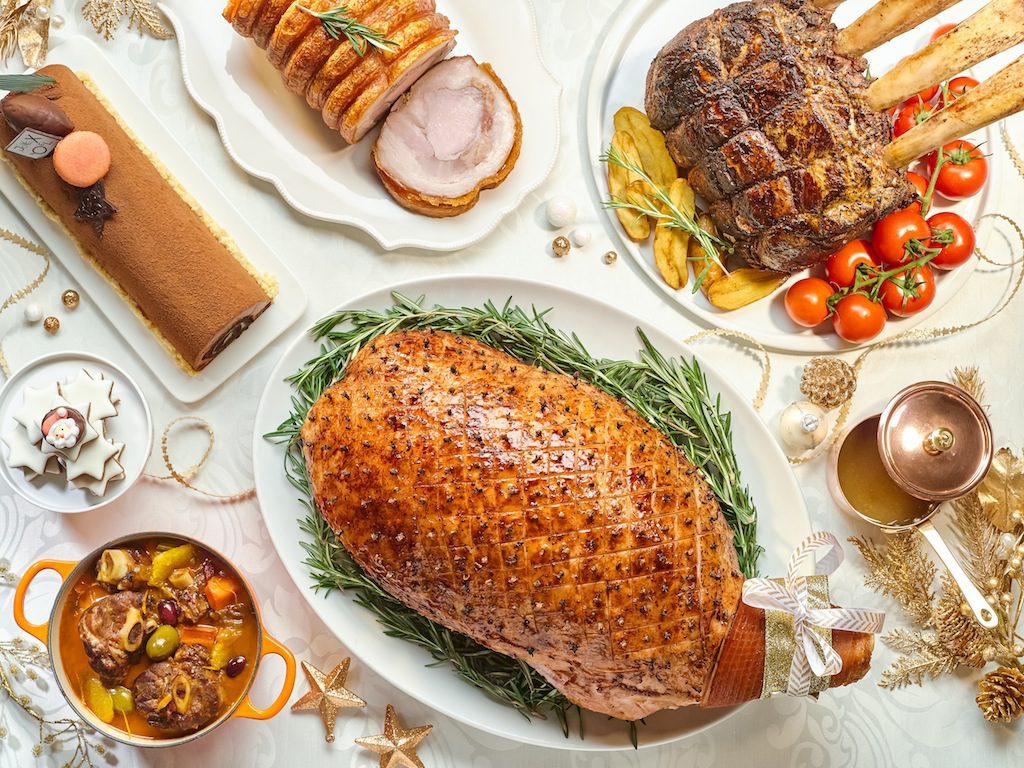 2016 is coming to an end, you've worked hard this year. It's really time you and your loved ones indulge in some good food. DiscoverSG did the homework for you – we have compiled a list of restaurants with exclusive Christmas specials for you to choose from.
Oasis Restaurant
[caption id="attachment_17562" align="alignnone" width="1000"]
Credit: Sg Asia City[/caption]

A poolside barbecue buffet? YES PLEASE! Known for their all-day dining poolside restaurant that is set among the lush greeneries in the tranquil outdoors, Oasis has something special in store for you this Christmas Eve.

[caption id="attachment_17561" align="alignnone" width="1280"]
Credit: Grand Hyatt Singapore[/caption]

Indulge in their Christmas Specials – roasted turkey with chestnut stuffing, salmon coulibiac and for the beef lovers, quality grass-fed Australian beef sirloin. All these at their special carving and barbecue stations.

Complete the feast with some lovely Christmas treats such as their Christmas stollen, cookies and pudding.

Oasis Restaurant
Address:10 Scotts Road, 5th Level Terrace Wing, Grand Hyatt Singapore
Christmas Eve buffet begins at 7:00pm
Price:
$108++ per adult (with alcohol)
$58++ per child (ages 4 to 12)
Website
2. Oscar's Cafe & Terrace
[caption id="attachment_17564" align="alignnone" width="1800"]
Credit: The Food Nomads[/caption]

Can't decide on a particular cuisine? Fret not, because we've totally got you covered.

Be sure to check out the very impressive international buffet spread at Oscar's Cafe & Terrace. From our favourite local delights to international cuisine, fresh seafood and a huge variety of desserts, the spread is bound to satisfy your palette.

[caption id="attachment_17563" align="alignnone" width="1900"]
Credit: The Ranting Panda[/caption]

Remember to look out for the various Christmas activities that Oscar's has put in place for the occasion. Aside from Christmas Carol sing-along sessions with the National University of Singapore's choir, you can also enjoy a photo-taking-session with Santa!

Oscar's Cafe & Terrace
Address: Conrad Centennial, 2 Temasek Boulevard, 038982
Christmas Brunch (25 December 2016) starts from 12.30pm till 3.30pm
•       $218++ per person with free flow of Champagne, house wines and selected cocktails
•       $158++ per person with free flow of soft drinks and juices
•       $  79++ per child from the age of 6 to 12 years old enjoys
Dinner Includes Dessert House 6pm to 10pm
•       S$158++ (Adult) / S$79++ (Child) Child from the age of 6 to 12 years old enjoys 50% off the buffet pricing.  Includes free-flow of soft drinks and juices
•       S$218++ (Adult) Child from the age of 6 to 12 years old enjoys 50% off the buffet pricing.  Includes free-flow of Laurent Perrier champagne, house wines, beers or cocktails

Credit: Grand Hyatt Singapore[/caption]

Celebrate Christmas the Italian way. Pete's Place presents a classic Italian experience with their rustic trattoria settings.

What's more, they specialise in authentic Italian cuisine – serving up rustic homemade pastas, risottos and wood-fired oven pizzas.

[caption id="attachment_17566" align="alignnone" width="1024"]
Credit: Grand Hyatt Singapore[/caption]

This year, Chef Cataldo Chiloiro has designed a special Christmas menu for the restaurant.

On top of their traditional pastas and pizzas, you can also savour a huge selection of appetisers such as spicy Italian devilled eggs, and classic buffalo mozzarella caprese salad. Also, do not forget to try the baked Christmas turkey and mediterranean style roast barramundi cartoccio from the craving station. Che Delizia!

Pete's Place
Address: 10 Scotts Rd, Grand Hyatt Singapore Hotel, Singapore 228211
Christmas Eve buffet begins at 7:00pm
Price: 
$108++ per adult (with alcohol)
$58++ per child (ages 4 to 12)
Website
4. Lawry's The Prime Ribs
[caption id="attachment_17568" align="alignnone" width="1600"]
Credit: Lawry's the Prime Ribs Singapore[/caption]

This year, Lawry's is committed to bringing you and your loved ones a classic and memorable festive feast.

A meal at Lawry's is incomplete without their Signature Roasted Prime Ribs of Beef carved from the iconic silver cart. That's not all though, because the team at Lawry's has crafted a special festive menu this year.

[caption id="attachment_17569" align="alignnone" width="1700"]
Credit: Lawry's the Prime Ribs Singapore[/caption]

Seafood lovers are in for a treat – try the Atlantic Lobster Tail and Salmon Roll-Up with Crab Meat and Spinach drizzled with Balsamic cream sauce or the White Cod and Hokkaido Scallop.

Then, complete your feast with a Croissant Pudding served with a scoop of delectable vanilla ice-cream. Fantastic!

Lawry's The Prime Ribs 
Address: 333A Orchard Road, #04-01/31 Mandarin Gallery, Singapore 238897
Christmas Eve Dinner
1st Seating at 5-8pm, 2nd Seating at 8:30pm
Christmas Day Brunch available on Sunday, 25th December 2016
Price:
Varies according to your order
5. Jamie's Italian
[caption id="attachment_17572" align="alignnone" width="1000"]
Credit: Sg Asia City[/caption]

Fancy a three-course feast curated by Jamie Oliver himself – in Singapore?

Book a table now at Jamie's Italian! With that modern Italian-vibe and a menu endorsed by Jamie Oliver himself, this will certainly be a special treat for you and your loved ones.

[caption id="attachment_17571" align="alignnone" width="2464"]
Credit: Alainlicious[/caption]

The special Christmas menu includes a selection of starters, mains and of course, desserts.

What really attracted us was the Gennaro's Porchetta. It's a main dish consisting of slow-cooked pork belly stuffed with apricot, apple, fennel & garlic, then served with braised red cabbage & pan juices.

Also, did we tell you that all guests will be presented with a glass of bubbly upon arrival? What a perfect way to start a Christmas feast!

Jamie's Italian
Address: Jamie's Italian Forum, 583 Orchard Road, #01-01/04 Forum, Singapore 238884
Jamie's Italian VivoCity, 1 HarbourFront Walk, #01-165/167, Vivo City, Singapore 098585
Christmas menu available from 28 November – 31st December 2016
Lunch available on Mon-Sun from 12-4pm, dinner available on Mon-Sunday from 5-10pm
Price:
$49.90 ++ per person for lunch
$65.90++ per person for dinner
Website
6. The Black Swan
[caption id="attachment_17573" align="alignnone" width="1042"]
Credit: The Black Swan[/caption]

Housed in the heart of Singapore's Central Business District, The Black Swan injects a fresh breath of air into the dining scene with it's classic European glamour decor.

You might just go back in time to the 20s with their detailed and sophisticated interior.

[caption id="attachment_17574" align="alignnone" width="1700"]
Credit: The Black Swan[/caption]

In the lead up to Christmas, The Black Swan will feature a live carving station with an Oven-roasted 150 Days Grain-Fed Black Angus Côte de bœ. A highlight at The Black Swan this year will be a one-night only Jingles & Jazz – a luxurious 4-course dinner featuring Hokkaido scallops, seared foie gras and juicy tenderloin.

The Black Swan
Address: 19 Cecil St,, Singapore 049704
The Black Swan Christmas Lunch Specials
Monday-Friday from 28th Nov-30 Dec 2016, $42++ per person for two courses
The Black Swan Christmas Dinner Live Carving Station
Monday-Friday from 19th–22nd Dec & 24 Dec 2016, $48++ for 300g
Jingles & Jazz
23rd December, Friday
4-course Dinner & Jazz at $118++ per person

Credit: Venuerific[/caption]

Tucked in a spacious and cosy space over at Dempsey Hill, Don Quijote is the place you have to check out for authentic, Spanish cuisine.

Besides the usual tapas, paellas and salads, Don Quijote is of course, ready for the festive season with their usual Christmas classics.

[caption id="attachment_17575" align="alignnone" width="1000"]
Credit: Sethlui[/caption]

You can look forward to good old Christmas classic dishes such as Oven Roasted Turkey and Honey Baked Ham. When you're there, be sure to order the special Turkey and Ham Paella as well! We guarantee that friends and family are bound to fall in love with their homely food and ambience.

Don Quijote
Address: Dempsey Road, #01-02,Block 7, 249671
Price:
Varies according to your order