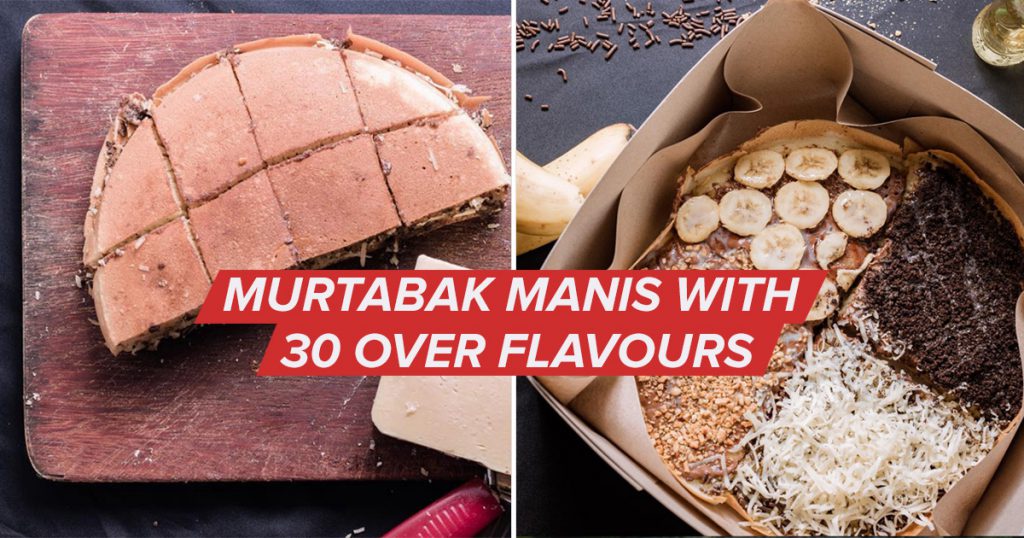 My fondest memory of travelling to Indonesia will always be the street food. The murtabak manis in particular has always been my go-to dessert after a long day of activities.
If you're not too familiar with murtabak manis, it's the Indonesian version of a 'pancake' that's usually thick and sinful due to the excessive amount of butter and toppings such as sweet condensed milk, chocolate sprinkles, grated cheese, ground peanuts.
Terang Bulan is a muslim-owned eatery that offers murtabak manis with several unique flavours – there's bound to be something for everyone here.
Sugar Overload
Terang Bulan offers 30 over flavours for you to choose from, so you'll be spoilt for choice. The Pizza Terbul (from $9) comes with 4 flavours of your choice.

Some of their popular flavours would be the Kit Kat, Choju (chocolate and cheese) and Juna (banana and cheese).

[caption id="attachment_33695" align="aligncenter" width="1106"]
Image Credit: @duashutter[/caption]

Freshly made upon order, you can expect hot pancakes, packed with your favourite toppings and drizzled with condensed milk. So bad for your health but so good for your soul.

In case you're not up for sharing and you just want an entire terbul to yourself, they offer Mini Terbul (from $3.50/pc) as well.

[caption id="attachment_33696" align="aligncenter" width="2084"]
Image Credit: @duashutter[/caption]

Aside from their usual murtabak manis base, they have a red velvet edition as well. Just imagine sinking your teeth in red velvet murtabak manis topped with velvety cream cheese and oreo crumbs.

The owner, Ms Adhita, who migrated from Indonesia to Singapore at 14 years old, personally went back to her hometown, Surabaya to learn how to make murtabak manis.

So you know this murtabak manis at Terang Bulan is as close to authentic as you can get.

[caption id="attachment_33700" align="aligncenter" width="2080"]
Image Credit: @duashutter[/caption]

If you don't have the time to head all the way to their stall, they do delivery as well. So you can get murtabak manis at the comfort of your own home.

Do give this murtabak manis a try if you're ever in the East side. It's definitely worth the calories.

Terang Bulan
Address: 430 Upper Changi Road, #01-04, East Village Mall, Singapore 487048
Opening Hours: Tue – Sun: 12pm – 8pm
Contact No.: 9230 9514
Price: $3.50 – $15
Website

Also Read Ben & Jerry's Free Cone Day Is Back – Get Ready To Queue On April 10

(Header Image Source: @duashutter)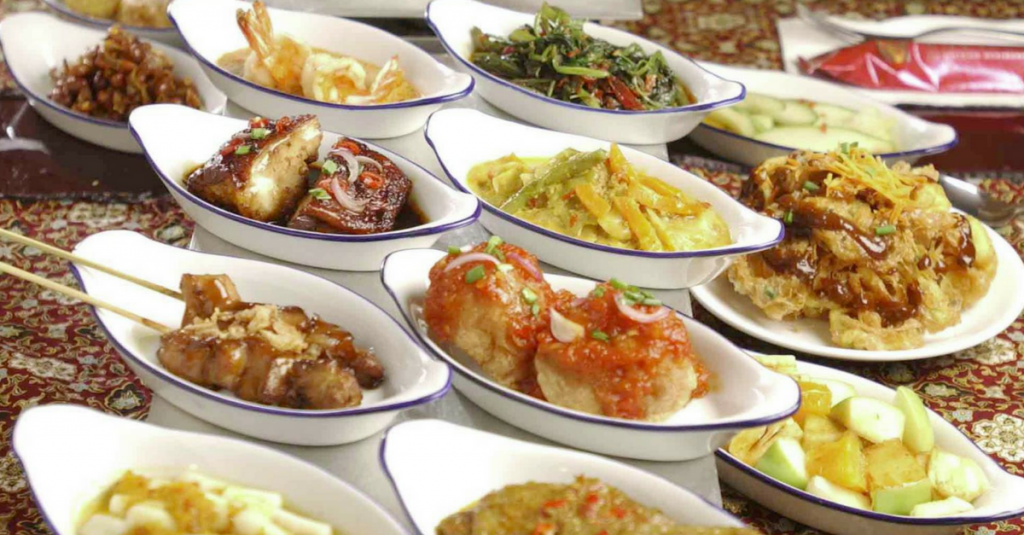 Stashed away on the 2nd floor of International Building along Orchard Road, The Rice Table has been a welcomed mainstay in the area.
It serves up gastronomical dishes created from age-old recipes that evoke the warm taste of home-cooked food and Indonesian hospitality.
You will be instantly drawn in by The Rice Table's earthly interior tones, wooden panels, tribal motifs, and woven lampshades when you walk into this cosy eatery. They emanate a rustic charm.
At the table, the first thing that draws your attention is the long plate warmer, which is an ingenious way of keeping your little dishes warm and enjoyable for a longer time.
The food
While there are quite a number of restaurants serving specialty Indonesian fare, The Rice Table claims to be the only authentic rijsttafel restaurant, where dishes are laid out in small, sampling portions in the form of a rice table for a feast of the senses.
Taste a plethora of classic Indonesian delicacies without breaking a sweat. And yes, The Rice Table is a Halal restaurant!
From the classic curry chicken to the surprisingly tasty fried sweet and sour fish, a variety of 20 delectable dishes are on offer at The Rice Table's dinner all-you-can-eat buffet (15 items for lunch!).

[caption id="attachment_15032" align="alignnone" width="2000"]
Credit: The Rice Table[/caption]

Tahu Telor, the perfect match of fried tofu cubes and omelette, done to perfection. Soft on the inside and crispy on the outside, and topped with The Rice Table's in-house signature sauce.
The Sate Ayam (grilled chicken satay) is marinated with a secret family recipe. The meat is juicy and oh-so-flavourful. A definite must-try.

[caption id="attachment_15031" align="alignnone" width="2000"]
Credit: The Rice Table[/caption]

Their umami Ayam Panggang (grilled chicken) is also robust in flavour and very tender. Make sure you savour every spoonful of the traditional Indonesian sweet soya sauce it comes with.
Details
Drinks and desserts are not included in The Rice Table's menu. If you still have room for some sweet treats, you absolutely have to give their Durian Chendol a shot.
With generous toppings of red beans, pandan jelly and a thick coat of Gula Melaka goodness atop a finely-shaved bed of durian-pureed ice, there is no better way to conclude your satisfying Indonesian dining experience.
There has to be a reason why The Rice Table has rolled with the punches and survived the ever-changing landscape of Singapore's restaurant scene. Time to make a reservation for the weekends, head down and find out for yourself!
The Rice Table
Address: 360 Orchard Road, #02-09/10 International Building, Singapore 238869
Contact: 6835 3782
Opening Hours: Daily: 12:00 – 15:00, 18:00 – 21:00
All-You-Can-Eat Set Lunch: $17.85
All-You-Can-Eat Set Dinner: $28.50
Website 7 Romantic Dessert Spots For Couples Who Love To Gaze Into Each Other's Eyes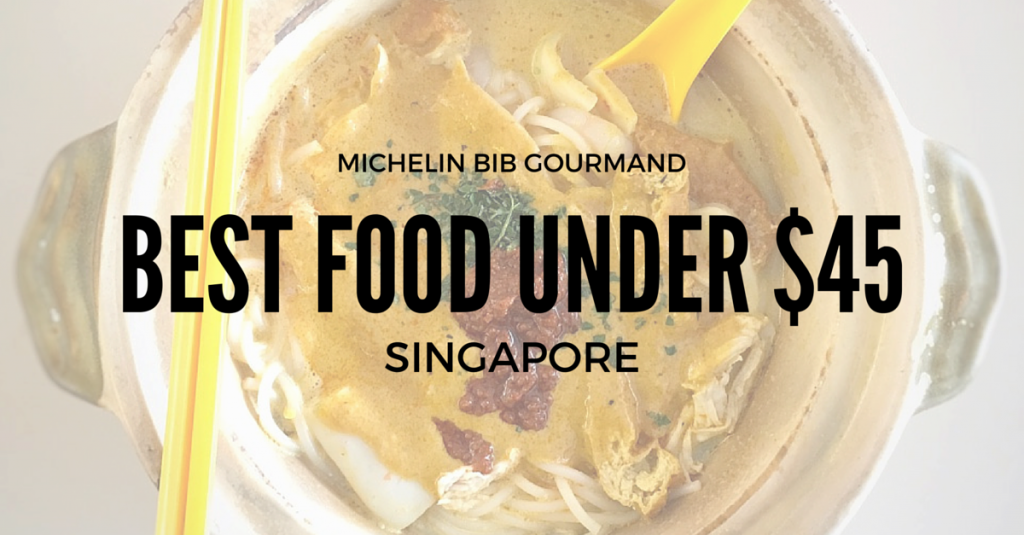 Where to get the best Curry Laksa? Which hawker stall has the best Hainanese Chicken Rice? Don't know where to bring your tourist friends for the best Chai Tow Kway?
Worry no more because some of Singapore's best eateries have been awarded a"Bib Gourmand" (high-quality menu at reasonable prices) by the very first edition of the Singapore Michelin Guide! So who made the cut? Here are the 34 hawker stalls, restaurants and food establishment that made the list.
What is Bib Gourmand?
"Not quite a star, but most definitely not a consolation prize, the Bib Gourmand…is a just-as-esteemed rating that recognises friendly establishments that serve good food at moderate prices. " In Singapore – the meal must be under SGD$45 to qualify.

[caption id="attachment_11205" align="aligncenter" width="750"]
Credit: Michelin Guide[/caption]
Michelin Bib Gourmand Singapore – Hawker Stalls
Without further ado, here's the full list!

1. Claypot Laksa – Alexandra Village Food Centre

[caption id="attachment_11187" align="alignnone" width="650"]
Image source: Credit:
Image source:
Image source:
(Image credit:
Image source: Credit:
Image source:
Image source:
Image source: kate2.0[/caption]

23. New Ubin Seafood – Sin Ming Road

24. Peony Jade at Keppel Club (Cantonese) – Bukit Chermin Rd

25. Shish Mahal (Indian) – Albert Street

26. Song Fa Bak Kut Teh – New Bridge Rd

[caption id="attachment_11194" align="alignnone" width="601"]
Image source: Yayforfries[/caption]

27. 328 Katong Laksa – East Coast Road

28. True Blue Cuisine (Peranakan) – Armenien Street

(image credit:
Image source:
Image source: Bismillah Biryani[/caption]
33. JB Ah Meng Kitchen (Cantonese) – Geylang Road
34. Sin Huat Eating House (crab rice noodle) – Geylang Road
[caption id="attachment_11210" align="aligncenter" width="800"]
Credit:
With so many yummy approved food to choose from, we reckon you bookmark this page (and share with your friends) for future reference. You'll always know "what to eat" and "where to eat" from now. No more arguments about who has to decide meal plans!
Header image source: Clearing All Your Doubts – How Exactly Does The Michelin Guide Work?