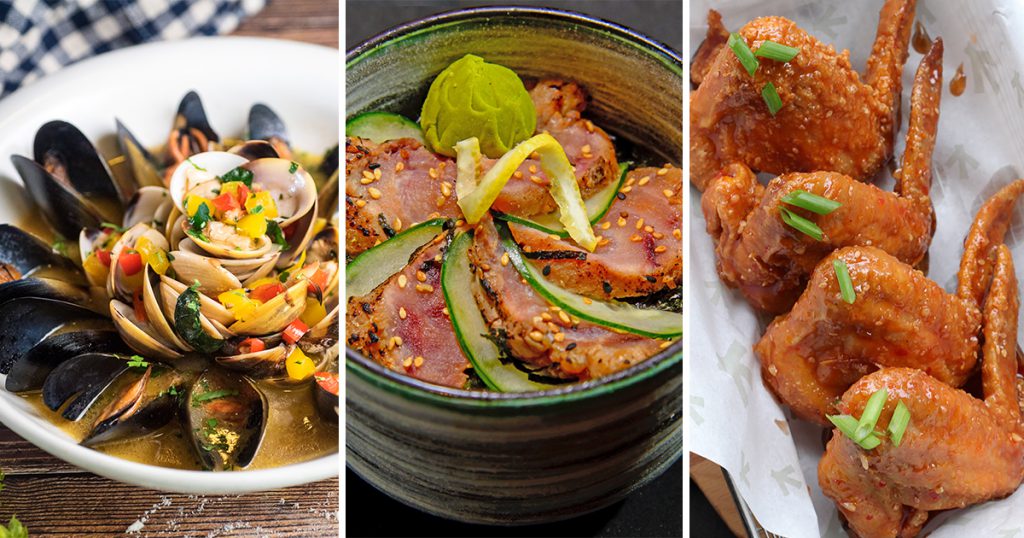 When we're out for a day with friends, family or a significant other, the question we always ask is not "what to do?", but "where should we eat today?".
Because having good food
is undoubtedly the favourite Singaporean activity that anchors everything else
we do.
Some may even say the
mission is to hunt down and try as many great food places as possible each time
we make a trip out.
Hitting one
gastronomical delight after the next is a sure way to satisfy our souls and
make it all seem right in the world, but the only problem will be the hole that
burns in our wallets.
If you're often bursting
your budget on food, split the cost with a pal next time, because anytime is a
good time for a hearty meal when you can tap on more than 100 1-for-1 dining
deals in Singapore! Only with OCBC Cards.
Ready to feast? We've compiled 10 deals for you to start with.
1. Limoncello
From idyllic Amalfi, to
the bustling Singapore River, the owners of Limoncello have brought
their team over from the famous Italian coastal town itself.
Bringing the flavour
right from its origins, they promise an authentic spread of traditional Italian
fare. Needless to say, you can expect they check all the boxes like homemade
pastas, wood fired pizzas and charcoal-grilled meats.
Limoncello may not give
you a view of green hills and crystal blue waters, but they offer plenty of
alfresco seats, and even private dining rooms where you can raise your glass to
the fancy life.
Dishes like linguine
aragosta (lobster linguine) and costolette di agnello alla griglia
(grilled lamb chop) can be a mouthful, but you won't be fretting over the
pronunciation once you actually dig into them.
If you think dining by
the riverside along Robertson Quay is certain to rack up a big bill, you'll be
surprised that you can indulge in a 3-course set lunch for just $35++ per pax.
Limoncello
Address: 95 Robertson Quay, #01-19/20, River Gate Condominium, Singapore 238256
Opening hours: Mon – Tue: 5:30pm – 10:30pm, Wed – Sun: 12pm – 2:30pm; 5:30pm – 10:30pm
2. Kyoaji Dining
It's all in the name: Kyoaji
means "tastes from Kyoto".
Among the endless
plethora of restaurants around Orchard, this hidden gem is tucked away inside
TripleOne Somerset where you can take a breather from the busy shopping crowd.
It's helmed by Executive
Chef John Phua who has almost 30 years of experience in authentic Japanese
cuisine. Previously, he served at Fukuichi Japanese Dining, and he's keeping
some of his old fan favourites alive after its closure.
Decked out in modern
furnishings, Kyoaji features a live sushi bar so you can watch Chef John and
his team cook up a storm before your eyes.
While they're known for
their decadent assortment of sashimi and sushi, Kyoaji also dishes out a
refreshing experience with less common items like gyuniki fagura sauce
(grilled beef with goose liver sauce) and hiyashi gyomen (fish meat
noodles).
Kyoaji Dining
Address: 111 Somerset Road, #02-05/06, TripleOne, Singapore 238164
Opening hours: Mon – Fri: 11:30pm – 3pm; 5:30pm – 10:30pm, Sat – Sun & PH: 11:30am – 10:30pm
Get 1-for-1 Grilled Lobster With Garlic Sauce Here.
3. The Chop House
Meat lovers come to The
Chop House to get their mouths watering over a great selection from steaks
and burgers, to baby back ribs and pork knuckles.
With their creators
hailing from the highly praised Wooloomooloo Steakhouse, The Chop House is a
more laidback rendition, bringing a range of mains and sharing dishes perfect
for hanging out with a group of pals.
Just like the first
outlet at VivoCity, its second branch at I12 Katong is decorated with an
industrial woody interior that eases you into a cosy mood.
Its hidden secret? This
location houses the legendary Southbend broiler from the US; the same one used
by the chefs at Wooloomooloo to make magic with their famous steaks.
When you've cleaned off
your plateful of chunky chops, hit up the bar to wash it all down with ice cold
beers, wine, or cocktails.
The Chop House
Address: 112 East Coast Road, #01-13, I12 Katong, Singapore 428802
Opening hours: Mon – Sat: 12pm – 12am, Sun: 10am – 12am
Get 1-For-1 Baby Back Ribs With 2 Pints Of Beer Here.
4. Commons
Nestled in the expansive
'integrated community' of Our Tampines Hub, Commons (previously
Commonground) prides itself for creating memories with its customers in the
neighbourhood.
Its warm lights and
leafy fronds give the eatery a welcoming vibe for casual get-togethers at any
time of day. Fancy a nice breakfast with your tribe of early-risers? No
problem, they're open from 8am on weekends.
Truly a place to eat in
good company, their signature is the Commons meat platter hero loaded
with a medley of roast chicken, beef tenderloin, lamb chop, Italian sausages,
mashed potatoes, beetroot coleslaw and grilled tomatoes.
Commons
Address: 51 Tampines Ave 4, #01-103 Our Tampines Hub, Singapore 529684
Opening hours: Mon – Thu: 11am – 10pm, Fri: 11am – 11pm, Sat: 8am – 11pm, Sun: 8am – 10pm
Get 1-for-1 Pizza And Pasta On Weekdays Here.
5. Pietro Ristorante Italiano
Pietro
Ristorante Italiano takes
residence along a row of old shophouses in the peaceful Seletar area.
Settle yourself in among
the traditional decor, and you'll soon be greeted with warm hospitality and a
complimentary plate of herb-baked bread with garlic dip.
Aside from the familiar
thin crust wood fired pizzas (try the bismark: honey baked ham, feta,
mozzarella and rockets topped with a sunny side up) and pastas cooked in
parchment paper, Pietro also boasts a melt-in-your-mouth pork belly with
porcini kidney beans as its must-try item.
Pietro Ristorante Italiano
Address: 12 Jalan Kelulut, Singapore 809030
Opening hours: Mon – Sun: 11am – 2:30pm; 6pm – 10:30pm
Get 1-for-1 Pasta, Pizza Or Mains Here.
6. Chicken Up
The comforts of Korean
fried chicken never fail, and if you're already a fan of the cuisine, then Chicken
Up is likely to evoke involuntary 'mmm's.
Since they opened in
2010, their fried chicken wings in ganjang (soy) and yangnyum (spicy)
flavours have been considered a reliable favourite among many Korean food
lovers in Singapore.
When it comes to the
temptation of sides like bulgolgi and kimchi fries, yangpa bomb
(fried blooming onion), and toppoki (spicy rice cakes), we're sorry to
say there's no way you can win this battle—so go on and indulge in your sins.
And if you and your
friends come with a big appetite, there's nothing more quintessentially Korean
than sharing a UFO stew along with Chicken Up's watermelon soju,
served right in the watermelon husk!
Chicken Up
Address: 277C Compassvale Link, #01-13 (Unit No.2A), Singapore 543277
Opening hours: Sun – Thurs: 11am – 11pm, Fri – Sat: 11am – 2am
Get 1-for-1 Chicken Wings Here.
7. Masons @ Gillman Barracks
Tucked away in the artsy
locale of Gillman Barracks, the extra walk in (or drive) to get to Masons is
totally worth it.
Housed in a fully
restored black and white 1935 colonial bungalow and shrouded in lush greenery,
the restaurant gives you an uncommon chance to picture yourself in a time of
classic European luxury.
Between their main
dining hall and the serene alfresco verandah, visitors love coming to the
exclusive location to sneak away for a romantic date, or to celebrate an
occasion. It's no surprise that many choose this venue to tie the knot too.
Mason's kitchen is
headed by Executive Chef Jack Woolner, who has gone through training under Michelin-star
chefs and served at acclaimed restaurants in the UK.
Among a grand spread of
European cuisine peppered with local Singaporean influences, Masons highly
recommends their house special pizza and duck pasta.
Masons @ Gillman Barracks
Address: 8 Lock Rd, #01-17, Gillman Barracks, Singapore 108936
Opening hours: Mon – Sun: 11:30am – 11pm
Get 1-For-1 Handmade Fresh Italian Pizza Here.
8. MeatSmith Telok Ayer
With glass windows
embellished like a gentleman's barber, a 'rustic garage' interior, and the
tunes of classic rock and blues, MeatSmith Telok Ayer is the ultimate
smokehouse diner in the CBD.
It's the brainchild of
Chef Andrew Baldus and General Manager Emmanuel Bernados, who are here to prove
that a real-deal American barbecue can exist in our part of the globe too.
Chef Andrew spent most
of his life working in Southern style restaurants in Nashville and Memphis, and
he's now brought over two Southern Pride smokers from the States to Meat
Smith's kitchen.
Meat is taken super
seriously here, with mouth-watering homemade sausages, stuffed
suckling pig, and pork ribs slowly smoked over hickory wood for up
to 14 hours.
Beef lovers shouldn't
miss out on their beef brisket, perfectly charred on the outside, fatty
and tender on the inside, and of course packed full of smoky flavour.
Meat Smith
Address: 167-169 Telok Ayer St, Singapore 068620
Opening hours: Mon – Thurs: 11:30am – 3pm; 5:30pm – 10:30pm, Fri – Sun: 11:30am – 10:30pm
Get 1-For-1 Beef Brisket Here.
9. The Fine Line
The
Fine Line is comfortably nestled
in Holland Village, a popular chill-out spot that draws young Singaporeans and
expatriates to its dining and bar scene.
Head over to unwind
after a long day of work, or ring in the weekend with some well-deserved toasts
to the backdrop of rustic red brick walls and live music performances.
While some bars are
thought to offer food just to be paired alongside their main attraction of
drinks, The Fine Line doesn't cut the slack in the kitchen, serving a
delectable spread from brunch to dinner and late night snacks.
The gastro bar's
signature dishes include their Fine Line burger, angus steak, and
a perfectly balanced plate of salt and pepper squid.
The Fine Line
Address: 23 Lor Mambong, Singapore 277682
Opening hours: Mon – Thu: 3pm – 1am, Fri: 1pm – 1am, Sat: 11am – 2am, Sun: 11am – 1am
10. Kanpai Izakaya
Kanpai!
Also at Holland Village,
this casual establishment is another laidback joint to raise your glass, and a
great fit for those who have a taste for Japanese cuisine and drinks.
Lifting spirits with
their all-day happy hour till 10pm (except on Fridays and public holiday eves),
Kanpai Izakaya offers a range of Japanese sake, whisky and beer.
As the food here is
served izakaya style, you'll want to sample a variety of different bites.
Make your meal an entire
journey, starting with classics like their recommended bara chirashi or tuna
crown don.
Then dive into more
adventurous terrain to try the also popular chicken heart skewers and blowfish
seasoned with sweet sake!
Kanpai Izakaya
Address: 40 Lor Mambong, Singapore 277695
Opening hours: Mon – Sun: 12pm – 2pm; 5pm – 1am
—
All OCBC Credit/Debit
Cardmembers can enjoy the full selection of over 100 1-for-1 dining deals.
Click here to see the full list.
If you're not an OCBC Cardmember, but don't want to get FOMO (fear of missing out) over these 1-for-1 deals, it's easy to sign up for their OCBC 365 Credit Card, which also gives you 6% cashback on all your dining spend (capped at S$80, and subject to a minimum total monthly spend of S$800 per calendar month).
On top of that, the fastest fingers get the most spoils, as new OCBC Credit Card applicants who sign up by 30 September 2019 and get their card approved by 31 October 2019 will also receive a S$50 cashback!
Get instant approval right away when you sign up here.
This article was written in collaboration with OCBC Bank.
Header Image Credit: Pietro, Kanpai Izakaya, Chicken Up
Also Read: Feast On Food From All Around The World Without Leaving The House – Heres How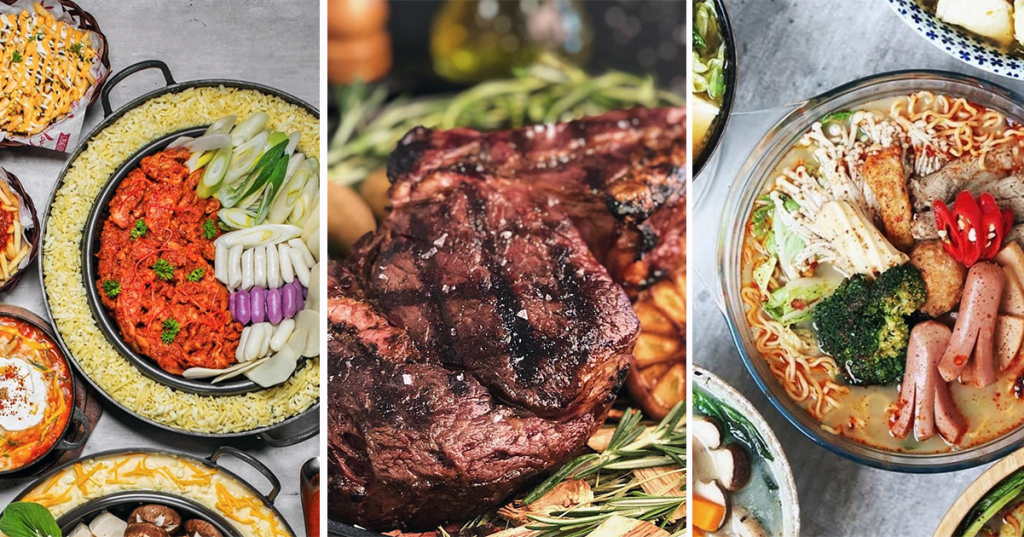 Singaporeans are truly spoilt for choice when
it comes to food and shopping.
Gone are the days when we need to travel long
distances from our homes in the heartlands for a shopping spree, or to feast on
cuisines we cannot find at neighbourhood kopitiams.
For one, the folks at Westgate want to satisfy
all your cravings without you needing to take that long train ride to town.
If you're looking for some recommendations for F&B places to check out during your next visit to the mall, Westgate is running a 'Tantalising Treats Are Made Of These' campaign showcasing the diverse flavours that they have to offer.
From mouth-watering Korean barbeque to an indulgent xiao long bao feast, there's something for every craving!
Here's a breakdown of
some of Singaporeans' most favourite cuisines, and the eateries that you can
visit.
Chinese Cuisine
Move aside salted egg, mala is the flavour for the year 2019.
We're all familiar with the tongue-numbing
goodness of a huge bowl of mala xiang guo,
but have you tried mala tang?
The soupy variation of the unofficial Singapore dish of the year, Gong Yuan Ma La Tang's (#04-07) piping hot bowl of mala soup is the perfect complement to a cold, rainy day.
For those unable to take too spicy food, Gong
Yuan also offers soup bases like pork broth and pickled vegetables.
Regardless, we would still recommend that you
try out their signature mala soup
base with a selection of your favourite ingredients for a unique mala experience you can tell your
friends about!
Still need more mala in your life?
Pop by Ooh (#02-K1) and grab a pack (or ten!) of
their signature mala potato chips, a
perfect match for your Netflix marathons.
If you want to indulge with a little less
guilt, Ooh also offers mala cassava
chips.
Known to be a healthier alternative to potato
chips, cassava is said to be a good source of protein and vitamin K!
Digging into a whole grilled fish over a flame
is the new steamboat, and TANYU (#B1-02) is one of the more well-known
brands serving that option in Singapore.
Westies will be glad to know that TANYU now
has an outlet in Westgate, and fans will be able to savour 12 different kinds
of grilled fish flavours on its menu.
If you like the numbness that mala gives you but not so much the spiciness, we'd recommend you to try TANYU's Grilled Fish with Green Peppers, which has garnered rave reviews from customers!
If you're into more traditional eats, all-time
favourites Paradise Dynasty (#02-13) and Crystal Jade (#04-42) are also there to whet
your appetite.
Since a round of xiao long bao is already a given, why not add on a plate of
fragrant fried rice to end off the feast?
Korean Cuisine
You don't have to be a fan of K-Pop to enjoy
the bold flavours of Korean cuisine.
In the spirit of communal dining, grab some
friends and cook up some spicy chicken galbi
at the ever-popular Yoogane (#03-08).
Don't forget to add the cheese ring!
Cool all that spicy chicken off with naengmyeon, a chilly and refreshing bowl of buckwheat noodles in a slightly savoury broth topped with slices of sweet Korean pear and cucumbers. We guarantee that your tastebuds will thank you for the break!
If you're looking for Korean fare with a twist,
why not check out NY Night Market (#01-08) for some
Korean-Western fusion fare?
Hailing from Seoul, NY Night Market brings you
to Korea and the US with every morsel.
Want to try something that will definitely
leave your dining buddies in awe? Try their 50cm Baguette!
An intimidating-looking 50cm-long baguette
loaded with beef, salsa, cheese, jalapeno and more, the experience that comes
with sharing one with friends is one that cannot be missed.
Cool it all off with over 15 different
flavours of bingsu at Nunsaram (#04-37). From the classic injeolmi flavour to local favourites
like Milo, there's a bingsu flavour
for every preference.
To recreate the experience of snacking at a
roadside cart in Korea, Nunsaram also sells savoury dishes like tteokbokki and fried treats.
We'd recommend you to try Nunsaram's Special Tteokbokki, which comes with rice cakes,
fishcakes, fried dumplings, seaweed rolls and half a roll of gimbap!
Japanese Cuisine
For fans of the all-time popular Japanese
cuisine, head down to Gochi-So Shokudo (#01-02) for some next level
rice bowls.
Using Iberico Pork, Gochi-So Shokudo grills
their meat over charcoal, resulting in a delectably smoky flavour in every
bite.
Did you know: The Premium Iberico Pork they
use in their delicious rice bowls contains oleic acids which have a beneficial
effect on blood cholesterol levels!
Craving for a hearty bowl of ramen? Ippudo
(#03-03) is a renowned ramen chain which has captured the hearts and stomachs
of ramen lovers all around the world!
Try out Akamaru Shinaji, where Ippudo's
signature tonkotsu soup is enhanced by fragrant black garlic oil, which adds
depth to the already rich broth!
Indian Cuisine
Delight your taste buds with the wonderful
world of Indian cuisine!
If you can't decide between North or South
Indian cuisine, Anjappar
(#04-08) has got any craving you have covered.
Bringing Singaporean foodies the best that the
cuisine has to offer, we suggest you get their Chicken Briyani which
comes with chunks of flavourful chicken and fragrant basmati rice.
For a garlic naan and butter chicken feast, check out Zaffron
Kitchen (#01-20) for mouth-watering dishes that will leave you hungry for
more.
Once you're done, wash it all down with a cup
of Teh Halia, which mixes milk tea
with ginger for a comforting combination.
Did you know: South Indian cuisine tends to
use rice and rice-based items while North Indian cuisine leans towards breads
like naan and chapati?
Western Cuisine
We've covered Asian favourites – what about
some Western-style cuisine?
Check out homegrown brand COLLIN'S (#01-05) for some delicious yet wallet-friendly
steaks, pizza, pastas and chicken chops.
If you're looking for a little treat, try out
COLLIN'S Grilled Tiger Prawns and U.S. Scallops, which comes at a rather
affordable price tag of $22.
For something more indulgent, order a sharing
platter and a round of chilled beer at Brotzeit (#01-04) and get immediately
transported to Germany!
A sharing platter comes with crispy pork
knuckles, pork ribs and a generous variety of sausages so get your fill of
meaty goodness at Brotzeit!
If you're bored of froyo, check out the
IG-worthy acai bowls at An Acai Affair (#B1-30).
With every bowl packed with fresh fruits,
organic ingredients and superfoods, who says healthy food needs to be drab?
Share Your IG-Worthy Photos And Win
$50!
Westgate is holding a
photo contest and you can be one of the 5 lucky winners to win $50 worth of
Crystal Jade vouchers if you're selected!
All you need to do is
snap a photo of your meal and include the hashtag #WestgateSGEats
for a chance to win.
For the entire dining selection at Westgate, click through this link!
Westgate
Address: 3 Gateway Drive, Singapore 608532
Opening Hours: Daily, 10am – 10pm
Website | Facebook | Instagram
Header Image Credit: Yoogane, Collins, Gong Yuan Mala
Also Read: 6 Experiences At This M'sian Island Paradise – And It Costs Less Than SGD100 To Fly There