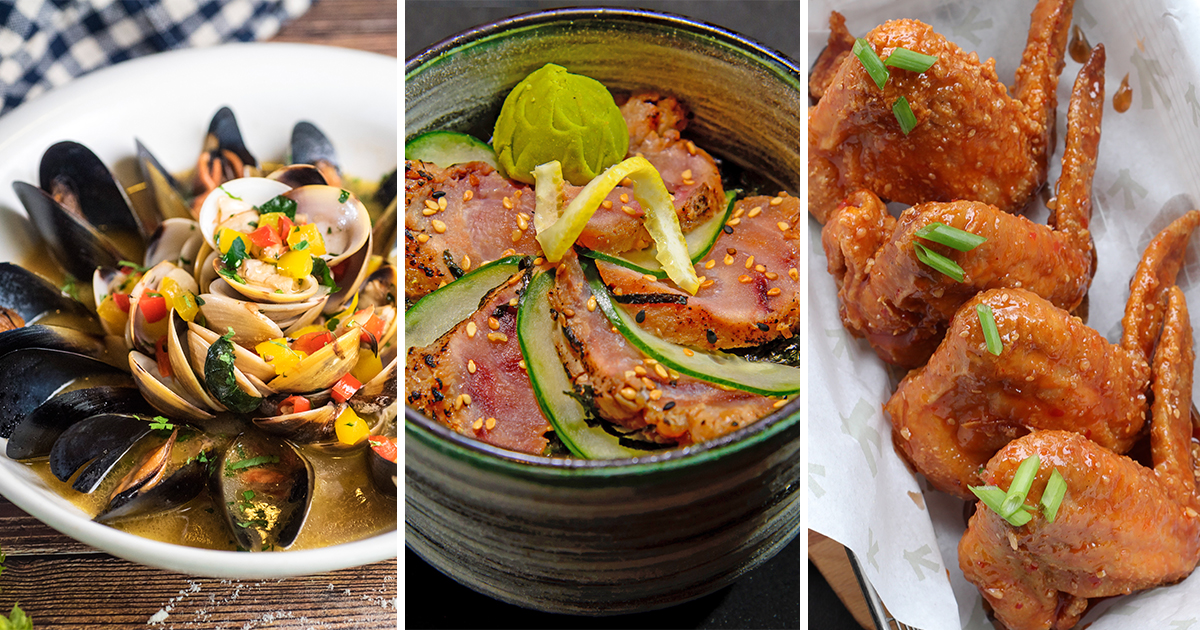 When we're out for a day with friends, family or a significant other, the question we always ask is not "what to do?", but "where should we eat today?".
Because having good food
is undoubtedly the favourite Singaporean activity that anchors everything else
we do.
Some may even say the
mission is to hunt down and try as many great food places as possible each time
we make a trip out.
Hitting one
gastronomical delight after the next is a sure way to satisfy our souls and
make it all seem right in the world, but the only problem will be the hole that
burns in our wallets.
If you're often bursting
your budget on food, split the cost with a pal next time, because anytime is a
good time for a hearty meal when you can tap on more than 100 1-for-1 dining
deals in Singapore! Only with OCBC Cards.
Ready to feast? We've compiled 10 deals for you to start with.
1. Limoncello
From idyllic Amalfi, to
the bustling Singapore River, the owners of Limoncello have brought
their team over from the famous Italian coastal town itself.
Bringing the flavour
right from its origins, they promise an authentic spread of traditional Italian
fare. Needless to say, you can expect they check all the boxes like homemade
pastas, wood fired pizzas and charcoal-grilled meats.
Limoncello may not give
you a view of green hills and crystal blue waters, but they offer plenty of
alfresco seats, and even private dining rooms where you can raise your glass to
the fancy life.
Dishes like linguine
aragosta (lobster linguine) and costolette di agnello alla griglia
(grilled lamb chop) can be a mouthful, but you won't be fretting over the
pronunciation once you actually dig into them.
If you think dining by
the riverside along Robertson Quay is certain to rack up a big bill, you'll be
surprised that you can indulge in a 3-course set lunch for just $35++ per pax.
Limoncello
Address: 95 Robertson Quay, #01-19/20, River Gate Condominium, Singapore 238256
Opening hours: Mon – Tue: 5:30pm – 10:30pm, Wed – Sun: 12pm – 2:30pm; 5:30pm – 10:30pm
2. Kyoaji Dining
It's all in the name: Kyoaji
means "tastes from Kyoto".
Among the endless
plethora of restaurants around Orchard, this hidden gem is tucked away inside
TripleOne Somerset where you can take a breather from the busy shopping crowd.
It's helmed by Executive
Chef John Phua who has almost 30 years of experience in authentic Japanese
cuisine. Previously, he served at Fukuichi Japanese Dining, and he's keeping
some of his old fan favourites alive after its closure.
Decked out in modern
furnishings, Kyoaji features a live sushi bar so you can watch Chef John and
his team cook up a storm before your eyes.
While they're known for
their decadent assortment of sashimi and sushi, Kyoaji also dishes out a
refreshing experience with less common items like gyuniki fagura sauce
(grilled beef with goose liver sauce) and hiyashi gyomen (fish meat
noodles).
Kyoaji Dining
Address: 111 Somerset Road, #02-05/06, TripleOne, Singapore 238164
Opening hours: Mon – Fri: 11:30pm – 3pm; 5:30pm – 10:30pm, Sat – Sun & PH: 11:30am – 10:30pm
Get 1-for-1 Grilled Lobster With Garlic Sauce Here.
3. The Chop House
Meat lovers come to The
Chop House to get their mouths watering over a great selection from steaks
and burgers, to baby back ribs and pork knuckles.
With their creators
hailing from the highly praised Wooloomooloo Steakhouse, The Chop House is a
more laidback rendition, bringing a range of mains and sharing dishes perfect
for hanging out with a group of pals.
Just like the first
outlet at VivoCity, its second branch at I12 Katong is decorated with an
industrial woody interior that eases you into a cosy mood.
Its hidden secret? This
location houses the legendary Southbend broiler from the US; the same one used
by the chefs at Wooloomooloo to make magic with their famous steaks.
When you've cleaned off
your plateful of chunky chops, hit up the bar to wash it all down with ice cold
beers, wine, or cocktails.
The Chop House
Address: 112 East Coast Road, #01-13, I12 Katong, Singapore 428802
Opening hours: Mon – Sat: 12pm – 12am, Sun: 10am – 12am
Get 1-For-1 Baby Back Ribs With 2 Pints Of Beer Here.
4. Commons
Nestled in the expansive
'integrated community' of Our Tampines Hub, Commons (previously
Commonground) prides itself for creating memories with its customers in the
neighbourhood.
Its warm lights and
leafy fronds give the eatery a welcoming vibe for casual get-togethers at any
time of day. Fancy a nice breakfast with your tribe of early-risers? No
problem, they're open from 8am on weekends.
Truly a place to eat in
good company, their signature is the Commons meat platter hero loaded
with a medley of roast chicken, beef tenderloin, lamb chop, Italian sausages,
mashed potatoes, beetroot coleslaw and grilled tomatoes.
Commons
Address: 51 Tampines Ave 4, #01-103 Our Tampines Hub, Singapore 529684
Opening hours: Mon – Thu: 11am – 10pm, Fri: 11am – 11pm, Sat: 8am – 11pm, Sun: 8am – 10pm
Get 1-for-1 Pizza And Pasta On Weekdays Here.
5. Pietro Ristorante Italiano
Pietro
Ristorante Italiano takes
residence along a row of old shophouses in the peaceful Seletar area.
Settle yourself in among
the traditional decor, and you'll soon be greeted with warm hospitality and a
complimentary plate of herb-baked bread with garlic dip.
Aside from the familiar
thin crust wood fired pizzas (try the bismark: honey baked ham, feta,
mozzarella and rockets topped with a sunny side up) and pastas cooked in
parchment paper, Pietro also boasts a melt-in-your-mouth pork belly with
porcini kidney beans as its must-try item.
Pietro Ristorante Italiano
Address: 12 Jalan Kelulut, Singapore 809030
Opening hours: Mon – Sun: 11am – 2:30pm; 6pm – 10:30pm
Get 1-for-1 Pasta, Pizza Or Mains Here.
6. Chicken Up
The comforts of Korean
fried chicken never fail, and if you're already a fan of the cuisine, then Chicken
Up is likely to evoke involuntary 'mmm's.
Since they opened in
2010, their fried chicken wings in ganjang (soy) and yangnyum (spicy)
flavours have been considered a reliable favourite among many Korean food
lovers in Singapore.
When it comes to the
temptation of sides like bulgolgi and kimchi fries, yangpa bomb
(fried blooming onion), and toppoki (spicy rice cakes), we're sorry to
say there's no way you can win this battle—so go on and indulge in your sins.
And if you and your
friends come with a big appetite, there's nothing more quintessentially Korean
than sharing a UFO stew along with Chicken Up's watermelon soju,
served right in the watermelon husk!
Chicken Up
Address: 277C Compassvale Link, #01-13 (Unit No.2A), Singapore 543277
Opening hours: Sun – Thurs: 11am – 11pm, Fri – Sat: 11am – 2am
Get 1-for-1 Chicken Wings Here.
7. Masons @ Gillman Barracks
Tucked away in the artsy
locale of Gillman Barracks, the extra walk in (or drive) to get to Masons is
totally worth it.
Housed in a fully
restored black and white 1935 colonial bungalow and shrouded in lush greenery,
the restaurant gives you an uncommon chance to picture yourself in a time of
classic European luxury.
Between their main
dining hall and the serene alfresco verandah, visitors love coming to the
exclusive location to sneak away for a romantic date, or to celebrate an
occasion. It's no surprise that many choose this venue to tie the knot too.
Mason's kitchen is
headed by Executive Chef Jack Woolner, who has gone through training under Michelin-star
chefs and served at acclaimed restaurants in the UK.
Among a grand spread of
European cuisine peppered with local Singaporean influences, Masons highly
recommends their house special pizza and duck pasta.
Masons @ Gillman Barracks
Address: 8 Lock Rd, #01-17, Gillman Barracks, Singapore 108936
Opening hours: Mon – Sun: 11:30am – 11pm
Get 1-For-1 Handmade Fresh Italian Pizza Here.
8. MeatSmith Telok Ayer
With glass windows
embellished like a gentleman's barber, a 'rustic garage' interior, and the
tunes of classic rock and blues, MeatSmith Telok Ayer is the ultimate
smokehouse diner in the CBD.
It's the brainchild of
Chef Andrew Baldus and General Manager Emmanuel Bernados, who are here to prove
that a real-deal American barbecue can exist in our part of the globe too.
Chef Andrew spent most
of his life working in Southern style restaurants in Nashville and Memphis, and
he's now brought over two Southern Pride smokers from the States to Meat
Smith's kitchen.
Meat is taken super
seriously here, with mouth-watering homemade sausages, stuffed
suckling pig, and pork ribs slowly smoked over hickory wood for up
to 14 hours.
Beef lovers shouldn't
miss out on their beef brisket, perfectly charred on the outside, fatty
and tender on the inside, and of course packed full of smoky flavour.
Meat Smith
Address: 167-169 Telok Ayer St, Singapore 068620
Opening hours: Mon – Thurs: 11:30am – 3pm; 5:30pm – 10:30pm, Fri – Sun: 11:30am – 10:30pm
Get 1-For-1 Beef Brisket Here.
9. The Fine Line
The
Fine Line is comfortably nestled
in Holland Village, a popular chill-out spot that draws young Singaporeans and
expatriates to its dining and bar scene.
Head over to unwind
after a long day of work, or ring in the weekend with some well-deserved toasts
to the backdrop of rustic red brick walls and live music performances.
While some bars are
thought to offer food just to be paired alongside their main attraction of
drinks, The Fine Line doesn't cut the slack in the kitchen, serving a
delectable spread from brunch to dinner and late night snacks.
The gastro bar's
signature dishes include their Fine Line burger, angus steak, and
a perfectly balanced plate of salt and pepper squid.
The Fine Line
Address: 23 Lor Mambong, Singapore 277682
Opening hours: Mon – Thu: 3pm – 1am, Fri: 1pm – 1am, Sat: 11am – 2am, Sun: 11am – 1am
10. Kanpai Izakaya
Kanpai!
Also at Holland Village,
this casual establishment is another laidback joint to raise your glass, and a
great fit for those who have a taste for Japanese cuisine and drinks.
Lifting spirits with
their all-day happy hour till 10pm (except on Fridays and public holiday eves),
Kanpai Izakaya offers a range of Japanese sake, whisky and beer.
As the food here is
served izakaya style, you'll want to sample a variety of different bites.
Make your meal an entire
journey, starting with classics like their recommended bara chirashi or tuna
crown don.
Then dive into more
adventurous terrain to try the also popular chicken heart skewers and blowfish
seasoned with sweet sake!
Kanpai Izakaya
Address: 40 Lor Mambong, Singapore 277695
Opening hours: Mon – Sun: 12pm – 2pm; 5pm – 1am
—
All OCBC Credit/Debit
Cardmembers can enjoy the full selection of over 100 1-for-1 dining deals.
Click here to see the full list.
If you're not an OCBC Cardmember, but don't want to get FOMO (fear of missing out) over these 1-for-1 deals, it's easy to sign up for their OCBC 365 Credit Card, which also gives you 6% cashback on all your dining spend (capped at S$80, and subject to a minimum total monthly spend of S$800 per calendar month).
On top of that, the fastest fingers get the most spoils, as new OCBC Credit Card applicants who sign up by 30 September 2019 and get their card approved by 31 October 2019 will also receive a S$50 cashback!
Get instant approval right away when you sign up here.
This article was written in collaboration with OCBC Bank.
Header Image Credit: Pietro, Kanpai Izakaya, Chicken Up
Also Read: Feast On Food From All Around The World Without Leaving The House – Heres How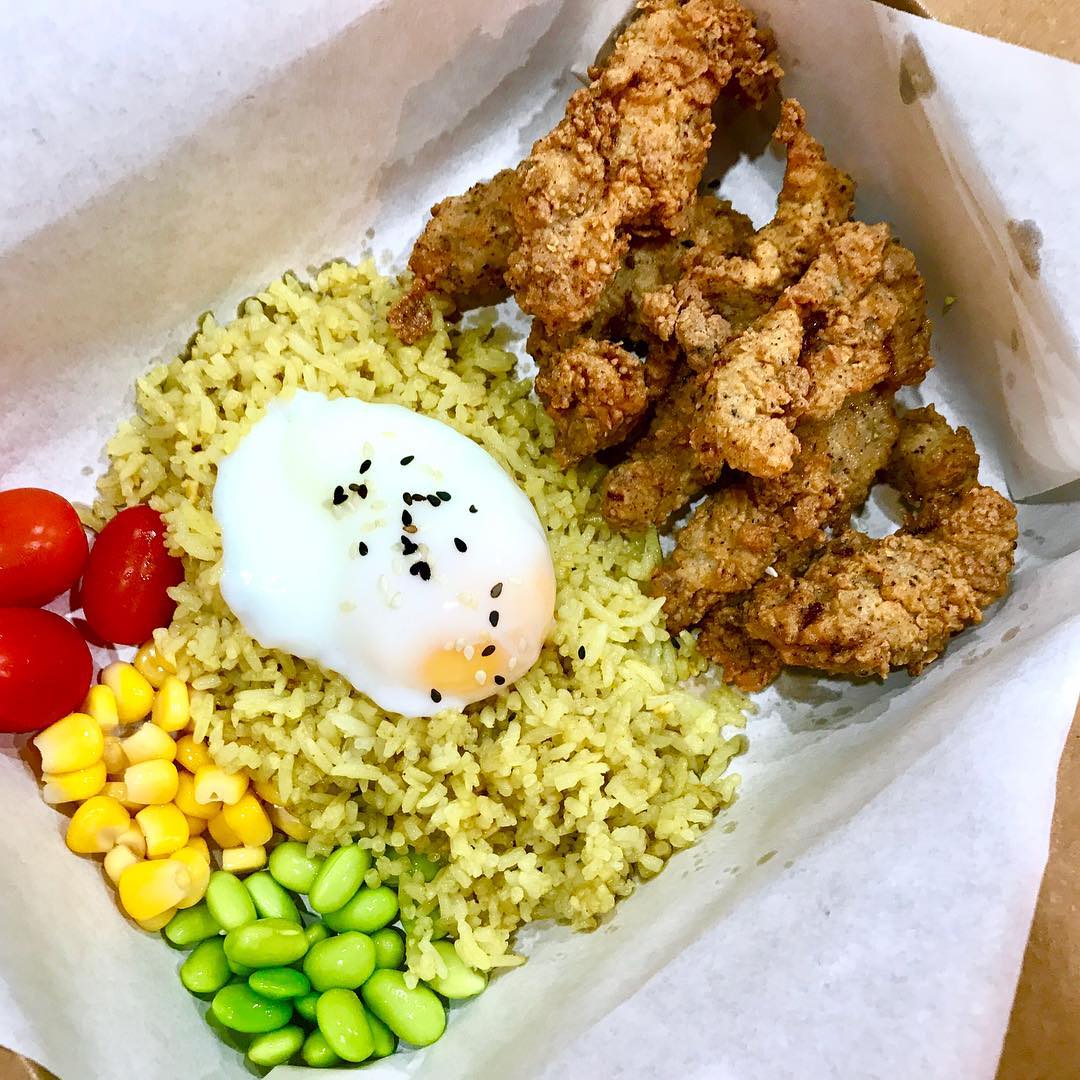 There has been a recent spate of Korean-style fried chicken restaurants opening in Singapore. From 4Fingers to Chir Chir, sometimes all we want is just to have good ol' American-style fried chicken.
Crispy, juicy, and greasy. That's the way fried chicken should be, unclouded by a myriad of gimmicky flavours.
At Birdfolks, that is what they are serving – good ol' American-style fried chicken.
[caption id="attachment_30504" align="aligncenter" width="1080"]
Image Credit:
@birdfolks.sg
[/caption]
Leave It To The Birdfolks To Serve Good Fried Chicken
Located at 1 West Coast Drive, their Signature Chicken Rice Box ($9.90) includes edamame, sweet corn, cherry tomatoes, their house recipe boneless fried chicken and comes topped with a sous vide egg!
[caption id="attachment_30458" align="aligncenter" width="1080"]
Image Credit:
@birdfolks.sg
[/caption]
The best part is you get to choose from 4 different flavours of rice!
Choose from Original, Cilantro Lime, Tomato Oregano, and the recommended Garlic Butter rice.
Someone get me a tissue. Now. I need to stop drooling!
If you're looking for a more traditional chicken meal, try the Thigh & Drum ($12.90) which includes 2 pieces of their signature American-styled brined fried chicken, served with fries.
What makes their fried chicken special is that the chicken is brined in a blend of seasonings before frying. This allows the chicken to retain its juiciness, ensuring satisfaction with each bite.
[caption id="attachment_30501" align="aligncenter" width="1080"]
Image Credit:
@birdfolks.sg
[/caption]
Another popular item on the menu is the Wasabi Mayo Chicken Sandwich ($12.90).
Chopped fried chicken is tossed in wasabi mayo before being sandwiched in dark rye sourdough (because white bread and burger buns are mainstream) with julienned carrots and corn kernels for crunch.
[caption id="attachment_30502" align="alignnone" width="1080"]
Image Credit:
@the_xw
[/caption]
The cafe doesn't serve up much in terms of drinks. Diners can choose from canned drinks ($2.80), honey lime tea ($2.60 for hot, $3.20 for iced), chocolate ($2.60 for hot, $3.20 for cold), kopi or teh. The choice of drink is clear. Teh is the weh (way) to go.
This quaint fried chicken joint currently seats 30 people and the food is really satisfying. We recommend that you pop by if you're in the area!
Birdfolks
Address: NEWest, 1 West Coast Drive, #01-75, Singapore 128020 (Nearest MRT: Clementi)
Opening Hours: Daily: 12pm – 9pm
Contact no.: 6924 0876
Someone Finally Opened A Durian Specialty Cafe, And It Serves More Than The Typical Puffs And Cakes
(Header Image Source: @birdfolks.sg)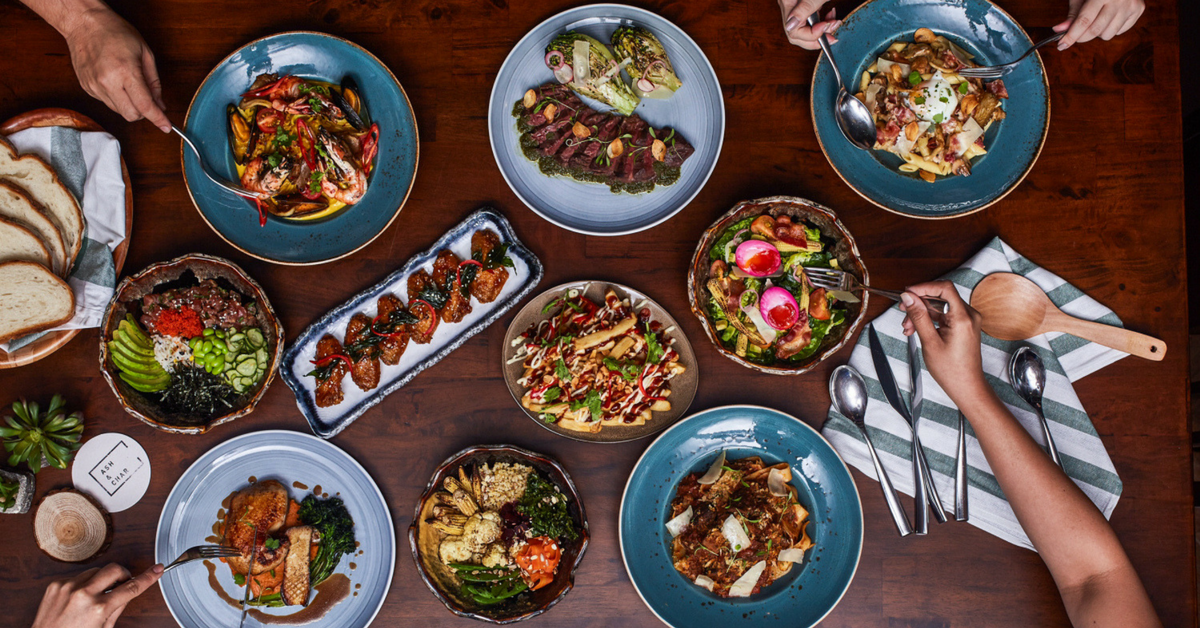 For those of you who stay in the East side of Singapore (i.e. Bedok, Changi, Paya Lebar, Tampines and Pasir Ris), there is no denying good places to eat are aplenty. However, the real makan (eating in Malay) fun only starts late at night!
For the benefit of our friends who are not as familiar with the late-night supper spots in the East, here are some of the best places to have supper in the East that are open till the break of dawn.
1. 89.7 Supper Club
From local Chinese and Indian dishes to international fare, whatever the cuisine you're craving, 89.7 Supper Club will hook you up.
[caption id="attachment_23193" align="aligncenter" width="5312"]
Credit:
Website
2. Seng Kee Black Chicken Herbal Soup
If slurping a bowl of healthy herbal soup sounds like your idea of a good supper, you should definitely check out Seng Kee Black Chicken Herbal Soup.
[caption id="attachment_23194" align="aligncenter" width="1600"]
Credit: Website
3. 126 Wan Dou Sek Dim Sum
Indulge in some steaming hot siew mai or moist chicken porridge with your supper club here at 126 Wan Dou Sek Dim Sum! The chefs here seem to be perpetually at work, cooking up fresh and piping hot dim sum, buns and delectable fried items such as fried spring rolls.
[caption id="attachment_23195" align="aligncenter" width="960"]
Credit: Credit: Credit: tripadvisor.com[/caption]
Regardless of when your prata pangs strike, the 24 hour Mr Prata is here for you. Sink your teeth into their delicious Murtaba Specials such as Chicken Cheese Murtaba or even Chocolate Thosai!
Their extensive selection of prata flavours will surely fill you and your hungry supper gang right up!
Mr Prata
Address: Blk 742 Bedok Reservoir road, #01-3105, Singapore 4707426
Opening hours: 24 hours
Tel: 6243 1743
Credit: 7. Udders & Kook

Late night suppers need not always be heavy and savoury. For some of us, supper simply means dessert and the best place to satisfy those late night sugar cravings is at Udders & Kook!

[caption id="attachment_23199" align="aligncenter" width="2048"]
Credit: facebook[/caption]

Udders & Kook is an upsized version of Udders, serving more than just ice-cream with their scrumptious mains and juicy burgers. However, if you are here with your heart (and stomach) firmly set on ice cream, we highly recommend going for their alcohol-infused flavours such as Bailey's & Bourbon!

Udders & Kook
Address: 81 Upper East Coast Road, Singapore 455220
Opening hours: Sun to Thu 12nn – 11pm; Fri, Sat and eve of PH 12nn – 1am
Tel: 6448 8732
Website
8. The Bark Café
Cafés that open late into the night are certainly hard to come by and The Bark Café is definitely reaping the benefits of being one of the only few that do. Nestled next to Changi Chapel and Museum, the cafe offers a serene ambience perfect for you and your supper buddies to chill over nosh and drinks.

[caption id="attachment_23200" align="aligncenter" width="1280"]
Credit: 9. Tian Fu Steamboat

Do you and your supper kakees have a particularly ravenous appetite? There is no better way to curb that voracious hunger than by making a trip to Tian Fu Steamboat!

[caption id="attachment_23201" align="aligncenter" width="1600"]
Credit: Website
10. Ninethirty Singapore by Awfully Chocolate
Opened by the same folks behind Awfully Chocolate, Ninethirty is a dining bistro that serves a varied selection of western mains with an Asian touch, along with their highly-raved Awfully Chocolate desserts.
[caption id="attachment_23202" align="aligncenter" width="2016"]
Credit: bo jio!
(Header image credit: blog.chope.co)
Also read, 10 Foods Invented By Singaporeans That Will Give You Massive #SGPride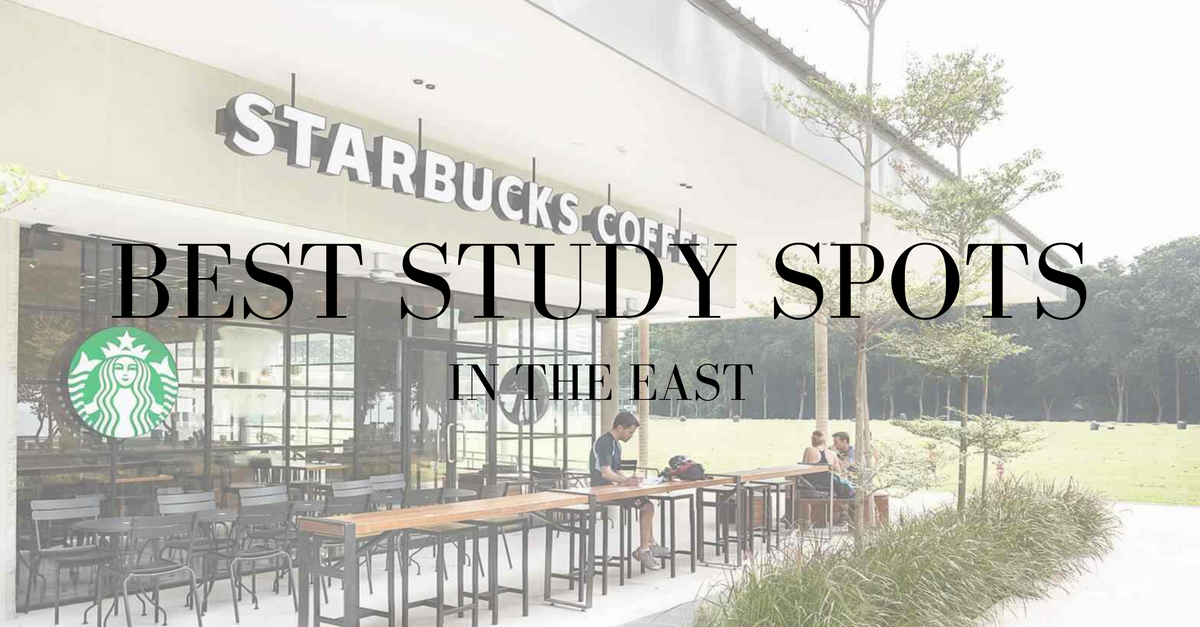 If you have been looking for study spots to take your study and work to, but are unwilling to travel too far from home, we've got you covered! For the Easties, here are some study spots in East that you can take your work to if trying to study at home becomes too much of a challenge.
#1. Starbucks – Parkland Green
Unlike many other outlets, Starbucks at Parkland Green is an absolute gem located in East Coast Park.
Don't believe us? Here, just look at it.
[caption id="attachment_15143" align="alignnone" width="1600"]
credit: greedyporcupine[/caption]

Known for their coffee from their starting days in Pasar Bella Market, you can be sure to partake in your daily hourly (not that we recommend that) caffeine fix while rushing through your deadlines.

Dutch Colony Coffee Co.
Address: 113 Frankel Ave, Singapore 458230
Opening Hours: 8:00AM to 8:00PM (Sun-Thurs), 8:00AM to 10:00PM (Fri-Sat).
#7. To-gather Cafe
To-gather Cafe is a warm, inviting cafe right from the onset.
The cafe is beautifully designed with warm lighting and an eclectic array of accessories. Best of all, prices are much lower than what most cafes normally charge.
[caption id="attachment_15260" align="alignnone" width="1600"]
credit:
Yelp
[/caption]
Plenty of tables and power points are available. Furthermore, the library also boasts of a cafe that frequently has student deals on their offerings.
Bedok Public Library
Address: 21 Bedok North St. 1, Singapore 469659
Opening Hours: 10:00AM to 9:00PM
Marine Parade Public Library
Marine Parade Public Library is a modern, 3-storey building with ample seats for students.
[caption id="attachment_15150" align="alignnone" width="1000"]
credit:
Yelp
[/caption]
The library also has a cafe, although you may want to head over to nearby Parkway Parade Shopping mall when you are bored or hungry. Just for a break, of course.
Marine Parade Public Library
Address: 278 Marine Parade Road, #01-02, Marine Parade Community Building Singapore 449282
Opening Hours: 10:00AM to 9:00PM
There you have it, study spots in East that are work and study-friendly. We hope this list goes a long way to helping you achieve those academic goals!
Header Image Source: Study Spots In Town That Will Make Every Mugging Session A Conducive One!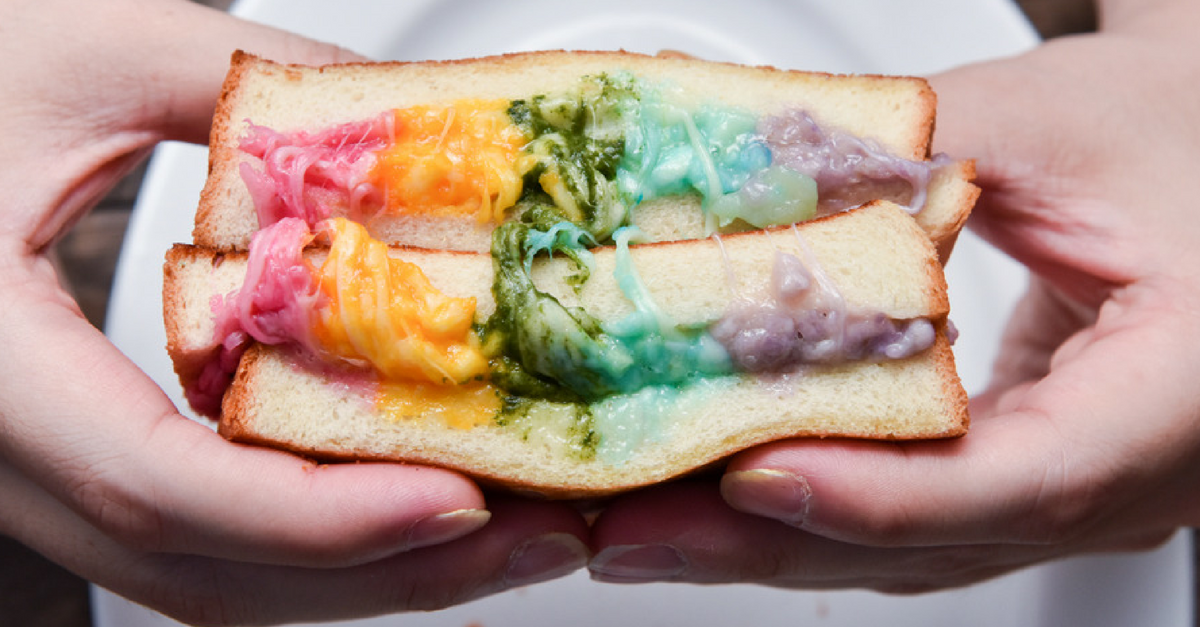 Desserts are sinful because they pile excess calories on you and make you fat. Hence, you've been trying to shun these sweet "harmful" delights because you seriously need to diet.
But wait, desserts is STRESSED spelled backwards. With so much stress everyday, surely you need some relief from it all? After all, a bite into your favourite dessert will make you happy.
Check out these top 9 best new desserts that are not only very instagrammable, but also amazingly delish. They're so incredibly tempting, you just have to shelf your diet plans till you try them all!
TOWN/ CENTRAL
1. Matchaya
[caption id="attachment_14344" align="aligncenter" width="960"]
Credit: Matchaya[/caption]
Singaporeans love Japanese matcha and hence, the number of matcha-themed cafes proliferate. Operating as a pop-up concept store previously, Matchaya now occupies an oh-so-Japanese wooden shopfront at Icon Village.
[caption id="attachment_14345" align="aligncenter" width="960"]
Credit: Matchaya[/caption]
Riding on the success of their matcha and houjicha milk teas, Matchaya has recently introduced the uber-pretty Cha Cha Pop to its desserts menu. This Magnum lookalike popiscle is first dipped in black honey and houjicha feuilletine, followed by a matcha dip topped with toasted sesame. Every bite of the popiscle is not just crunchy, but also heavenly!
[caption id="attachment_14331" align="aligncenter" width="1600"]
Image Credit: nkikichua[/caption]
Matchaya
Address: 12 Gopeng Street #01-72 Icon Village
Open: 9 am to 9 pm (Mon to Fri); 10 am to 7 pm (Sat to Sun)
Official website: https://www.facebook.com/matchayasg
2. Niceday Taiwan Snow & Grass Jelly Desserts
[caption id="attachment_14332" align="alignnone" width="1024"]
Image Credit:
Nahmj
[/caption]
No, I'm not recommending you any Korean Bingsu. I know you've seen enough of the Kimchi-Land dessert.
This lovely Purple Sweet Potato Milky Snow Mountain is the proud creation of Niceday Taiwan Snow & Grass Jelly Desserts. The base is made using silky smooth grass jelly all the way from Taiwan, covered with a mountain of fluffy ice shavings and chewy balls.
Imagine yourself in Taipei as you enjoy the pleasant bowl of dessert. Notice a small bowl of Taro Q mix and mochi balls in a separate bowl? Add in the balls to your dessert when you wish, otherwise the balls may become stiff in the icy bowl if they are put together.
So thoughtful of the owner to make sure the dessert is served in the best condition!
Niceday Taiwan Snow & Grass Jelly Desserts
Address: 302 Tiong Bahru Road #02-111A Tiong Bahru Plaza (Food Street)
Open: 11 am to 10.30 pm
Official website: https://www.facebook.com/NicedayDessert/
3. Sugar Lips
[caption id="attachment_14316" align="alignnone" width="1080"]
Image Credit:
@stormscape
[/caption]
Sugar Lips the latest addition to the myriad of dessert cafes in Singapore. In fact, they are currently in their soft launch opening week 1-for-1 promotion from 9 to 16 September.
Enjoy the visual feast of the gorgeous dessert platters, and sink your teeth into sweet favourites such as Rainbow Fantasy and Chocolate Seduction Truffle Cake. Life's short, so eat dessert first and enjoy. 🙂
Sugar Lips
Address: 277 Orchard Road #02-01, Orchard Gateway
Open: 11 am to 10 pm
Official website: https://www.facebook.com/eatsugarlips
4. Meet & Melt
[caption id="attachment_14317" align="alignnone" width="957"]
Image Credit:
Peanut Loti
[/caption]
*NEW* Curry Lava Toast
[caption id="attachment_14318" align="alignnone" width="1080"]
Image Credit:
@stormscape
[/caption]
*NEW* Mentaiko Lava Toast
Who says desserts can only be sweet? Visit Meet & Melt and you will be delighted to find novel savoury creations of their toasts. Previously located in ulu Tampines, they have just opened a second outlet near Somerset MRT at *SCAPE.
To celebrate their new outlet opening, the folks at Meet & Melt have introduced 2 new desserts – the Curry Lava Toast, as well as the Mentaiko Lava Toast!
Singaporeans love their curry with bread, and the Curry Lava Toast is an amazingly yummy delight you can eat anytime of the day. The Mentaiko Lava Toast is another remarkable creation that not only smells delicious, but also tastes great with the Sea Salt Gula Melaka ice cream. We wonder why no one thought about such divine concoctions earlier!
Meet & Melt
Address: 2 Orchard Link #02-33/34, *SCAPE; Blk 915 Tampines St 91 #01-49
Open: 1 pm to 10 pm (*SCAPE outlet); 2 pm to 10 pm (Tampines outlet)
Official website: https://www.facebook.com/meetandmelt
5. Epicurious Cafe
[caption id="attachment_14320" align="alignnone" width="900"]
Image Credit:
Daniel Food Diary
[/caption]
First it was rainbow cake making the Insta-rounds. Then earlier in the year, videos of rainbow-coloured cheeses stretching in various postures went viral, thanks to Kala Toast in Hong Kong. And now, our own Epicurious Cafe has also created the first Rainbow Cheese Toastie in Singapore.
The rainbow is made up of 5 different colours and flavours: Pink (beetroot), Orange (carrot), Green (Spinach), Blue (potato and garlic with butterfly pea) and Violet (eggplant and red cabbage).
Great to know that it's made using natural ingredients and minimal colouring. At least we can eat this appealing cheese toastie at ease! Have fun stretching your rainbow for the best shots before you tuck in to the crispy and buttery toast!
Epicurious Cafe
Address: 81 Clemenceau Ave #01-13 UE Square Shopping Mall
Open: Lunch – 11.30 am to 2.30 pm (Tue to Fri), Dinner – 6 pm to 10 pm (Tue to Sun), Brunch – 9 am to 5 pm (Weekend/ Public Holiday)
Official website: 
6. The Pound
[caption id="attachment_14322" align="alignnone" width="1024"]
Image Credit:
Jiaksimi png
[/caption]
Located in a shop unit of the first floor in the old commercial Sultan Plaza building, The Pound's classier decor makes it stand out from the rest of the shops. The Pound is a small cafe specializing in premium Dutch Iced Coffees and homemade cakes. Unlike other Korean-owned cafes, they do not sell the Korean Bingsu.
What you will find here is roll cakes that look so delicately tasteful. Leave some stomach space after a satisfying kopitiam meal nearby for their Earl Grey Roll Cake. Light with a chiffon-like texture, the earl grey flavour was subtle and a perfect dessert for a complete meal.
The Pound
Address: 100 Jalan Sultan, #01-17B Sultan Plaza
Open: 9.30 am to 6.30 pm (Mon to Sat)
HEARTLANDS
7. Birds Of Paradise Gelato Boutique
[caption id="attachment_14333" align="alignnone" width="2976"]
Image Credit:
Nahmj
[/caption]
Located opposite the Roxy Square, Birds of Paradise Gelato Boutique is a sleek and tastefully furbished boutique in a restored shophouse along East Coast Road. The unique point of Birds Of Paradise lies in its 9 gelato flavours inspired by botanical flavours.
Think fruits, flowers, pods, herbs, and spices. Instead of your usual chocolate and strawberry flavours, get the garden taste on their special homemade thyme ice cream cones! Exquisite flavours include Basil, Lychee Raspberry, Spiced Pear, Mint Cacao, Strawberry Basil, Pandan and White Chrysanthemum.
Birds of Paradise Gelato Boutique
Address: 63 East Coast Road #01-05
Open: 4.30 pm to 10 pm (Tue to Fri), 12 pm to 10 pm (Sat to Sun)
Official website: https://www.facebook.com/bopgelato/
8. KOOKS Creamery
[caption id="attachment_14334" align="alignnone" width="1080"]
Image Credit:
@ggabrielchan
[/caption]
KOOKS Creamery is not just your ordinary ice cream cafe in the heartlands. They specialise in molten lava cookies (or KOOKS as the folks call them) and ice cream.
KOOKS may be just a small cosy 20-seater cafe, but they whip up a total of 18 ice cream flavours. Some of the unique flavours include Lemon Curd, Milk Cereal, Nougat and Brown Butter.
Top the smooth and creamy ice cream on the thin yet crispy lava cookie, and ta-da! Here's your oozing sweet Molten Lava Kooks treat!
KOOKS Creamery
Address: 211 Serangoon Ave 4 #01-02
Open: 12 pm to 10 pm (Tue to Thu, Sun), 12 pm to 11 pm (Fri to Sat)
Official website: https://www.facebook.com/kookscreamery/
9. The Workbench Bistro
[caption id="attachment_14335" align="alignnone" width="1080"]
Image Credit:
@siewgavin
[/caption]
*NEW* Red & Blue Velvet S'morffles
[caption id="attachment_14336" align="alignnone" width="900"]
Image Credit: Daniel Food Diary[/caption]
*NEW* Purple Japanese Sweet Potato Waffles
Located in a quiet part of Ang Mo Kio at least 10 minutes' walk away from the MRT, The Workbench Bistro (TWB) is an unassuming neighbourhood cafe that has recently gone through a menu overhaul. Its latest original dessert creation – the Blue & Red Velvet S'moreffles seems to be flooding all the Instagram feeds.
In case you still do not know what s'moreffles is, it's actually s'mores baked in waffles. How cool and sinful is that?! Sandwiched between two quarters of the crisp waffles are melted fluffy marshallows, drizzled with graham cracker crumbs within the waffles. Topped with big scoop of ice cream and generous chocolate sauce, this insanely awesome dessert is worth every penny and calorie!
As if the Blue & Red Velvet S'moreffles isn't sinful enough, TWB has also introduced another irresistible dessert to their menu – the Purple Japanese Sweet Potato Waffles.
This pretty waffles is made using fresh purple sweet potato with no additional colourings. Savour the sweet potato bits in this yummy waffles drizzled with homemade Gula Melaka sauce and topped with ice cream. Don't count the carbs, just enjoy first!
The Workbench Bistro
Address: Blk 332 Ang Mo Kio Ave 1 #01-1881
Open: 12 pm to 10 pm (Mon to Thu), 12 pm to 11 pm (Fri), 10 am to 11 pm (Sat) and 10 am to 10 pm (Sun)
Official website: https://www.facebook.com/theworkbenchbistro/
Don't you agree these 9 new dessert creations are so tempting and irresistible? Not only do they look wonderful on the pictures, they are also incredibly palatable!
Don't just drool over your phone, iPad or laptop. Make a move to these cool cafes right now to taste the real stuff. You can always resume your diet plan after you have try them all!
Also, read K.F Seetoh Is Bringing Singaporean Favourites To A Brand New Destination – Manila!
Header image credit: Danielfooddiary.com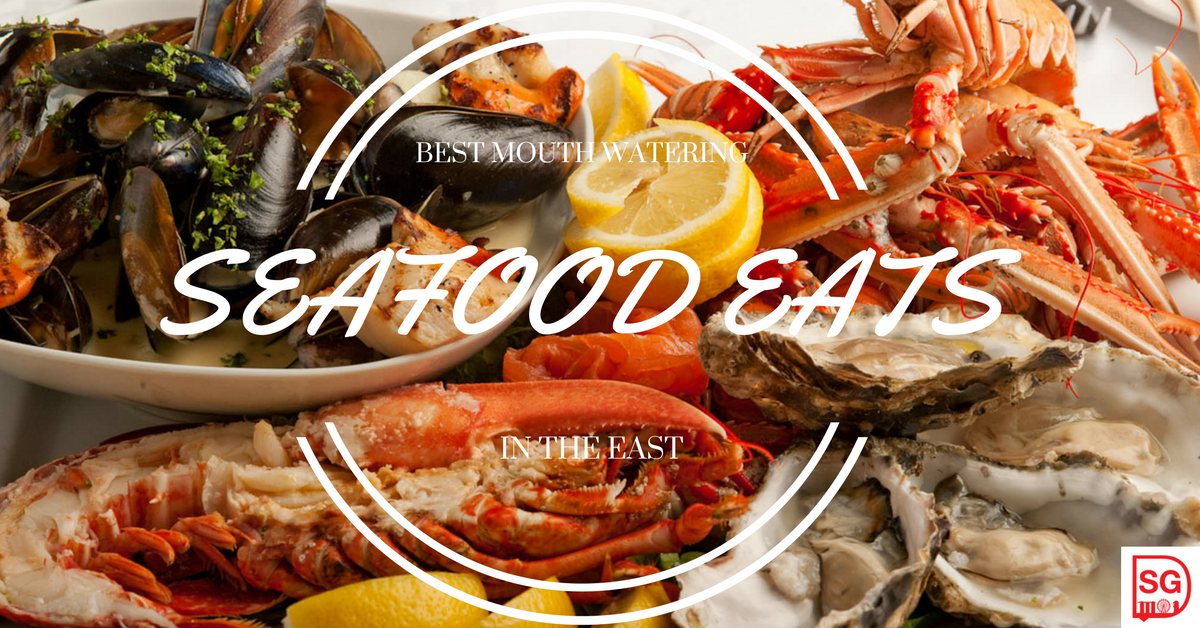 Singapore may not have the best amusement parks or the nicest beaches but one thing that Singapore definitely has is the best food. Being a small island surround by water, it's no surprise that us Singaporeans can cook up some mean seafood dishes.
Whether you're looking for a nice restaurant to celebrate a special occasion or you're looking for something a bit more casual and laid back, the East side has it all.
(Be warned, the following post is not for the hungry)
1. Long Beach

Image credit: may be the best seafood restaurant in the island. Long Beach Seafood was first established way back in the 40's. Back then it was patronized by the British Army where it grew it popularity attracting local Singaporeans.
Fun fact: Long Beach Seafood was the very first restaurant to cook up Singapore's favourite black pepper crab, and it remains the restaurant's best seller.
70 years and 5 branches later, Long Beach Seafood can boast several awards and accolades throughout its establishment.
The selling point of this popular seafood restaurant is its Outlet Specialities, dishes that are only available at a specific branch. Look out for the Portuguese Style Live Lobster and Thai Emperor Prawns only available at its main East Coast branch .
Address: 1018 East Coast Parkway, S449877
Contact: 6445 8833
Opening Hours: Mon-Thur, 11am-3pm, 5pm-11pm; Fri, Sat, Eve of PH, 11am-3pm, 5pm-Midnight
2. Jumbo Seafood

Image credit: is a Singaporean household name, established in 1987 at the East Coast Seafood Center by the Ang family (which is now their flagship restaurant) the restaurant had a rocky start in its early years. However, after the Ang family took more a more active role in running the restaurant, Long Beach soon gained a loyal following.
Now with over 5 branches all over the island, 3 in Shanghai and several accolades under its belt, Jumbo Seafood may be the most successful seafood restaurant in Singapore.
A must have at Jumbo? The chilli crab of course. Having dinner al fresco style at its flagship restaurant,elbow deep in crabs and moping up the sticky spicy chilli crab sauce with mantou buns? Where do I sign up?
Address: Block 1206 East Coast Parkway #01-07/07; S449883
Contact:6442 3435
Opening Hours: Mon-Fri, 5pm-11.45pm; Sat-Sun, Public Holidays; 11.30am-Midnight
3. Hua Ya Wee Seafood

Image credit:

Image credit:

Image credit:

Image credit:

Image credit: Address: 6 Tebing Lane #01-03, Punggol East, S828835
Contact: 6441 1848
Opening Hours: Mon-Sun, 4.30pm-11.30pm
There is an abundance of seafood places to dine at across the island, but with these 5 amazing seafood places to choose from, you're not going to be disappointed! Grab your friends and family for a delicious seafood feast in the East!
[googlemaps https://www.google.com/maps/d/embed?mid=1G-_dKfSekpiFPICIZ48CTJH_1AY&w=640&h=480]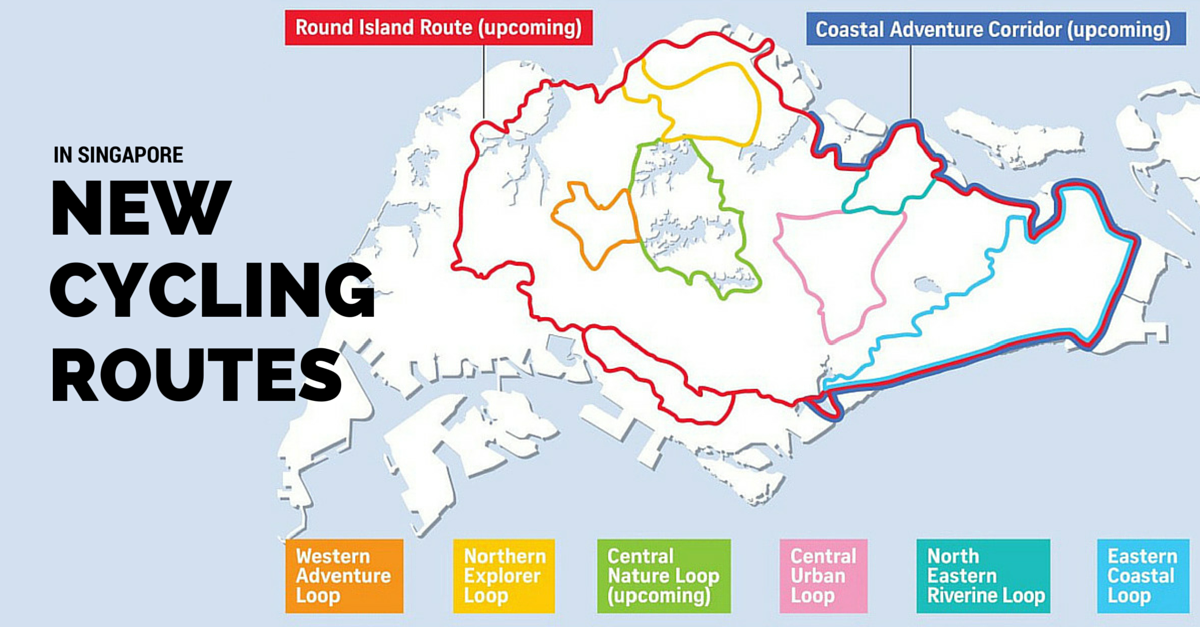 Guess what? Cycling around Singapore will no longer be a dream. It will not be occurring anytime too soon but it is definitely happening in the near future. So start pumping on your leg days and prepare your calves for some action. With major cycling routes underway, we reckon you're gonna be cycling…real soon!
Round Island Route – Cycle Around The Island!
The Round Island Route, a continuous 150km park connector that goes around the island is set to begin development work by the end of this year. Spanning three times the length of Singapore, most areas of this cycling routes will be 6 metres wide (the current park connectors are 4 metres), giving cyclist and joggers more space to exercise. It also reduces the risk of bike-related accidents.
[caption id="attachment_11068" align="alignnone" width="770"]
Source:
Source:
Source:
Source:
Source:
Urban Redevelopment Authority
[/caption]
The developer will also be jazzing up the cycling routes with amenities such as shelters, washrooms, bike parking lots and self-help bike repair facilities.
Inter-town Cycling Routes
[caption id="attachment_11073" align="alignnone" width="800"]
Souce:
gov.sg
[/caption]
Currently, the government plans to develop more inter-town cycling routes to connect commuters from their homes to the city. We should be able to see a Queenstown-City and Geylang-City routes soon. Towns such as Bishan, Hougang and Bukit Timah will also be connected to the existing cycling routes to the city.
We can't wait for these cycling routes to be ready! For now, we just have to make do with existing cycling loops – in yellow, orange, pink, green, and blue. Do you know of other great cycling routes around Singapore? Do drop us a comment and let us know!
Also, read Cycle X Makan – 5 Best Food And Night Cycling Paths In SG

February…Chinese New Year festivities and the month of love and romance! But do you remember the important event Singapore commemorates in the same month?
Observed annually on 15 February, Total Defence Day marks Singapore's fall to the Japanese in 1942. This commemoration seeks to remind people of the pain and suffering endured by our forefathers during the Japanese Occupation, as well as to instill the strategy of "Total Defence" in our people, understanding that each one has a part to play in the survival of our country.
To learn more about the Japanese Occupation in Singapore and the tenacious spirits of our forefathers in protecting this land, here are the 5 war museums in Singapore you should visit.
1. Image Credits: Sentosa[/caption]
Located on Sentosa Island, Fort Siloso is the only preserved coastal fort in Singapore today. It was initially built in the 1880s to protect the island from sea invasion, and the guns were turned inwards facing the land when the Japanese invaded during World War II. Upon seizing Singapore, the Japanese used the fort as a prisoner-of-war (POW) camp.
Today, Fort Siloso is a military museum with gun displays and remains of military structures and tunnels. Admission is free, but admission into the Surrender Chambers is chargeable. The Surrender Chambers feature waxworks of the British Surrender at the Old Ford Factory, commentaries, and exhibitions. Guided tours are available too.
Siloso Point, Sentosa Island
Daily: 10am-6pm (last entry at 5.30pm)
2. Image Credits: Channel News Asia[/caption]
The Changi Museum provides valuable but heartwrenching insights of the POWs who were taken into captivity during the Japanese Occupation. The exhibitions are split into five sections, showing visitors what happened during the war through a collection of photographs, paintings, letters and personal artefacts donated by former POWs. Wartime art pieces produced by the prisoners are also on display, recording their experiences in Changi Prison. Changi Chapel, dedicated to the memory of the POWs and the civilian internees, is located on the museum grounds as well.
Visitors can choose to go on a guided tour, or rent an audio set to listen to first-hand stories and experiences of the POWs.
1000 Upper Changi Road North
Daily: 9.30am-5pm (last entry at 4.30pm)
3. Image Credits: YourSingapore.com[/caption]
Reflections at Bukit Chandu is a heritage centre housed in a restored colonial bungalow. Bukit Chandu (Malay for Opium Hill) was where one of the fiercest and last significant battles took place before the British surrendered Singapore to the Japanese. The Battle of Pasir Panjang, also known as the Battle of Bukit Chandu, saw 1400 valiant soldiers from the Malay Regiment fight dauntlessly against a 13 000 strong Japanese army. Despite being severely outnumbered, Lieutenant Adnan Saidi refused to retreat and surrender, and the troops even engaged in hand-to-hand combat after running out of ammunition.
The museum exhibits photographs, maps, artefacts and interactive media, showcasing the tenacity of the Malay Regiment, and other wartime experiences.
31-K Pepys Road
Tues-Sun: 9am-5.30pm
Closed on Mondays, except on Public Holidays
4. The Battle Box
[caption id="attachment_1812" align="aligncenter" width="700"]
Image Credits: ST Photos Lim Sin Thai[/caption]
The Battle Box is a 9m deep emergency bunker located beneath Fort Canning Hill, where the British army set up their headquarters in Singapore. It was once the nerve centre of British military operations, consisting of 30 rooms including a cipher room where messages were decoded, a signal control room, and a gun operations room.
The Battle Box is also the site where Lieutenant-General Arthur Percival, the General Officer Commanding (Malaya), held a conference to discuss the war situation with other commanders, and then reached the decision to surrender to the Japanese.
The bunker was later converted into a museum in 1992, with artefacts on display depicting the final days before Singapore fell to the Japanese. It has recently undergone a revamp, and will feature multimedia guides, 3D technologies, and a retelling of the story of Singapore's capture.
2 Cox Terrace
Reopening in March 2016
5. Image Credits: National Archives of Singapore[/caption]
The Ford Motor Factory was the site where the British surrendered Singapore to the Japanese on 15 February 1942, drastically altering the lives of the people in Singapore. Lieutenant-General Tomoyuki Yamashita, head of the Japanese invading forces, seized the factory as his headquarters after capturing Bukit Timah, and demanded for the British's unconditional surrender.
During the Japanese Occupation, the factory was used to assemble military trucks and other vehicles for the Japanese war effort. Today, the restored factory captures the memories and reflections of the hardships faced by those who had lived through the war. Visit the Boardroom of Surrender where the Surrender Papers were signed, and the Syonan Garden where some of the common food items during the wartime are grown. The Talking Map is an interactive exhibit that traces the route of the Japanese as the advanced into Singapore, with oral histories and first-hand experiences of survivors of the war.
351 Upper Bukit Timah Road
Mon-Sat: 9am-5.30pm
Sun: 12pm-5.30pm
Closing on 16 Feb 2016
Reopening in 2017
(Featured Image Credits: Sentosa)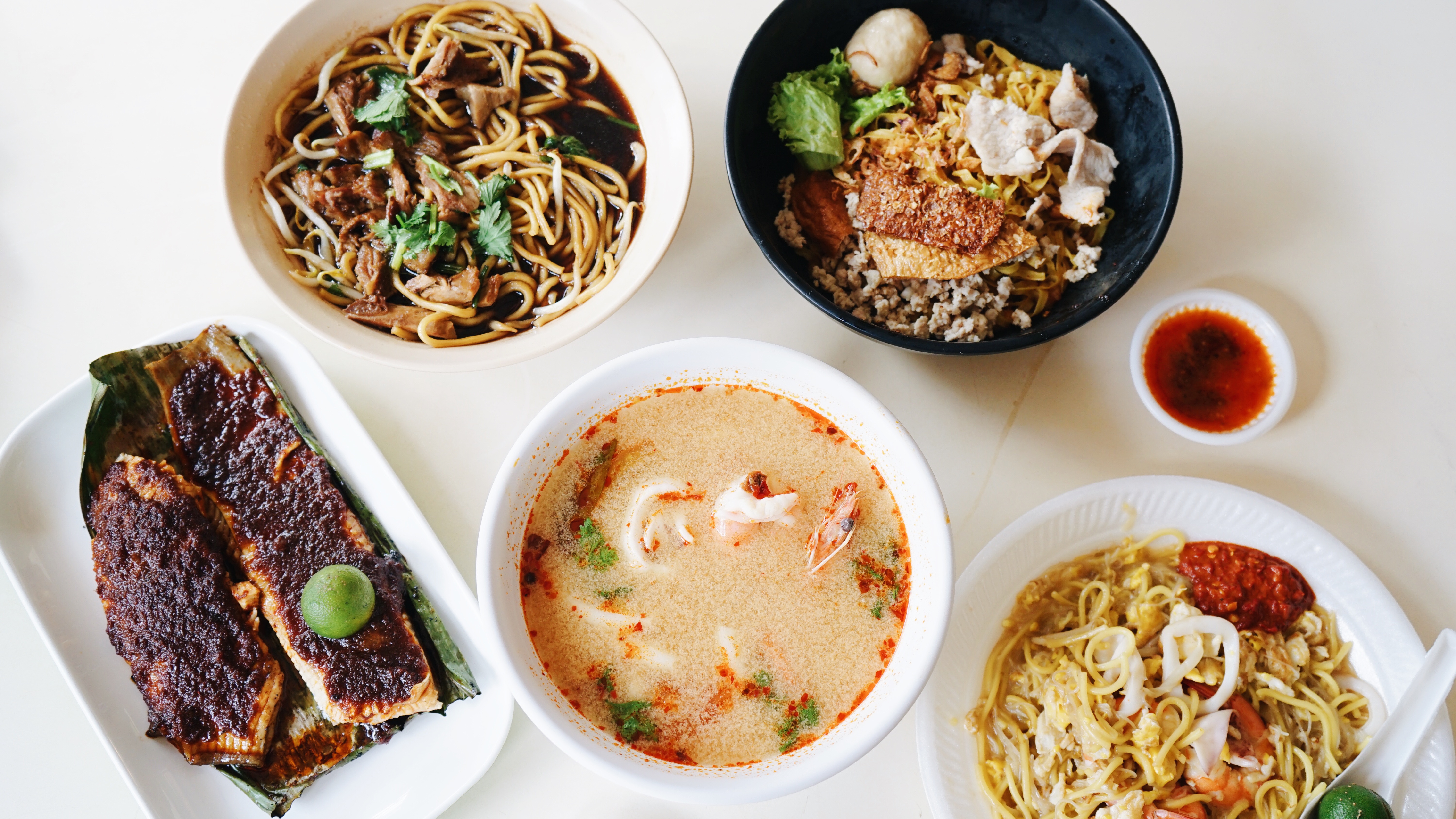 If the sheer number of articles, videos and opinion pieces showing up on our news feeds in the past week are any indication, it's clear that we've reached peak Crazy Rich Asians hype.
There's been a lot of discussion surrounding the movie, and while we're generally okay with how Singapore was portrayed, one scene that did irk us was when the main characters visit Newton Food Centre and declared its satay as the best in Singapore.
[caption id="attachment_36901" align="aligncenter" width="2560"]
(Image Credit:
Warner Bros. Pictures YouTube
)[/caption]
Uh…no. We're not calling ourselves the ultimate authority on food, but we're pretty sure that we've had better ones at East Coast and Lau Pa Sat, at the very least.
While it might not have the best satay, it *is* true that Newton Circus is home to some really good eats. If you're planning to head down to this iconic hawker centre to channel your inner Rachel Chu, here are the six dishes that you should be trying out instead:
Bee Heng Popiah
[caption id="attachment_36905" align="aligncenter" width="6000"]
(Image Credit: Discover SG)[/caption]
If you're looking for an appetiser before going all-out, then Bee Heng Popiah ($4.40 for a minimum order of 2) is pretty much the only right choice here.
The generous amount of shredded turnip is probably enough to warrant a place on this list, but it's the skin that's the real star of the show. Unlike other Popiah's it has a light, sweet taste of its own, which blends well with the other ingredients of egg, nuts and shrimp.
[caption id="attachment_36904" align="aligncenter" width="6000"]
(Image Credit: Discover SG)[/caption]
The soft skin makes for a weak foundation, however, and there's about a 60% chance that the abundance of ingredients will spill out before you can bring it to your mouth.
Some might prefer more structurally sound Popiah's, but if you're willing to put up with the mess you'll be treated to one of the tastiest versions of this beloved dish that we've had.
Bee Heng
Unit: #01-12
XO Bak Chor Mee
[caption id="attachment_36909" align="aligncenter" width="6000"]
(Image Credit: Discover SG)[/caption]
There's Bak Chor Mee…and then there's XO Bak Chor Mee ($4.50).
If you're a fan of minced meat noodles and haven't tried this variant, you owe it to yourself to. Thanks to the addition of…well, XO, the noodles don't dry out as fast, and quite literally add a new layer of savoury taste to it.
[caption id="attachment_36908" align="aligncenter" width="6000"]
(Image Credit: Discover SG)[/caption]
The "meat" part of the dish isn't anything to scoff at, either — the pork was extremely lean and pretty much melted in our mouths, and the minced meat was so abundant that we had enough to put in every spoonful.
The best part of the dish, however, is still the Fuzhou fish ball, which might honestly be the best Fuzhou fish ball that we've ever eaten. There's only one per bowl, which is probably a good thing because any more would lead to a full-blown addiction.
XO Minced Meat Noodle
Unit: #01-10
Kwee Heng Duck Noodle
[caption id="attachment_36906" align="aligncenter" width="6000"]
(Image Credit: Discover SG)[/caption]
On their own, the ingredients of Kwee Heng's Duck Noodles ($4) aren't anything to write home about — the noodles and soup are standard prawn noodle fare, and the duck strangely enough tastes a bit like chicken.
When eaten as a whole, however, the flavour profile is flipped on its head in the best of ways. The saltiness of the soup is perfectly complimented by the lighter taste of the meat, creating a balanced taste that's just the right amount of savoury.
[caption id="attachment_36907" align="aligncenter" width="6000"]
(Image Credit: Discover SG)[/caption]
And if for some reason that isn't enough, adding a hint of chilli further enhances the flavour with an extra kick of sweet spiciness. We admittedly weren't expecting much from this dish, but it quickly grew to become one of our favourites.
Kwee Heng
Unit: #01-13
Stall 51 Hokkien Mee
[caption id="attachment_36913" align="aligncenter" width="6000"]
(Image Credit: Discover SG)[/caption]
With the use of thinner noodles, Stall 51's Hokkien Mee ($5) is reminiscent of those served at Old Airport Road or Serangoon Gardens' Chomp Chomp, and taste just as good as well.
The dish has just the right amount of wetness, and retained its consistency even after being left on the table while we got our other dishes (the hallmark of a good Hokkien Mee). The amount of seafood is decent enough, but its the generous serving of egg that really puts this on a whole other level.
[caption id="attachment_36912" align="aligncenter" width="6000"]
(Image Credit: Discover SG)[/caption]
And what's Hokkien Mee without some good chilli? The owner jokingly warned us about how spicy his blend was, but despite its belachan-esque appearance we found it to be more sweet and spicy, and added a new dimension to the dish's flavour. Needless to say, we wiped the plate clean.
Stall 51
Unit: #01-51
Alliance Seafood
[caption id="attachment_36903" align="aligncenter" width="5781"]
(Image Credit: Discover SG)[/caption]
Being awarded the coveted Michelin Bib Gourmand for two years straight is no small feat, but we can totally see why the folks at Alliance Seafood managed to do so. The stall is probably best known for their Chilli Crab and Cereal Prawns, but we decided to go for the other crowd-favourite choice of stingray ($12) instead.
the meat was well-cooked throughout, and flaked off the bone as soon as we applied the slightest amount of pressure with our chopsticks. The dish is also lathered with sambal, and while it wasn't as spicy as we would have wanted it to be, has a rather sweet taste that grows on you.
[caption id="attachment_36911" align="aligncenter" width="6000"]
(Image Credit: Discover SG)[/caption]
Much like Kwee Heng's Duck Noodles, the two ingredients are okay on their own, but produce an entirely new taste when eaten together. We'd recommend flaking all the meat and giving it a good mix before eating to achieve the maximum effect.
Alliance Seafood
Unit: #01-27
Bangkok Express
[caption id="attachment_36914" align="aligncenter" width="6000"]
(Image Credit: Discover SG)[/caption]
When you think of "good Thai food", the usual suspects like Nakhon Kitchen and…well, the entire Golden Mile Complex are usually the first places that come to mind.
Don't let the rather random location of Bangkok Express fool you, though — with food prepared by an actual Thai chef, this unassuming stall will give your favourite haunts a run for their money, and is one of the best-kept secrets of those working around the Newton area.
Their extensive menu offers everything from Phad Thai to Basil Chicken, and with so much food already on our plates we decided to go for the Seafood Tom Yum Soup ($6).
While most Tom Yum dishes will have you ordering another cup of sugar cane, this iteration is surprisingly light on the spiciness, while still packing a strong, sweet flavour at the same time. They're pretty generous with the seafood part as well, with squids and prawns appearing in pretty much every spoonful.
Bangkok Express
Unit: #01-04
Also Read 5 Must-Order Dishes At Hougang's Hainanese Village For $4 And Under
(Header Image Source: Discover SG)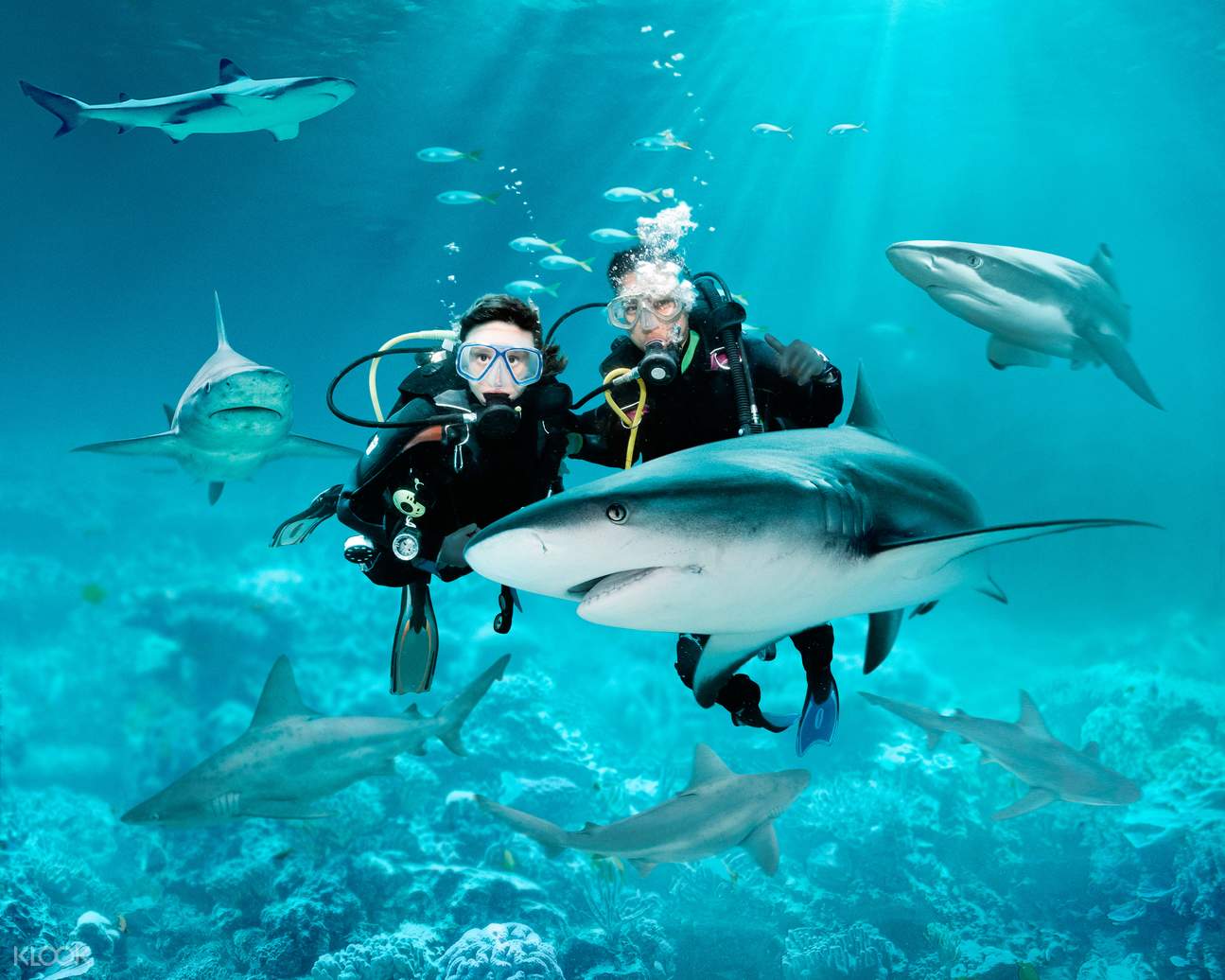 What to do in Singapore ah?
We're sure that many of you might have asked this question at some point or another and wondered if Singapore is really THAT boring. Well, if you're looking for something new and exciting, there are plenty of places to go in Singapore that offers a thrilling experience.
From breezing your way through a ninja warrior obstacle course to swimming with sharks, here are 10 activities you must check out if you're a thrill seeker!
1. Swim With Sharks At S.E.A. Aquarium
Does the thought of swimming in waters full of sharks make you shiver? Fear not, because sharks are actually not as violent as we portray them to be.
At the Ultimate Marine Encounter: Shark Dive at S.E.A. Aquarium, you'll get a chance to dive with over 100 sharks from 12 different species. The Shark Dive is great for adventurous thrill seekers with a passion for sharks and marine animals.
https://www.youtube.com/watch?time_continue=27&v=TPiqveP1NhM
From swimming with sharks to strolling under the water or even an open ocean life, you'll get to experience the thrill of interacting with these predators in a safe environment.
In this 30-minute programme, you'll dive into their Shark Seas Habitat for the rare opportunity to get up close and personal with over 100 sharks across 12 different species, including the endangered scalloped hammerhead shark, silvertip shark and sandbar shark.
However, this activity requires a current SCUBA diving certification from a nationality or internationally recognized organization. So if you are an active diver, grab your wetsuits and channel your inner Steve Irwin.
Shark Dive (S.E.A. Aquarium)
Price: SGD150 (Adult) | SGD148 (Senior) *Adventure Cove Waterpark admission ticket is required
Sessions: Mon – Fri (1pm)
2. Ride The Waves At Wavehouse Sentosa
We're not blessed with natural waves for surfing unlike Australia and Bali, but Wavehouse Sentosa lets you experience what it's like to surf the waves.
[caption id="attachment_36641" align="aligncenter" width="1348"]
Image Credit:
Wavehouse Sentosa
[/caption]
For beginners, the Double FlowRider lets you learn the basics of flowboarding together with a friend. It's also the more gentler of the two waves available at Wave House Sentosa, and is the first step to your exhilarating flowboarding experience. Even if you have never tried flowriding, don't worry, there are instructors to guide you.
And for the more experienced surfers, the FlowBarrel creates endless barrelling waves that can rival those from international surf meccas.
Set on Siloso Beach at Sentosa, it's also a great place to chill with drinks as you soak up the sun! 
Wavehouse Sentosa DoubleFlowrider
Price: From $35 (weekdays), $40 (weekends)
Sessions: Mon – Fri: 12.00pm to 9.00pm (last session starts at 8.00pm),Sat – Sun & Public Holiday: 11.00am to 9.00pm (last session starts at 8.00pm)
Website
Wavehouse Sentosa FlowBarrel
Price: From $30 (Mon – Sun)
Sessions: Mon – Sun & PH: 12.15pm to 8.45pm (last session starts at 8.15pm), Closed on Tues & Thurs
Website
3.  Water JetPack At Ola Beach Club
Ola Beach Club is home to Asia's first and only water-propelled JetPack thrill ride.
These are water-propelled jetpacks that can elevate you up to 30 feet in the air. Basically, you're flying thanks to controlled water pressure blasting you into the air.
[caption id="attachment_36642" align="aligncenter" width="956"]
Image Credit: Sentosa[/caption]
The best part is you don't need prior experience for this sport. So, strap in, engage the throttle, and up, up, and away you go!
JetPack (Ola Beach Club)
Price: $198 (45 Minutes), Top up of $60 for additional 15 mins

Image Credit: Bounce Inc Singapore[/caption]
The X-Park may be a tad bit smaller than the original to cater to children but it'll still give you a good workout if you run through the course at full speed. And it's quite the test of agility and balance, so don't go writing this off as child's play just yet.
Give it your best as you battle to be the last Warrior standing. Maybe we'll see you on Mt. Midoriyama.
Check out the full course here:
https://www.youtube.com/watch?time_continue=1&v=uDiH60ScAcA
Bounce Singapore
Address: Cathay Cineleisure Orchard, 8 Grange Road, #09-01, Singapore 239695
Opening Hours: Mon-Thurs: 10am – 10pm, Fri: 10am – 11pm, Sat: 9am – 11pm, Sun: 9am – 10pm, *For Public Holidays: 9am to close
Price: General Access: $26/per person for 1st hour, $20/per person each additional hour
Website
5. Scale The Trees At Forest Adventure
For many of us, the last time we've gone on a high elements course probably dates back to our primary/secondary school camps. If you think obstacle courses are only meant for kids, think again.
[caption id="attachment_36649" align="aligncenter" width="1262"]
Image Credit:
@forestadventuresg
[/caption]
Forest Adventure is back at Bedok Reservoir Park with an impressive new trail. Following a six-month overhaul, Singapore's first and only treetop course is back and 40 per cent larger than before. With 69 crossings and six zip lines, it's time to gear yourself up for the ultimate adventure.
The 2.5 hours tree top Grand Course is perfect for adults as you attempt to cross wobbly bridges in mid-air and Tarzan-swing from tree to tree!
Forest Adventure
Address: Bedok Reservoir Park,Bedok Reservoir Road, Singapore 479244
Opening Hours: Tue-Sun: 9.30AM – 6.30PM (closed on Mondays)
Price: Grand Course: $50 per pax, $46 for tertiary student (weekdays only)
Website
6. Go-Kart At The Karting Arena
Who says you need a driving license to get behind the wheel?
Channel your inner Lewis Hamilton and race your friends at The Karting Arena where there's no pesky red lights to stop you.
[caption id="attachment_36652" align="aligncenter" width="1758"]
Image Credit:
The Karting Arena
[/caption]
The 500m track at The Karting Arena has nine turns, consisting of sweeping corners, a hairpin and a chicane (bends intended to slow drivers down). The friendly competition, shrieks of excitement and need for speed – everyone is almost guaranteed to have a ball of fun.
The Karting Arena
Address: 200 Turf Club Road, #01-01B The Grandstand, South Car Park Singapore, 287994
Opening Hours: 10am – 9pm daily, Closed on Mondays
Price: $38 (non-member, off-peak), $45 (non-member, peak)
Website
7. Bungy Jump at AJ Hackett Sentosa
AJ Hackett houses Singapore's first and only bungy tower, standing 50m above the ground on Sentosa's Siloso Beach.
There are 3 activities for you to choose from to get your adrenaline pumping. Drop and swoop on the Giant Swing with your family members or test your will and conquer your acrophobia on the 47m Bungy Jump.
[caption id="attachment_36655" align="aligncenter" width="3024"]
Image Credit: Sentosa[/caption]
The site also features the Skybridge, a 40m walkway with see-through sections. On it, is the Paulaner Sundowner Deck, which has the best sunset views in Siloso.
For those who prefer not to tempt fate, food and beverages are served al fresco, which is open daily, from 11am onwards. Siloso's new landmark is also the perfect spot to grab a cold one by the beach!
AJ Hackett Sentosa
Address: 
Opening Hours: Mon – Thu: 11am – 8pm, Fri – Sun and Public Holidays: 11am to 9pm
Price: Bungy Jump: $139, Skybridge: $16
Website
8. Kayak/Canoe At Kallang Basin
If you've always wanted to try your hands at kayaking, canoeing or pedal boating, here's your chance to do so.
Enter our very own Water Sports Centre. Catered for public and community use as well as for national athlete training, the Water Sports Centre offers a variety of canoes, kayaks and pedal boats for rent.
Pedal boats are ideal for beginners and children, while experienced kayakers and canoers can challenge the 500m long Regatta course.
Rental charges are as follow:
[caption id="attachment_36656" align="aligncenter" width="917"]
Image Credit: Singapore Sports Hub[/caption]
Water Sports Centre
Address:  8 Stadium Walk, Singapore 397699
Opening Hours: Mon –  Sun: 7:00am – 8:00pm, Public Holidays: 7:00am – 10:00pm
Website
9. Cable Skiing at Wake Park
Singapore Wake Park is the country's only cable-ski park built in a lagoon at Singapore East Coast Park.
Promising all level of fun and challenges, the park features three cable-systems. One full sized cable system for the experienced riders and two straight-line system for the complete novice and intermediate riders from as young as six years old.
[caption id="attachment_36660" align="aligncenter" width="1895"]
Image Credit:
Singapore Wake Park Facebook
[/caption]
Instead of the traditional motorboat tow system, you hang on to to a handle suspended from a motorised cable high up in the air; they can control the speed and you can do huge loops around the lagoon – they even have an obstacle course!
Powerful floodlights have been calibrated carefully to illuminate the Park even at night, which means you get to cable-ski after work. Who says there's nothing to do in Singapore at night? This is great for those who do not want to get a suntan too.
[caption id="attachment_36659" align="aligncenter" width="1024"]
Image Credit: Singapore Wake Park[/caption]
Singapore Wake Park
Address: 1206A East Coast Parkway, Singapore 449891
Opening Hours: Mon – Fri: 10am to 10pm; Sat – Sun and Public Holidays: 9am to 9pm

Image Credit: Sentosa[/caption]
The MegaJump lets you replicate the experience of a free fall parachute jump with a 15m drop with a stunning view of ocean, jungle and white sandy beaches.
[caption id="attachment_36662" align="aligncenter" width="1367"]
Image Credit: Sentosa[/caption]
If you're looking for some exciting aerial thrills and car rides, there can be no better place for you than Mega Adventure Park.
Mega Adventure Park
Opening Hours: Daily: 11am – 7pm
Address: Mega Adventure 10A Siloso Beach Walk, Sentosa Island  Singapore 099008
Website
Also Read Take A Break From Crowds At The Singapore Night Festival At This Indie Pop-Up Market At SOTA
(Header Image Source: S.E.A. Aquarium)